FLOODING rain across New South Wales impacted online sheep and lamb listings last week, with AuctionsPlus offerings easing 14 percent to 94,782 head.
Lambs continue to dominate the weekly offering, with new season lambs accounting for 66pc of the market.
Crossbred and Merino wether lamb categories registered average price rises over the previous week and increased buyer sentiment carried into the unjoined ewe category, AuctionsPlus said.
The 24,240 crossbred lambs offered was the largest lamb category. AuctionsPlus said the increased offering failed to dampen buyer sentiment, and the average price rose $2 to $142 for a 61pc clearance at the immediate close of weekly auction. At Avenel in Victoria, 520 mixed sec Poll Dorset cross sex suckers weighing 36kg lwt sold for $143.
Merino wether lamb listings eased to 19,636 head. Prices ranged from $75-$167 to average $124, up $20, and 62pc were sold. At Broken Hill in New South Wales, a line of Merino suckers weighing 45kg lwt sold for $138 to a South Australian buyer.
The Merino ewe lamb offering rose 58pc to 8790 head. AuctionsPlus said prices eased for the increased offering, with the average price slipping $41 to $159. The clearance rate reached 62pc at the immediate close of sale. At Hay in NSW, 430 Poll Merino ewe lambs weighing 40kg lwt, sold $26 above reserve at $196.
The number of composite/other breed lambs offered tripled to 3570 head. They sold from $129-$155 and averaged $137, down $3, for an 84pc clearance. At Tarcutta in NSW, three lines of 250 Primeline wether suckers sold for $154-$155.
There small offering of 606 joined ewes was impacted by selective buying, AuctionsPlus said. The 138 scanned in-lamb shedding breed ewes averaged $488, back $20, for a 51pc clearance. The 248 joined shedding breed ewes averaged $217, easing $35, for an 83pc clearance at the immediate close of sale.
Unjoined listings rose 9pc to 29,483 and made up 31pc of the weekly offering. AuctionsPlus said buyers continue to look for quality over quantity, and prices for four of the five categories rose week-on-week, while clearance rates remained mixed.
The number of Merino ewe hoggets offered rose 10pc to 9552 head. The category sold to an average price of $299, up $106 week-on-week, for a 36pc clearance at the immediate close of sale. At Skipton in Victoria, 420 15-17 month-old Merino ewe hoggets weighing 52kg lwt made $200.
The number of Merino ewes catalogued rose 124pc to 11,137 head and was the largest offering among the unjoined categories. AuctionsPlus said the increased offering failed to dampen prices, and the average prices rose $73 to $237, with a 71% clearance rate. At Isisford in Queensland, 520 rising six-year-old Merino ewes weighing 60kg lwt sold for $159 to a NSW buyer.
AuctionsPlus said shedding breed ewes continue to sell to strong demand, with the 1028 head offered all selling, for an average price of $359, up $19. The top price for the category was $142 paid for 210 Australian White/Dorper ewe lambs weighing 34kg lwt at Wellington, NSW.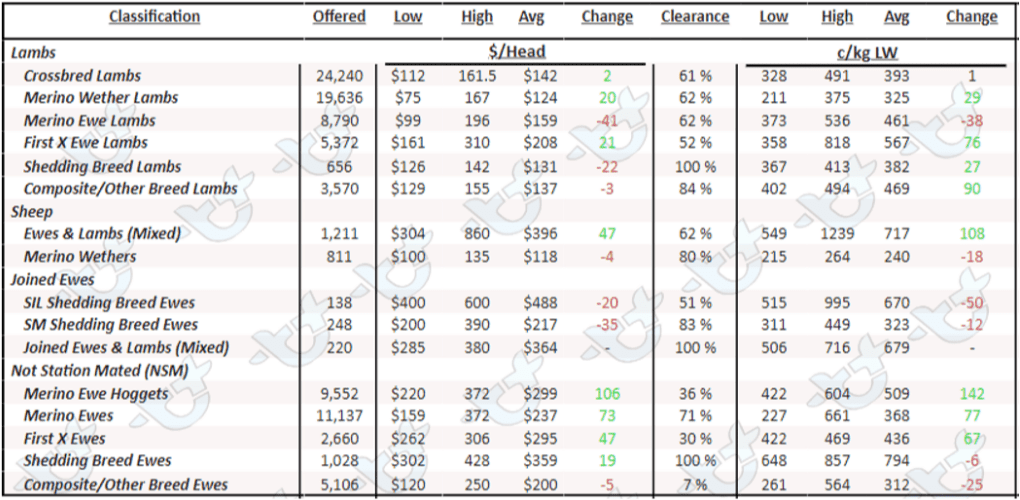 Source – AuctionsPlus.