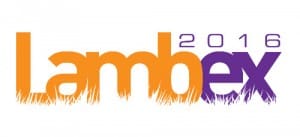 AUSTRALIA'S premier lamb industry event Lambex 2016 will be held in Albury, New South Wales, from August 10-12, featuring pre-conference tours and the popular Young Guns competition.
LambEx 2016 organising committee chairman Rodney Watt, from Greenethorpe, NSW, said all sectors of the lamb industry have come together to build on the previous LambEx success and continue the industry's proud tradition of showcasing itself.
"We have gathered together a wonderful organising committee that represents every sector of the sheep and lamb industry and their enthusiasm is infectious.
"I look forward to providing industry with updates as we progress with our planning of LambEx 2016."
Mr Watt said the southern NSW city was the perfect choice for the event next year.
"The location, facilities and community support are all set to ensure the event is a great success, and it is a great opportunity to promote NSW's world-class lamb industry.
"We are delighted to have partnered with the Albury City Council to use their wonderful facilities."
LambEx 2014 at the Royal Adelaide Showgrounds attracted more than 900 delegates and 70 exhibitors.
For more information on LambEx visit www.lambex.com.au or follow @Lambex on Twitter and Facebook at www.facebook.com/lambex2016.