A GOOD selection of New South Wales and Queensland properties up for sale feature in this week's wrap-up of interesting recent listings across the country.
 Bullo River frontage & flood out country
 $15m+ for New England grazing
 Northern Tablelands grazing block
 Mixed grazing and farming at Dulacca
 Heavy carrying capacity country in NSW's central west
 Around $5686/ha for Peak Hill mixed enterprise
Bullo River frontage and flood out country
Thargomindah Station in south-west Queensland has been listed for sale by Adam and Amy Klein after five years ownership.
The 47,100 hectares are adjacent to the Thargomindah township and are suitable for running cattle, sheep or goats.
Thargomindah Station is currently being run as a cattle enterprise, but in the past it was a sheep and wool operation. The mostly flat to gently undulating open grasslands are timbered with mulga, box and beefwood. There are around 5600 hectares of Bulloo River frontage and flood out, supported by a capped share bore and two wells.
The recently fully exclusion fenced Thargomindah Station is currently enjoying a good season – receiving 30mm of rain in the past week.
Sam Bartlett from Adcock Partners who is conducting inspections on the property reports good stands of hayed-off native pastures.
In the meantime, agent Andrew Adcock said good inquiry is coming from 'inside' producers, around Roma, looking to expand with better priced breeding country.
Thargomindah Station will be auctioned on July 13. The sale will include 500 cows and progeny.
$15m-plus for New England grazing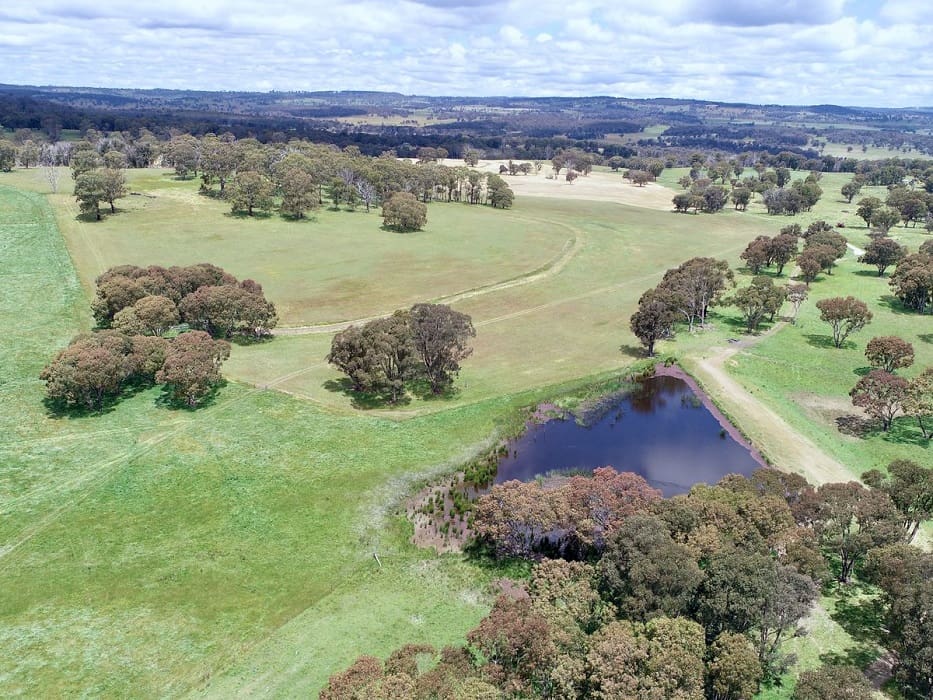 Offers over $15m are being considered for a cattle, wool and prime lamb operation in the renowned New England region of New South Wales.
Midlands is situated in a 900mm rainfall district, 22km north-west of Guyra and 57km from Armidale. For the past 17 years it has been held by Andrew and Sue Ross.
The 1006 hectares are gently undulating and consist of basalt and trap soils with some loamy creek flats. Around 75 percent is arable.
Midlands has an estimated carrying capacity of 9500 dry sheep equivalents.
Vendor Sue Ross believes with additional forage crops and pasture improvements this number could be increased.
The property features a 1.5km double frontage to George's Creek and is watered by 33 dams (mostly spring-fed), as well as two equipped bores.
Midlands has been developed with good fencing, laneways for ease of management and sheep and cattle infrastructure.
Northern Tablelands grazing block
A grazing block on the edge of the Northern Tablelands in New South Wales is being offered for sale by Robert and Justine Aitken who are selling to downsize to a smaller holding nearby.
The 590ha Craigleigh is located 20km west of Bundarra and 65km south of Inverell.
The country comprises softer type granite soils and loams in creek areas rising to hilly grazing areas with rocky outcrops.
The improved pastures have had fertiliser annually applied since 2016 and are capable of running 165 breeding cows in a normal season.
Craigleigh is situated in an 875mm average annual rainfall region, and is watered by the permanent Saveall Creek and seasonal creeks that traverse the property, supported by a solar-equipped bore and several dams.
The property has good working improvements and is well fenced, with most of the fencing erected in last four to five years.
The sale of Craigleigh is being handled by Carl Hurford from Nutrien Harcourts and Justin Williamson of Williamson Rural Marketing.
The agents were unable to disclose a price guide; however, grazing country in the area has been making between $10,000 and $15,000 per cow area.
Mixed grazing and farming at Dulacca
An ideal balance of grazing and farming country on Queensland's Western Downs will be auctioned on June 29 by Nutrien Harcourts GDL.
The 1315ha Myalla and Glenvale holdings are about 2km apart, 6.5km north of Dulacca and 50km north-west of Miles. They are owned by Andrew and Jacqui Coleborn.
The country features quality soft self-mulching, reddish belah soils and darker soft brigalow soils.
Almost 700 hectares of previously cultivated country are carrying good stands of buffel grass across both properties.
Glenvale features Back Creek frontage, with both properties watered by nine dams.
Agent Owen Brockhurst is handling the sale of Myalla and Glenvale that will be auctioned separately on June 29.
Heavy carrying capacity country in NSW central-west
The 2398ha Wallaroi West is situated 44km south-west of Condobolin and 100km north of West Wyalong.
The mixed farming and grazing holding that fronts the Wallaroi Creek is being offered to the market by Peter and Lydia Allen after 10 years of ownership.
The country is flat to gently sloping with red sandy loams to grey self-mulching soils that grow wheat, barley and canola on rotation, with 130ha of irrigation and the potential for more.
There is heavy carrying capacity country on the Wallaroi Creek that is currently lightly stocked with sheep.
The property is located in a 456mm annual average rainfall area, and has 10km of Wallaroi Creek frontage supported by four dams.
There are around 180ha of mallee tree line plantations established over 1800ha of the property.
Improvements include two homes, a shearing shed, steel sheep and cattle yards, two large hay sheds and 370t of grain storage.
Oscar Freeman and Paddy Ward from Ray White Rural have been appointed to handle the expressions of interest campaign for Wallaroi West, that closes on June 22.
Around $5686/ha for Peak Hill mixed enterprise
Around $7m is anticipated for a central west New South Wales mixed grazing and farming operation.
The 1266ha Brooklands was aggregated over 20 years by Edwin Nash. It comprises three adjoining holdings – 445ha Brooklands, 229ha Woodlands and 592ha Musk Bush.
The properties are located 25km south of Peak Hill and 36km north-west of Parkes, and have a northerly aspect and are flood safe.
Around a third of the country consists of red soils, with the balance running into mulching and darker soils that are currently growing cereals and a range of pastures including lucerne, medics and clovers.
The property is situated in a 525mm annual rainfall region, and is well watered by dams and seasonal creek flows.
Gavan Coote from Kevin Miller Whitty Lennon & Co said the aggregation's layout and access are a feature.
"Brooklands is roughly square.
"Most paddocks are straight-sided and are currently farmed on 12m and 36m tramlines," he said.
"All paddocks front one of four solid grain exit tracks that lead onto 8km of road train route with double road frontage," Mr Coote said.
Operating infrastructure includes three hay sheds, a machinery shed, two steel sheep yards and a shearing shed.
Property sales fuel family and neighbour expansions
Dowra allows family operation expansion
A fifth generation family is expanding with an historic mixed farming operation in north-western New South Wales that has been sold by another fifth generation family.
The sale of the 2461ha Dowra, 37km west of Moree and 86km south-west of Narrabri, ends 122 years of McIntosh family ownership.
Moree Real Estate agent Terry Adam was unable to disclose the purchaser or the price paid, but said the expressions of interest process achieved a good result in line with current market values.
In April, vendor Michael McIntosh told Grain Central that Dowra was "good value for money country, with the farming land likely to make $9600 to $9700/ha and around $3000/ha for the grazing country."
The property is mostly level with heavy black self-mulching soils and gingham flood plains.
Around 1720 hectares are arable and grow wheat, barley, chickpeas, faba beans and sorghum, but the country is also suitable for cotton.
Mr McIntosh said in the run of very dry years, in particular from 2013 to 2019, the only year a crop wasn't harvested was the extreme drought year of 2019.
Eight silos have a total capacity of 2340 tonnes and there is a 550t bulk shed.
The balance of the country, around 741 hectares, is capable of running 2000 sheep and 400 cattle.
Dowra features steel yards for both sheep and cattle, an historic 150-year-old shearing shed renovated in 1987, a four-bedroom homestead, a two-bedroom cottage and a large shed.
The property is well watered by six bores with seven dams used as a back-up source to collect any overflow.
The sale of Dowra included 700ha of wheat and 200ha of faba beans.
Glenevin sold to neighbours
A broadacre cereal cropping and grazing property in Victoria's highly regarded Central Millewa farming district has been split up and sold to two near neighbours for around $2.2 million or $1424/ha.
The 1538ha Glenevin is situated near Werrimull in the Bambill district. It comprises two adjoining properties – 710ha Glenevin North and 828ha Glenevin South.
The cereal producing property previously owned by Kevin and Glenda Fox has fertile soils and a strong fertiliser input and application history. It is also suitable for hay production.
As well as growing wheat, barley, oats, vetch and lupins, Glenevin operated a prime lamb and wool producing enterprise.
During the expressions of interest campaign, Marty Deacon from Elders Deacon Real Estate and Michael Fernandez from Nutrien Harcourts described Glenevin as well managed, providing scale, versatility, operational efficiencies and agronomic farming practices.
It is situated in a 280mm to 300mm annual rainfall area, and water is also supplied by Lower
Murray Water, with separate water meters, receiving tanks and troughs in all paddocks.
Improvements on Glenevin South include a shearing shed, yards and a machinery shed.