BLENDED animal protein and plant-based products that align with the so-called flexitarian diet principles are increasingly finding their way onto supermarket shelves.
The Flexitarian Diet is a semi-vegetarian style of eating that encourages less meat and more plant-based foods. There are no specific rules or suggestions, making it an appealing option for people who are looking to cut back on animal protein intake.
As more Australians opt for a flexitarian diet, the food industry is adapting to provide more choice for consumers, manufacturers and retailers say.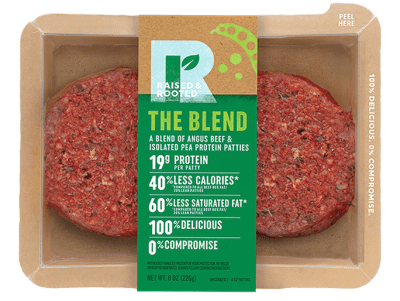 Late last year, Woolworths introduced a range of flexitarian meatballs, burger patties, sausages and mince under the Perfectly Balanced brand. Each contains a balance of animal protein plus plant based ingredients ranging from lentils to sweet potato, kale and carrot.
From meatballs infused with kale and sweet potato to sausages with carrot and lentils, the range offers a new take on the much-loved 'meat and two veg' combo, promotional material says.
"The generous amount of vegetables means there is less fat and salt content compared to typical meat products, while offering high fibre and protein content," it says.
The range carries a 4-star health rating on packaging.
"Perfectly Balanced is a delicious range of easy-to-cook products that celebrates the combination of vegetable goodness and wholesome meat, without compromising on the taste and texture of the Aussie meat favourites you know and love," Woolworths promotion says. "All products contain a good source of plant and meat-based protein, are dairy and grain free and have no artificial flavours or colours."
Woolworths senior nutritionist Natalie Chong said a trend was being seen where more Woolworths customers were embracing meat alternatives and introducing vegetarian and vegan-friendly options into their weekly diets, including adding plant based foods that don't compromise on taste, quality or price.
"We have seen a double digit increase in demand for vegan products in the past year, and are working to create even more choice and variety for our customers," she said.
"This is not to say that customers are becoming strictly vegan or vegetarian, but they are more conscious of adding more vegetables and plant-based foods into their diet as an additional source of nutrients when they can."
The Flexitarian diet has been identified as a popular trend for 2019, encouraging vegetarian and foods along with incorporating meat and other animal products in moderation.
Similar trend seen in US
Flexitarian food products are also gaining traction in the US.
Processing giant Tyson Foods is launching blended animal protein and plant-based products under its new Raised & Rooted retail brand.
According to a press release, the new Raised & Rooted products will be launched around October. Tyson suggests the products are healthier than competing plant-based-only or meat only patties, claiming 40pc less calories, 60pc less saturated fat than conventional beef patties.
In a separate move, Tyson's existing Aidells brand has launched Aidells Whole Blends sausage and meatballs, made with animal protein and plant-based ingredients, the release said.
"Today's consumers are seeking more protein options so we're creating new products for the growing number of people open to flexible diets that include both meat and plant-based protein," Tyson Foods president and CEO Noel White said.
"For us, this is about 'and' — not 'or.' We remain firmly committed to our growing traditional meat business and expect to be a market leader in alternative protein, which is experiencing double-digit growth and could some day be a billion-dollar business for our company."
Tyson announced in May that it was developing its own alternative protein products. In late April, the company sold its shares in plant-based burger manufacturer Beyond Meat, even as that company set the terms for what became an eye-catching float in the New York Stock Exchange.
Tyson's Raised & Rooted blended burgers are made with Angus beef and pea protein isolate, promising fewer calories and less saturated fat than the plant-based burgers sold by competing brands – often containing coconut oil. The brand's nuggets are made from a blend of pea protein isolate and other plant ingredients and contain 5g of fibre and omega-3s, and less saturated fat than traditional nuggets, the release said.
"The creation of the Raised & Rooted brand is an excellent example of Tyson's ability to think big and move fast, capitalising on our existing infrastructure," said the company's executive vice president for alternative proteins Justin Whitmore.
Development of alternative protein products had started last year, and the company had succeeded in creating a new brand and bringing those products to market in well under 12 months, he said.
Aidells Whole Blends products include a range of fully cooked sausages and meatballs made with a blend of no-antibiotics chicken and plant ingredients such as chickpeas, black beans, quinoa, lentils and barley.
Although Tyson Ventures, the company's venture capital fund, sold its stake in Beyond Meat, Tyson remains invested in mushroom-based protein producer MycoTechnology and cell-based meat producers Memphis Meats and Future Meat Technologies.