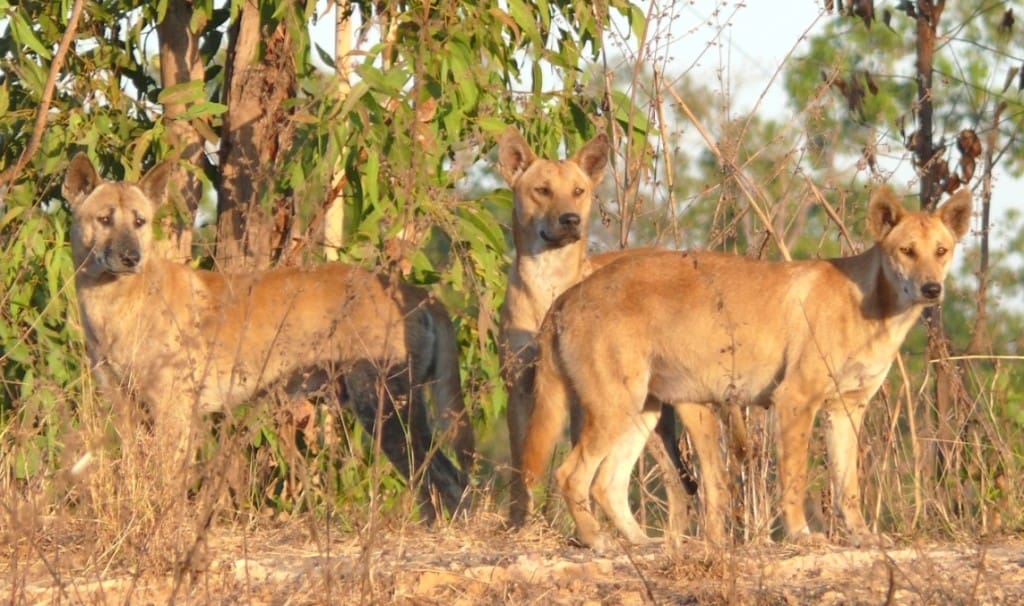 VICTORIAN farmers will continue to oppose the proposed trial introduction of dingoes into the state's south-west until they get a government commitment to abandon the plan.
Plans to investigate the re-introduction of dingoes or dingo-hybrids are outlined in The Greater Gariwerd Landscape Draft Management Plan, for which community feedback ended on 24 January this year.
Victoria Valley wool producer Rhonda Crawford said government assurances that dingoes would not be introduced without further research in partnership with farmers were not good enough.
"It's on the agenda," she said.
An unidentified State Government spokesperson this week told Sheep Central that dingoes will not be introduced into the Gariwerd or Grampians area of south-west Victoria without further research in partnership with farmers, but Mrs Crawford said farmers wanted a commitment that dingoes would not be introduced into the area.
The Crawford family has submitted an online petition with more than 1600 signatories opposing the draft management plan. More than 1900 people have signed online and physical petitions opposing the plan and farmers were ready to demonstrate before parliament if necessary, Mrs Crawford said.
Dingo introduction plan contradicts wild dog commitment – VFF
Victorian Farmers Federation Land Management chair Gerry Leach last week said a plan to introduce dingoes into areas of Crown land goes against existing government funding to eliminate wild dogs elsewhere in the state.
The proposal mooted in the Greater Gariwerd Landscape Management Plan also demonstrated how far some decision makers have strayed away from the proper management of land, Mr Leach said.
Sheep Central last week asked Minister for Agriculture Mary-Anne Thomas to respond to the VFF position on the dingo proposal and if she believed it is contradictory to commit to eliminating wild dogs from Victoria while considering proposals to introduce dingoes. Ms Johnson did not directly reply to the questions and instead a response from an unidentified spokesperson was emailed to Sheep Central.
The spokesperson said the draft Greater Gariwerd Landscape Management Plan proposes the potential reintroduction of native and culturally significant species like dingoes, which could naturally control foxes, rabbits, feral cats, and over-abundant kangaroos.
"However, no dingoes or other animals will be reintroduced until further research – in partnership with farmers – is carried out.
"Wild dog management remains an important part of the pest and predator control effort in Victoria's east to help our forests recover after the 2019/20 bushfires," the spokesperson said.
"Farmers are a vital part of managing the local environment and we continue to work with them to meet their needs, and the needs of the environment, traditional owners, recreational users and the broader community."
The Victorian Government claims to have invested more than $200 million through last year's Budget in a variety of biodiversity programs to further protect the environment, including an additional $9 million for Landcare support.
However, the VFF last week urged the Victorian Government to commit to its side of the Landcare pledge and start working with farmers again to help support and recognise the major role primary producers play in preserving and managing the local environment.
"What was intended to be a working relationship between government and landholders to work together to undertake important work that was beneficial to both farms and the environment is now confused," Mr Leach said.
"There's a real urban community myth that Crown land is properly managed, and farmers are somewhat environmental vandals.
"Anyone who works the land will know this could not be further from the truth," he said.
Mr Leach said farmers need to know the government is committed to managing its land properly.
"Despite the 'Protecting Victoria's Environment – Biodiversity 2037' plan recognising pests and weeds as a threat to biodiversity, there is very little funding to any Crown land manager to even meet their obligations under the Catchment and Land Protection Act.
"The VFF has previously advocated for a $20 million funding allocation per annum to each Catchment Management Authority to undertake their duty to support private land holder action, but no funding was forthcoming," Mr Leach said.
"If the government was serious about the risk of invasive species to biodiversity, biosecurity and the economy they would make every government land manager include in their Annual Report to Parliament how they have met their responsibilities to manage pest plants and animals under the Catchment and Land Protection Act."
Click here to read The Greater Gariwerd Landscape Draft Management Plan.