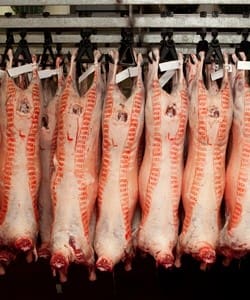 NEW Zealand's lamb production in February fell 8 percent on year-ago levels, just five months into the 2016-17 season.
Meat & Livestock Australia said Statistics NZ has reported the country produced to 42,156 tonnes cwt of lamb in February this year.
Production is on a downward trend in both the country's island regions, with a 5pc year-on-year fall to 20,733 tonnes in the North Island and a 10pc drop to 21,423 tonnes in the South Island. The season-to-date (October-February) lamb production is 181,783 tonnes cwt – back slightly (2oc) on the corresponding period the year prior.
MLA said an 11pc decline in NZ lamb slaughter underpinned the lower February production – at 2.3 million head. For the season-to-date, 10.1 million lambs have been processed – a 2pc decline on year-ago volumes.
According to Beef + Lamb NZ, tighter availability and a smaller lamb crop will lead to total lamb slaughter in 2016-17 decreasing 8pc on the previous season, to 19.6 million head. Consequently, production is also expected to decline 8pc to 353,000 tonnes cwt by season's end.
NZ mutton production in February fell 39pc to 12,019 tonnes and slaughter dropped by 40pc year-on-year to 483,221 head. For the October to February period, however, sheep slaughter is down only 1pc year-on-year, to just over 2.67 million head. Beef + Lamb NZ has forecast sheep slaughter to drop 10pc on the previous year, to 3.7 million head by season's end.
Source: MLA