THE latest worm control weapon for sheep farmers – Startect – is a valuable addition to the range of sheep drenches available, principal veterinary parasitologist at the Department of Agriculture and Food WA Dr Brown Besier said this week.
But like all drenches, it will be most effective when used within a worm management program, utilising genetics, grazing management, refugia, worm resistance breeding and drench resistance testing.
Last week Zoetis launched Startect after it was shown to deliver an average of 99 percent efficacy from over 200 pre-release farm trials in all major sheep regions in Australia.
New active ingredient derquantel is combined with abamectin
Startect's release marks the first time an entirely new class of active ingredient has been made available in a combination drench to boost sheep farmers' sustainability through better on-farm resistance management, manufacturer Zoetis said.
The drench contains a new molecule derquantel, the first active from the new SI (Spiroindoles) class, that has been combined with abamectin to deliver enhanced worm control and protect against resistance.
"Obviously as a combination, Startect, contains one totally new active, derquantel, which is highly effective, close to fully effective, against a wide range of worms," Dr Besier said.
"One qualifier on that is there are some worms, in particular Barber's Pole worm – Haemonchus – and brown stomach worm – Ostertagia – where it (derquantel) is not always fully effective by itself and it does require the addition of abamectin to make Startect fully effective.
"That's really the key – the level of abamectin resistance," he said.
"The company has shown in many trials where there is abamectin resistance to a mild or moderate degree and still Startect has given close to 100pc effectiveness," he said.
"However, that result may drop when abamectin resistance becomes really severe," Dr Besier said.
More than 95pc of sheep properties have drench resistance
It is estimated that more than 95 percent of Australian sheep properties have drench resistance issues and intestinal worms cost the industry around $369 million each year.
Dr Besier said given that in most situations, abamectin has not been "totally wiped out" for use in regards to drench resistance, it means Startect will generally work very well.
"Though I guess one qualifier is that there are some areas – such as the New England area of NSW – where there are some properties where abamectin resistance is very severe and we have to expect there that Startect may not be as effective and people will need to check."
Zoetis said Startect has been extensively road-tested in over 200 farm trials involving several sheep breeds, different climatic conditions and properties with varying resistance levels.
Nineteen trials were conducted in Central NSW and they showed Startect had an average efficacy of 99.7pc in the local area. More specifically, in the Central NSW region, Startect had an average 98.4pc efficacy against Barber's Pole worm (Haemonchus contortus), 99.9pc against Small Brown Stomach worm (Teladorsagia Circumcincta) and 99.9pc against Black Scour worm (Trichostrongylus spp.).
Resistance takes longer to develop against combinations
Dr Besier said one benefit of a combination drench is that with some worms, resistance will take longer to develop, because farmers are using more than one active ingredient simultaneously.
"This is simply because the number of worms that are simultaneously resistant to say component A and component B are going to be fewer.
"Our experience has been that combination drenches do have a role in maintaining effectiveness even though resistance to individual component may be quite severe."
Dr Besier said that as with all new drench types, there is no way of predicting whether resistance to Startect would develop more slowly than has occurred with other drenches, highlighting the continuing need for ongoing grazing and worm management, with worm and drench resistance monitoring.
"One qualifyier is that it is a combination, and that will of itself help delay resistance to an appreciable degree.
"Derquantel is a totally new active so the only question mark that really hangs over it is in situations where there is severe abamectin resistance and that only applies to some worm species – albeit pretty important worm species," he said.
"But it does mean that where people are faced with a standard mixed worm burden, in most cases Startect is likely to give them very high effectiveness."
Demand for Startect is expected to be widespread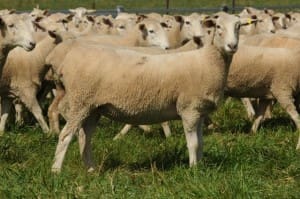 Dr Besier believed there would be good demand for Startect – and other newer drenches – because many people would be under some misapprehensions about the effectiveness of the drenches they have traditionally used.
"The ones I am thinking of particularly are moxidectin and abamectin; people have known for a long time that there is widespread resistance to ivermectin and we haven't recommended that for a long time.
"So we then moved up to the more potent macrocyclic lactones – abamectin and moxidectin."
He said abamectin resistance is quite common in many of the major sheep areas – more than 50pc would have a degree of resistance, though generally not severe so far.
"But what has now changed in the last few years is that resistance has moved up to claim moxidectin on many farms and a lot of farmers would be using moxidectin assuming they are using a fully effective drench — no longer always the case.
"And that is why people will need to consider the new drenches such as monopantel – Zolvix – and now Startect – and certainly the triple combinations where we put a white and a clear drench – or an organo-phosphate – together with a macrocyclic lactone, generally abamectin.
"Those new types of drenches are where most of the action will be and we would strongly advise that where people haven't done a worm resistance test or somehow checked that moxidectin or abamectin are effective, they could be on thin ice," Dr Besier said.
Choosing the right drench is important
WormBoss programs also recommend grazing management, breeding and feeding for worm-resistant sheep and testing for worm type and resistance, but Dr Besier said drench choice is important.
"Because when you need to give a drench, particularly at strategic times, such as in summer in the winter rainfall regions or where sheep are going into safe pastures –you really need your drench to be as close to 100pc effective as you can.
"That has to be tied in with resistance management – the refugia principle – where we make sure that somewhere on the farm there is always a population of less resistant worms to dilute out whatever resistant worms might survive drenching," he said.
"Why we recommend people use highly effective drenches is that the fewer resistant worms left after you give a drench, the easier it is for those non-resistant worms that you have maintained by a planned program to dilute them out.
"Whereas if your drench doesn't work very well and you leave very large numbers of resistant worms then it may well be that no amount of planning will be sufficient to dilute them."
Startect could help prolong the life of older drenches
Wagga-based specialist veterinary parasitologist Nick Sangster said in certain areas, the impact of drench resistance has increased to the point where farmers are being pushed out of the industry.
Zoetis veterinarian Dr Stephanie Armstrong said Startect represents a new and powerful weapon to help farmers better manage intestinal worms and drench resistance.
"When used as the cornerstone of drench programs, Startect also prolongs the useful life of older drenches currently in the program, giving producers more drench options and greater flexibility in the future."
Startect also has an Export Slaughter Interval (ESI) of less than a month, meaning sheep treated with it can be sold after just 28 days, leaving producers without restriction, domestic or international, to markets and buyers.