INCREASED new season lamb listings underpinned an 87 percent surge in the AuctionsPlus sheep and lamb offering last week.
On the back of a reduced offering the previous week, AuctionsPlus commercial sheep and lamb listings for the week surged to 79,625 head – the highest weekly total since late March.
Lambs accounted for 62pc of all sheep and lamb listings last week. The increased offering matched positive buyer sentiment, with most of the lamb and breeding categories achieving price increases, while post-sale negotiations in the days following each auction lifted clearance rates, AuctionsPlus said.
Crossbred lambs were again the largest category, as new season lambs hit the market. Listings were up 80pc on the previous week, and by late Thursday AuctionsPlus had cleared 89pc of the 18,072 head offered at an average price of $135, back $9. At Jugiong in new South Wales, three lines of 320 Poll Dorset cross mixed sex lambs weighing 27kg lwt made $145.
There was a 63pc spike in the number of Merino wether lambs to 15,245 head. Prices eased for the increased offering, with lambs selling from $78-$140 to average $117, back $5. Post-sale negotiations lifted the clearances rate was 50pc at the sale to 65pc by late Thursday. At Thallon in Queensland, 1200 store wether lambs weighing 44kg lwt sold for $111 to a NSW buyer.
The number of first cross ewe lambs more than doubled to 11,922 head. AuctionsPlus said the increased offering was met with selective buying, and the category averaged $191, easing $17. Two lines of 610 first cross ewe lambs at Keith in South Australia weighing 24kg lwt, made $159 to a buyer in Victoria.
The 1122 composite/other breed lambs offered met strong buyer demand and all were sold from $84-$145, averaging $125. At Murray Bridge in South Australia, 580 Primeline wether lambs weighing 33kg lwt made $145.
Only 2841 joined ewes were offered, back 19pc on the previous week. The largest category was scanned in-lamb Merino ewes and 57pc of the 994 head offered sold for an average price of $174, back $8. At Forbes in NSW, 160 3-5 year-old ewes weighing 58kg lwt and scanned in-lamb to Poll Dorset rams sold for $220. Only 38pc of the 912 scanned in-lamb shedding breed ewes listed sold, for an average of $344, up $66.
The 24,927 unjoined ewes offered accounted for 31pc of the total weekly listings. AuctionsPlus said the offering sold to mixed demand, with prices rising in four out of the five categories, but at mixed clearance rates.
Merino ewe hoggets were again the largest unjoined category. The 11,035 head offering reached a 74pc clearance late Thursday, up from 64pc at the immediate close of sale. Prices ranged from $165-$320, to average $241, up $34.
There was a 29pc increase in Merino ewe listings to 3293 head. They sold from $67-$170 and averaged $153, achieving a 43pc clearance rate.
The listing of first cross ewes rose 54pc to 6979 head. AuctionsPlus said selective buying led to an average price of $261, steady on the previous week. Only 26pc were sold by late Thursday. At Wagga Wagga in NSW, 255 14-15 month-old first cross ewes weighing 60kg lwt sold for $328 to a Victorian buyer.
Note: Prices as at 5pm, Thursday 22nd September 2022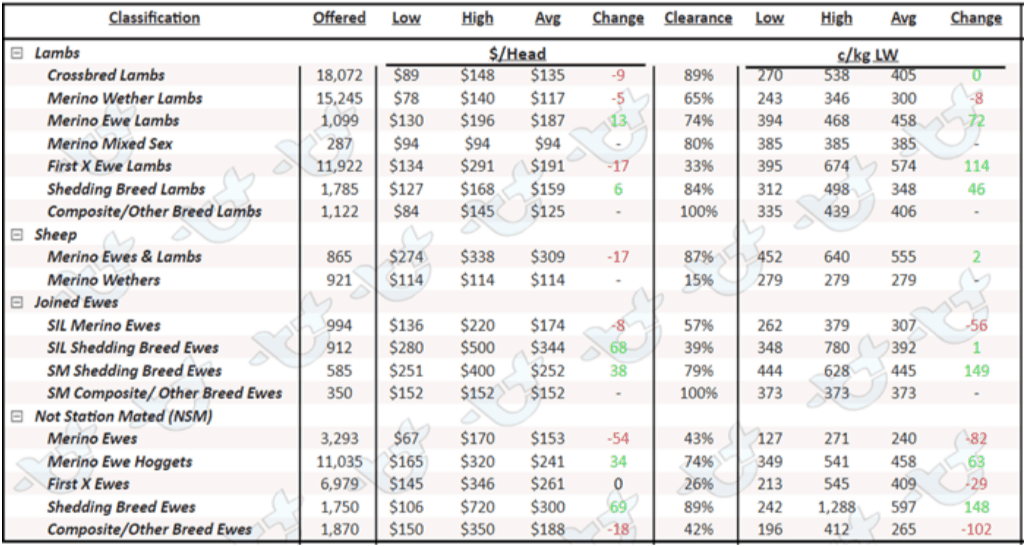 Source: AuctionsPlus.