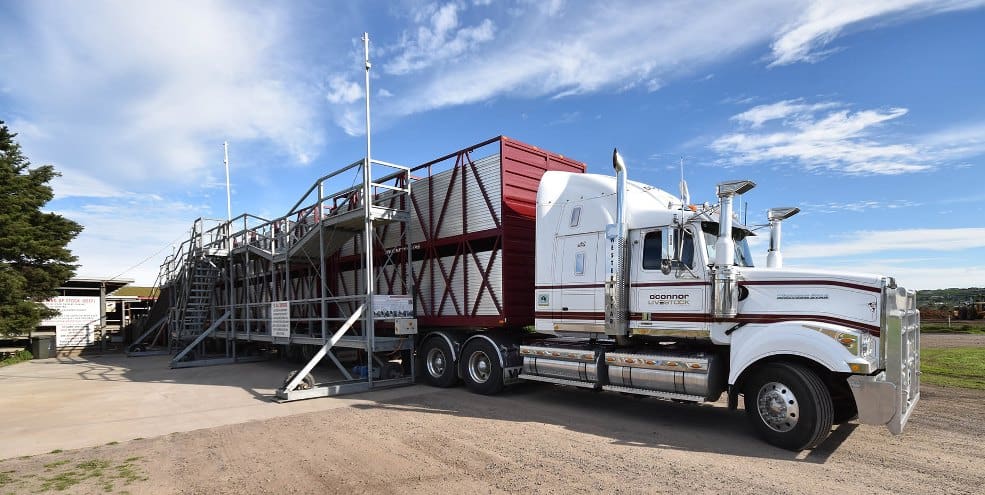 INNOVATIONS designed to improve workplace safety, efficiency and livestock welfare during road transport loading and unloading operations continue to emerge across the industry.
The latest example is an innovative new piece of unloading equipment installed recently at the MC Herd beef and sheep processing plant near Geelong in Victoria.
Following an injury where a driver was hospitalised after a fall from a stock crate, the company set about seeking the developing a system to improve safety around the slaughter stock unloading phase.
Depending on the size of trucks involved, it's not uncommon for up to 20 transport deliveries to the Herd plant each day, some from as far distant as South Australia.
MC Herd principal Frank Herd told Beef Central the original design idea was to produce something along the lines of an 'air bridge' – like those used to load and unload passenger aircraft. That evolved into the much simpler pivoting access landing idea that Herds developed in collaboration with stock handling equipment manufacturer, Proway Livestock Equipment. Proway registered a design innovation patent in 2015, and designed and developed the first structure now in use at the Geelong plant at its Wagga Wagga fabrication site. The original design has had only minor modifications since installation.
Construction of the unit's frame, walkways, stairs and handrails is of galvanised steel. Movement is provided by electrically-driven wheels, controlled with a simple forward/back control switch.
"It's absolutely brilliant," Mr Herd said.
"It's providing a great solution to a WH&S issue, and in addition there's an animal welfare payoff, with cattle coming off the truck with less stress. It's just so much easier on the cattle, and the drivers aren't in the pens with them, trying to push them off. They just walk out so easily," he said.
While the platform has only been used in cattle operations to this point, Proway is confident it will be equally applicable in unloading sheep and lambs. The pivot-point on the access frame is well behind the entrance to the race, allowing the frame to hinge well and truly out of the road as the truck and trailers are backed into position.
Fully installed, the system as installed at Herds cost $40,000-$50,000, however Proway advised that installation cost would vary depending on individual operation and site requirements. Regardless, a cost in that vicinity could easily be justified in high-traffic stock delivery locations like abattoirs, feedlots or large saleyards, Mr Herd said.
The double-deck walkway platform is 17 metres long, making it ideally-suited to single and B-Double trailers.
"If there was a similar WH&S issue inside a plant, management would not hesitate to spend that amount of money to fix it.  But for some reason outside, in the stock delivery phase, there has not been the same attention," Mr Herd said.
Click the link below to see a brief video of Herd's new pivoting access landing in use:
"Great breakthrough:" LRTAV
Livestock and Rural Transporters Association of Victoria president John Beer described the new unloading infrastructure at Herds, Geelong as 'state of the art' for the transport industry.
"It's a great breakthrough, and is ideal for these high traffic locations like meatworks or saleyards," Mr Beer said.
"I have to congratulate Herds for coming up with the concept and putting this in – they've been realty proactive in improving the transport and unloading process."
Mr Beer said once a B-double was backed in, it could be unloaded using the access frame in ten minutes, given 'good-running' cattle – with no danger to the operator or the cattle.
"It's so easy – just the push of a button to swing the frame into line with the truck and trailers, and back again when it's finished. I look forward to coming to Herds now, to drop off a load," he said.
"You don't even have to put on a pair of overalls."
"Before this came in, drivers were getting hammered by climbing over crates and falling from heights when hanging off the side. If we can get more of these units installed in the industry it would be brilliant, making our job a lot easier and safer."
"I've visited too many blokes in hospital who've been smashed up by cattle or fallen during unloading, and these units would solve a lot of that problem," Mr Beer said. "The trouble is a lot of accidents happen to drivers during unloading, but they're often not reported – especially among owner-drivers."
"We'd like to see more of these installed at abattoirs and other high-density places – not only in Victoria but right across Australia," Mr Beer said.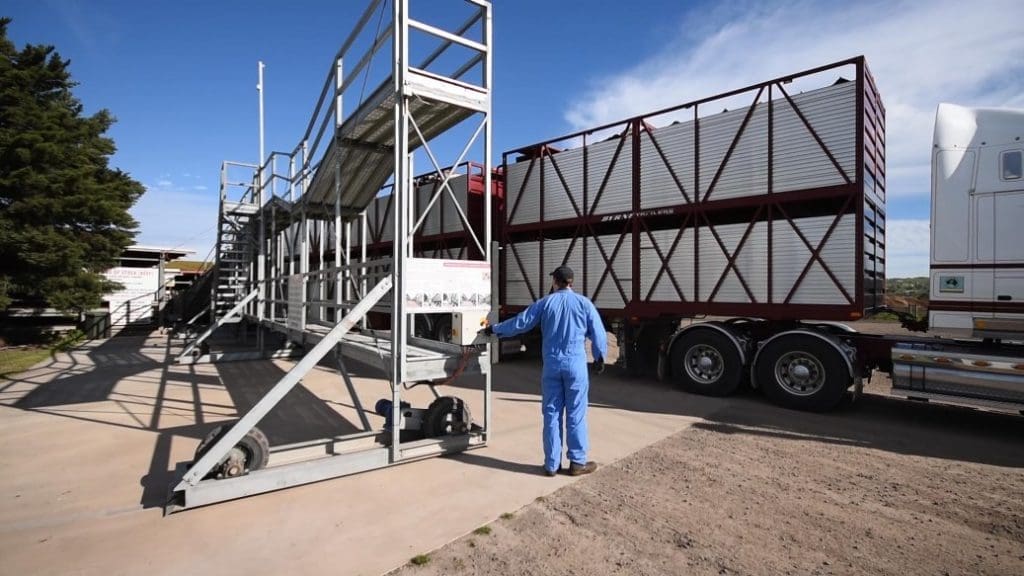 A transport driver from Packenham who provides some comment for the youtube clip embedded in this article said the new pivoting access landing was easy to use and very 'user-friendly.'
"There's none of the 'rock and roll' when trying to use the overhead walkways on the top of the trailer, or working inside the trailer itself with the cattle," he said. "This system, safety wise, is just unbelievable. You're not climbing anywhere, and you're out of the way if an animal rears up. There's all Worksafe-approved steps and rails, so the safety is greatly improved."