WELCOME to the new-look Sheep Central website, launched last week.
Readers will note some significant changes to the appearance of the site, its content and layout, and the way it functions.
It's been four years since our last major revamp, and considerable thought has gone into upgrading and enriching the site to improve the reader experience.
We've designed the new site with a cleaner, simpler look; made it easier for readers to navigate; and have added a host of new features and functions to reflect industry trends.
Inevitably with such extensive re-design transitions, there are some kinks still being ironed-out by our web developers. Some readers may have experienced multiple pop-ups of subscription offers, for example. This is not supposed to happen, and our web developers are working into it. We appreciate the feedback readers have been providing this week, as we identify and remedy the small glitches that need attention. We appreciate readers' patience, and we're confident they will all be resolved in coming days.
Some readers on older Windows platforms running outdated versions of Internet Explorer (pre version 11) have reported problems with how the new site performs. In order to get the optimum viewer experience on Sheep Central, we strongly advise upgrading to a contemporary browser, such as Google Chrome, Safari, Firefox or Microsoft Edge (which has superseded Internet Explorer). Browser updates are free to install.
Here's a brief tour around some of the site's new and improved features:
Upgraded site menu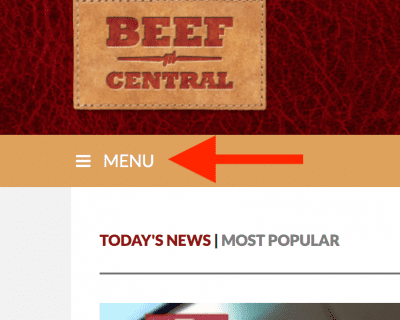 An improved site menu (accessible by clicking on the 'menu' icon at top left of home page) has two functions, which when opened can be interchanged by clicking on either the 'Section' or 'Network' options:
Clicking on 'Section' produces a drop-down menu listing Sheep Central's various sub-sections, such as 'news', 'markets', 'weather' or 'lamb production,' for example. The arrows located at the right of each section title open up a second menu, featuring content housed within that section.
Clicking on 'Network' accesses various other associated websites, including Beef Central, Grain Central, Jobs Central and Property.
Industry dashboard
The maroon-coloured 'Industry dashboard' on the home-page has been significantly upgraded. Six key sheepmeat and wool industry graphs are now presented, accessible using the scrolling arrows at left and right of the dashboard to navigate. By hovering over each data entry, the figure and the date of entry are shown. Graphs are now larger and easier to read. A new table of ASX-listed ag-related stocks is included.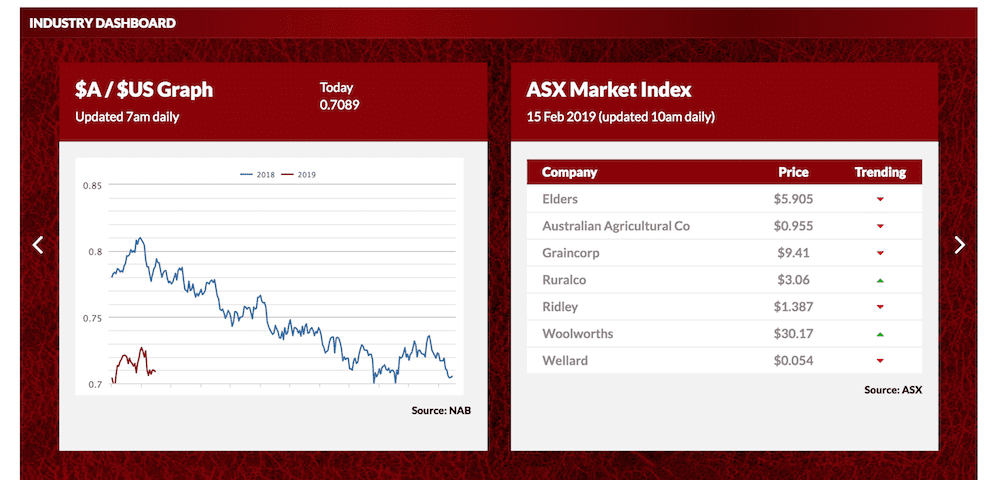 What readers are saying
Immediately below the Industry Dashboard graphs is a new "What readers are saying" feature, sampling recent comments posted by Beef Central readers on articles. Each article's summary on the home page includes a small speech bubble and a figure indicating the number of reader comments posted to that article. Readers wishing to post comments can now post a separate response to an earlier reader comment, to establish a 'thread,' as well as initiating new comments.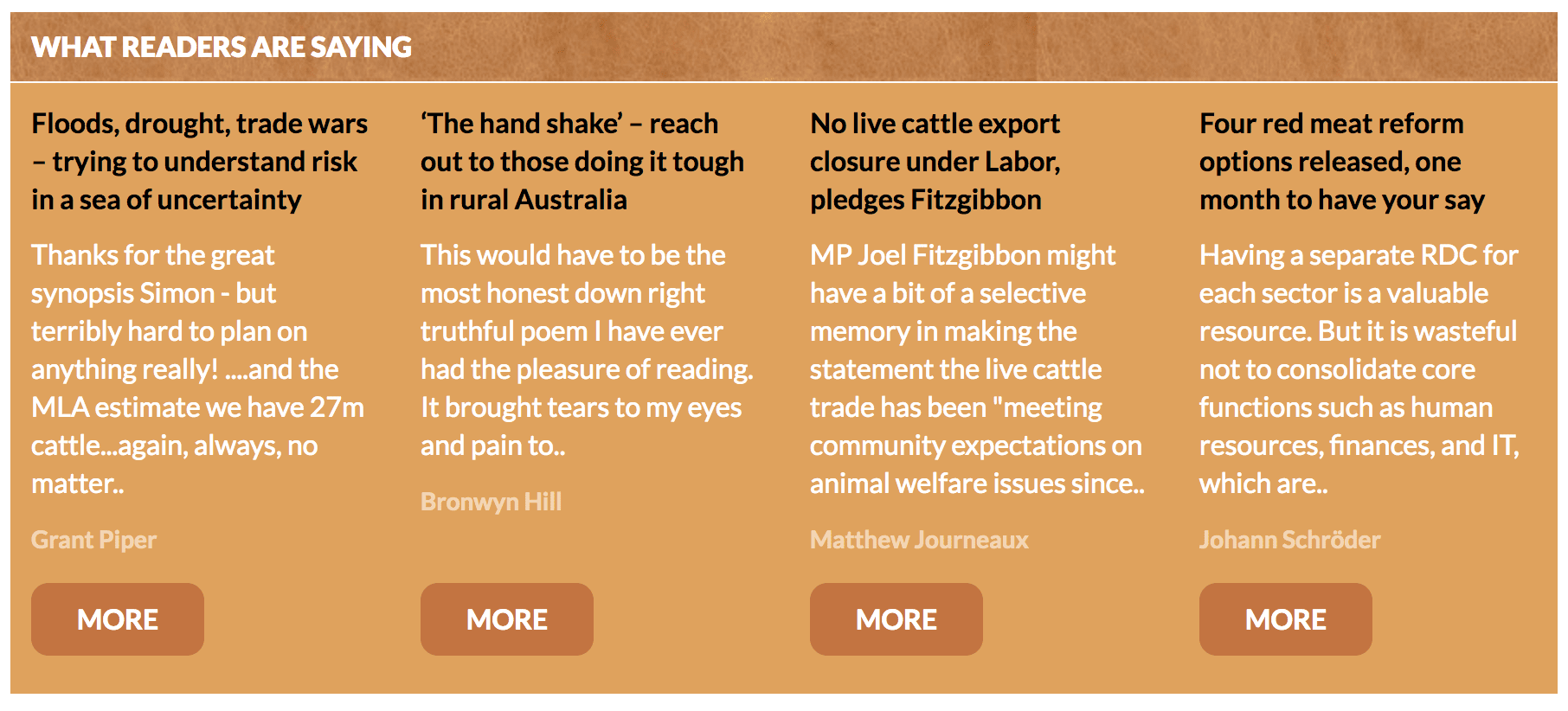 Today's news/Most popular tab:
The Today's news/Most popular tab found at the top left of the home page has interchangeable functions. Readers can click between the two (maroon colour indicates the active mode) to provide displays for 'Today's news' -the most recent articles posted to the site, and 'Most popular' articles, (ranked by reader traffic, accumulated over the previous week).
Text size
We've slightly enlarge the text(font) size in the body text of articles under this week's upgrade. Readers can enlarge or reduce it to suit their own preferences by using the small font size icon (aAA) on the upper right of the home page (as indicated by red arrow in image below).

Printing, copying and pasting articles
Readers can now easily print articles appearing on Sheep Central, simply by opening the required article and right-clicking 'print.' Similarly, articles can be copied and pasted in the usual way.
Section content
By scrolling down the home-page, readers will find summaries of the four most recent articles appearing in each section of Beef Central. These section headings are clickable, taking the reader through to that section, where all articles on the topic are housed.