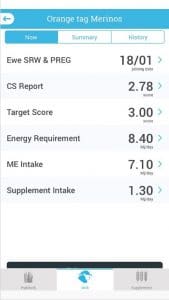 SHEEP producers can now do instant energy estimates on paddocks with the latest version of the popular Lifetime Ewe Management smartphone app.
The app's new features also include cloud capability to aggregate farm information from multiple users, new pasture assessment data to match perennial and annual-based pastures across Australia, location settings and a new feed-on-offer assessment tool.
Livestock Logic senior sheep consultant and LTEM trainer Darren Gordon said with the app's latest version he could assess a paddock for metabolisable energy or ME, improving the app's functionality for assessing pasture and sheep condition score. The app's layout had also been improved.
"Also the big thing is, you can now upload information into the cloud off your phone and then pull it back into your computer so you can have records in your computer as well."
Mr Gordon said the app's cloud capability helped farmers, and especially the younger generation, who were getting better at storing data electronically, instead of using the traditional little red, green or maroon farmer's pocket book.
The LTEM app is a free application for Apple and Android phones, and a digital extension of the popular LTEM course offered through Rural Industries Skills Training. The course trains wool growers and sheep meat producers to maximise productivity by accurately measuring and managing the energy requirements and inputs of their ewe flock through the reproduction cycle. Australian Wool Innovation said there had been more than 1500 downloads of the original LTEM application and significant feedback has been incorporated into the latest version.
The app was created and built in-house at AWI with assistance from various LTEM trainers around Australia who helped road-test it in paddocks and sheep yards across the country. The team included AWI's wool-growing media manager Marius Cuming, Marcus Majass and Pollapee Sroysuwan from AWI, and LTEM trainers Megan Rogers, Daniel Schuppan and Darren Gordon.
LTEM has directly involved more than 3000 wool growers, more than 8 million ewes and has influenced more than 25 percent of the national flock. The course was developed by RIST from the AWI Lifetime Wool research project. AWI has contributed more than $12 million to LTEM and the Lifetime Wool project as the major funder over the past 14 years.
AWI said the average LTEM participant managed just over 3500 ewes and has increased whole farm lamb marking by 10pc, reduced ewe mortality by 33pc and increased stocking rate by 12pc.
The Lifetime Ewe Management App is now free and is available for iPhones via the App store and iTunes. For android users the App will be available through the Google Play store in coming weeks. A series of tutorials within the App takes users through the new features contained within.
Source: AWI.