RECENT forward lamb contracts from major exporters have been welcomed by stock agents advising clients to secure price certainty for some of their 2019 production.
Following saleyard trade and export lamb price movements downward after the release of the Coles $10 contract for this month, major exporters have released contracts of 700-880c/kg for August-October.
The Spring contracts recently released by the Australian Lamb Company and JBS Australia are seen as attempts to secure supply in a difficult season expected to yield fewer quality new season lambs than previous years. But the contracts have been welcomed by some agents as helping to spread producer price risk, aid supply continuity and meet lot-feeding budgets.
JBS Australia's Spring contract for 20-32kg 2-5 score new season lambs for delivery to its Brooklyn and Bordertown plants varies from 880c/kg for three weeks up to 25 August, to 800-860c/kg up to 29 September and from 700-780c/kg up to the first week in November.
The ALC September-October contract for 18-32kg new season crossbred and Dorper lambs varies from 820-880c/kg for September and 700-800c/kg for October, with a 50 cents drop for lambs over 32.1kg. New season Merino, Dohne and SAMM lambs within the weight ranges are priced 30 cents lower.
Both companies have warned that contracts could close at any time without notice.
Elders South Australian and Tasmania zone manager Peter Homann said he would "definitely be taking some of the $8."
"If I was a farmer I would personally take a bit of 800c/kg – I'm all for taking a percentage of forwards."
Mr Homann believed producers who voiced concern at forward contracting lambs below current saleyard prices were "looking at it the wrong way."
"I would say that the glass is half empty – If I forward contracted 30-50 percent of my lambs and on the physical market on the day I sold the other 50pc, I would say it's a positive, because I was happy with the forward price initially and all my spot market lambs have made more."
Mr Homann said many analysts saying prices might be stronger than the forward contracts.
"But I would be taking part of the $8 and then hope the job is stronger.
"I would still happy I've locked in a few at $8 because I know there is a margin in them and I know I can pay my bills."
Mr Homann said everyone is concerned about the available supply of lambs and sheep.
"That is driving everyone's behaviour."
Landmark's national livestock director Mark Barton said he was pleased to see some companies were prepared to put out some forward lamb price contracts.
"Everyone has seen $10 come back to $9 and then to $8.50 and I think historically speaking those prices were realistic and a good shot forward.
"The question will still remain just what number of quality lambs we will have between now and the end of November.
"It's fair to think that killable quality suckers will be in limited supply because of the season they have been through."
He also believed there was value in producers hedging part of their production at 800c/kg-plus.
"If you are a producer, at those sort of prices, historically there is a margin in them."
Many producers might be able to produce a light run of suckers in the first quarter of the season, he said.
"I can see a lot of us having to probably shear lambs to get them as good as we like them this time."
Producers are considering whether a short spring might mean they will have to wean lambs earlier and target professional lot feeders, he said.
"I think these forward are good because there is a swing towards people turning off store lambs looking to have long term relationships with finishers to get the right article.
"I believe that is certainly an opportunity, because you've got the chance for these prices to allow those finishers of lambs to shore up the quality supplies and those guys producing a good store product can go out and do what they do."
Agri Careers and Consultancy principal Chris Howie said the likely new season lamb production is still "a big unknown".
"It doesn't matter where you are the top 10-15pc of your lambs will be ready early and if the worst thing that you did was hedge the top 15-20pc of your heavy lambs it is going to put a good floor in your overall average for your turn-off.
"That's where I have made a lot of inroads with clients over the years," he said.
Mr Howie said clients tended not to want to get their lambs in to draft off a truck load of good lambs early.
"Instead of waiting until October to do your whole sell-off, why not chip a few off the top, take some good money on a forward contract in September and have a look at them later."
Mr Howie said this also sometimes started a relationship with a processor that could benefit a producer in the future.
"What you see is that you've the processors a look at your quality and they will start asking 'how many more have you got' and that may work to your advantage.
"I'm a great believer in that little bit of extra work done early and those lambs (the top 10-15pc) are always ready early," he said.
"Those producers who get caught on the spot market will just cop the variation in the saleyard price."
Meat & Livestock Australia last week reported the Eastern States Trade Lamb Indicator as closing up 6 cents on the day before at 856c/kg, down 3 cents week-on-week, 89 cents down over 4 weeks, yet up 99 cents year-on-year. The heavy lamb indicator finished up 2 cents on 857c/kg, down 3 cents on last week and 88 cents on four weeks ago, but 80 cents up year-on-year.
New season lambs appearing early in NSW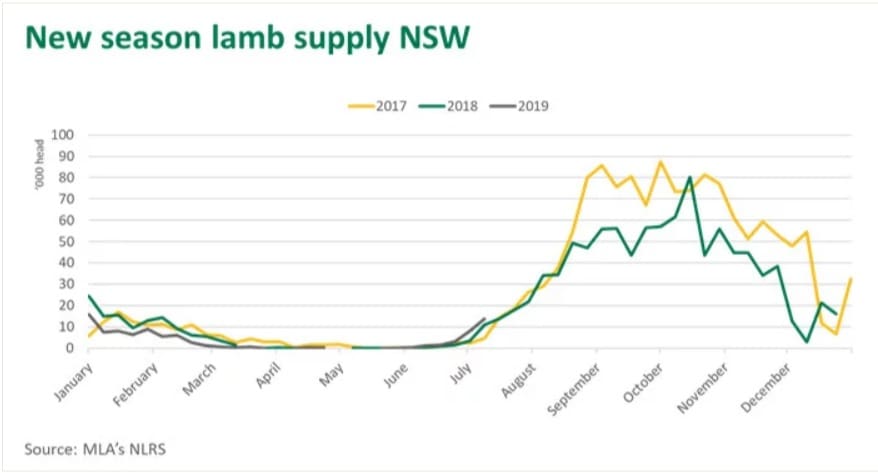 Meat & Livestock Australia said despite the challenging conditions faced by producers during 2019, New South Wales new season lambs have started to enter the market earlier than they have in the previous two years, albeit still in low volumes.
Last week more than 13,000 new season lambs were recorded in NSW saleyards, with Dubbo, Forbes and Wagga Wagga all yarding over 2000 head.
The lift in new season lamb yardings, combined with fewer processor buyers – due to winter maintenance shutdowns – has underpinned the price decline across all categories in the last week, MLA said. Last Tuesday, the Eastern States Trade Lamb Indicator eased to 851c/kg carcase weight (cwt), back 44 cents on the previous week, but had strengthened to 856c/kg by Friday.
MLA said in 2018, the supply of new season lambs in NSW failed to reach the heights of 2017, a major factor in the record prices recorded across the state. On the back of sustained dry conditions and expectations for significantly reduced lambing rates across the board, the supply of new season lambs this spring is not anticipated to surpass 2017 levels. However, MLA said how numbers track against 2018 levels as the season progresses will play a major role as to where prices end up.
MLA said last year many of the initial runs of new season lambs were very light weights, as producers were not anticipating the severity of the dry through winter into spring and grain prices over this period were trading at the highest levels since 2008. For the week ending 2 August, the average weight of new season lambs entering saleyards was 19kg carcase weight, an increase of 2kg on the corresponding week last year.
MLA said producers with lambs on hand but limited feed have refined their production systems to reflect the difficult conditions, with an increased focus on supplementary feeding and lot feeding lambs. Given the strong returns for finished lambs and more favourable grain prices compared to 2018 levels, the delay in well-finished new season lambs hitting the market may not be as pronounced as last year. However, MLA said fewer lambs overall are anticipated to limit supply and drive competition, supporting prices through into spring. The timing and size of the Victoria lamb crop, which usually drives east coast supply from October onwards, will also have a big impact on prices, MLA said.