Former coffee salesman and parcel company owner George Millington will deliver more than a cup of optimism to Australia's wool industry with his purchase of the Collinsville Merino stud and its station home base.
He and wife Sophie have already committed to next year holding the stud's first on-property ram sale in six years, within 10 days of the Royal Adelaide show in September.
And using Australian Sheep Breeding Values and indexes, they will embark on an artificial insemination and embryo transfer program to improve the stud's meat and fleece production trait performance.
George said as an entry point into agriculture in South Australia's mid-north region, Merinos with their dual source of income from wool and lambs are a fantastic opportunity.
He is the latest, after former owner Paddy Handbury, to put a value on owning the Collinsville Merino and Poll Merino genetics, and retaining the sheep on the historic Collinsville station where it began about 120 years ago. Collinsville blood sheep purportedly influence about 30 per cent of Australia's wool cut, George said.
"From where the stud operation has been run for about 100 years and where I am now (Cappeedee) is about 15 kilometres."
Sale includes Collinsville Station, 700 stud ewes and rams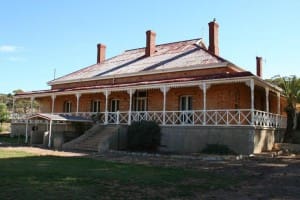 The sale includes the historic Collinsville station and 7000 registered stud ewes and their lambs, all the weaner rams and ram sires. The stud sold a ram for a world record price of $450,000 in 1989 and unfortunately George had no ownership interest in the $66,000 twin-born poll Merino ram sold by Collinsville at the recent Royal Adelaide Show Merino and Poll Merino ram sale.
"I was at the sale though, it was pretty strong – we settle on November 3."
The property and stud sale was negotiated by Ray White Clare Valley principals Geoff and Dan Schell, but no price for the property, stud and sheep purchase has been disclosed. The property was valued at more than $5 million before the sale. The sale included the J.C&S Collinsville brand, the stud name and the sheep. The Handbury family reportedly bought the property from receivers for $7 million in the 1990s.
"I've bought Collinsville Station which is 56,093 hectares which is where some of the genetics have been run with some of the commercial sheep – but more importantly there is no dispersal and I have been able to keep the entire flock of registered stud sheep together and also got the right staff."
Retained staff include stud master Tim Dalla and Collinsville station manager Tony Connell. Mr Dalla will continue to class the sheep with some help from Cousins Merino Services. They will be assisted Cappeedee staff member Tyson Battersby, George said.
"We are trying to keep it all together, back in SA ownership and we are just a sheep and wool business."
George Millington, 39, and Sophie, 37, moved to SA's mid-north in 2011 from Adelaide with their son Rupert, 5, and daughter Alice, 3. Mrs Millington is originally from Jamestown. His family has always been involved in agriculture, though he has lived in Adelaide.
The Millingtons move from coffee to parcels and wool
George left school and ran a small coffee roasting business – importing green coffee, roasting and branding it, and selling his Monjava coffee and coffee machines to cafes and supermarkets. In 2007 the coffee business was sold to San Remo. More recently he and a partner bought APD Parcel Delivery, now Adelaide's largest "hub and spoke" parcel delivery network system serving domestic and international companies.
"We decided that we would like to be more involved in agriculture, particularly for our children – to give them more of a future."
The Millington's bought the 2000 hectare station Cappeedee near Hallett, SA, in 2010, formerly the home of the Murray family's Cappeedee Merino stud for 134 years. Kids Rupert 5, and Alice, 3. The Millingtons have been converting the property from cropping back to livestock with fencing, lucerne pasture establishment and water pipe laying. Sophie grew up on a mixed sheep-wheat cropping farm near Jamestown.
"We've been running a commercial Collinsville-based self-replacing Merino flock and mating our cast for age ewes to terminal sires – White Suffolk," George said.
Opportunities in the sheep industry are "massive"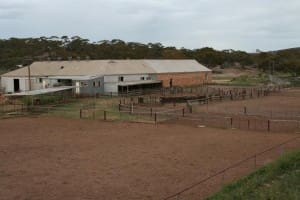 George bought Collinsville station and the sheep stud because he believes the future for agriculture, and particularly sheep, is very strong and the opportunities are "massive."
"If you have a look at what Australia has a natural advantage in, where its resources are and what it can do – world's leading best practice, lowest cost production – one of them is agriculture and one of them is mining.
"And I would much prefer to be in a sustainable industry where you can go on forever and give my children some future," he said.
"You've got more protein demand from Asia coming on.
"Wool is a commodity and it has peaks and troughs, but you've probably seen the best and the worst of it over the last 30 years, but the stockpile is gone, we've now got a free-flowing market and there are probably half the number of Merinos if Australia than there was 25 years ago," George said.
"So we've gone through the big fluctuations and you've now got a pretty steady wool price where people can actually make money.
"People are selling bales of wool, depending on their micron, weight and yield, for $1300-$1500 and they are also able to turn off a five-and-a-half month-old lamb for $100."
Focus will be on breeding a better dual-purpose Collinsville sheep
George said the Collinsville studs had such good genetics he would just like to focus on what it is really good at.
"Which is producing big, plain-bodied 21 micron Merinos that are able to offer our customers a dual-purpose animals for meat and with a big-cutting fleece."
Mr Millington said the studs over the last three years have been using Australian Sheep Breeding Values to complement traditional classing.
"The stud hasn't previously but we are going to be producing and publishing MerinoPlus and Dual Purpose Index scores so all our customers can see what we are doing.
"Using those values and visual selection, we are embarking on an artificial insemination program of about 500 ewes a year and an embryo transfer program as well."
The programs will focus on lifting early growth rates and weaning weights.
"But also very importantly, like all Merino producers we are striving for the perfect animal that will have a lower micron while trying to increase the fleece weight," he said.
"The two traits have historically gone in opposite directions, but we are obviously using modern technology and objective measurement to try to increase our fleece weights and decrease our micron.
"But at the end of the day our customers still want a large robust-framed sheep – if you go much lower than 21 microns we are just not going to be able to give the station people the big sheep they want that can walk three kilometres a day to water."
George said Collinsville due to its rich genetic history has not bought an outside ram for decades "so we are probably seeking to use what we've got".
"Because we've got such a deep genetic base with 7000 stud ewes we want to try to improve and invest from within ourselves."
Former owner happy to see stud and station in enthusiastic hands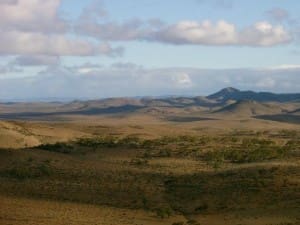 Collinsville Station and stud seller Paddy Handbury said he was proud of the work done to improve the Collinsville genetics and retain the stud's position in the industry.
"It was one the verge of disappearing when we purchased it and I'm very proud that we kept it going with the thinking of the Collins forebears to continue to produce sheep that first of all had to survive."
Paddy said only the Collinsville Station property, but not the stud, was initially on the market.
"George inquired if he could purchase it and when I convinced myself that he was going to make a go of it, then I was happy to sell it to him.
"There were a couple of reasons, first of all he was enthusiastic and he's taken on board our stud manager Tim Dalla, and the fact there was no-one in our family looking to continue to run the stud."
Paddy said he aimed to expand the family's SA sheep industry interests in northern pastoral country.
"We've got one pastoral block in Arkoona Station (near Woomera) and we're looking to expand on that.
"I'm a great believer in the wool industry and in the Collinsville type of sheep.
"We run a feedlot back at Booborowie and all our wether lambs and cull ewes come back through that to get sold into the meat market," he said.
"I think between George's enthusiasm and his commitment to the sheep industry looks pretty strong to me, and I am very comfortable."