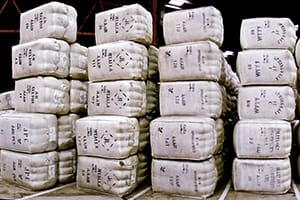 AUSTRALIAN wool prices regained recent losses this week, with new business and favourable exchange rate movements boosting demand from Chinese buyers.
Australian Wool Innovation said while new demand from China was the key driver behind this week's push in the market, the Australian dollar's exchange rate against all major currencies was also a factor, particularly in $US.
AWI said the $US strengthened relative to the Australian dollar by nearly 3 percent this week.
"The result was the EMI when expressed in $US rose by just 1.6pc in comparison with the 4.6pc rise in the $A EMI.
"This situation certainly assisted those using US dollars to buy wool to keep in touch with the rising costs in $A of wool at auction," AWI said.
The AWEX EMI finished the week at 1818c/kg clean, up 80 cents, with brokers passing in just 2.1pc of the 39,582-bale offering. The EMI's 80-cent gain was the highest weekly rise since January 2011.
With the Australian dollar at US78.25 cents, AWEX senior market analyst Lionel Plunkett calculated the $US EMI closing at US1420c/kg clean, a gain of US24 cents for the week.
Mr Plunkett said the AWEX EMI has reduced by 80 cents over the past three weeks, but the decline halted in stunning fashion this week.
"Prices rose across the entire Merino spectrum, on all types and descriptions.
"Wools that were previously heavily discounted, in particular wools with high mid-breaks had the discounts reduced, as buyers attempted to secure quantity," he said.
"Prices generally rose between 60 and 120 cents, with some superfine types extreme."
Although the EMI could only equal its record, the Micron Price Guides for 17.5 to 18 micron and 20 to 21 micron did manage to set new individual highs.
"The skirtings also managed to post large gains, generally between 50 and 100 cents."
He said wools finer than 17.5 micron and those carrying less than 2pc vegetable matter were the most sought after, and thus enjoyed the largest increases.
Crossbred wools also experienced a sharp lift.
"General price rises of between 40 and 80 cents were felt across the board."
Mr Plunkett said the oddment sector managed to rebound strongly this week.
"Prices generally increased by 80 to 140 cents, pushing the carding indicators up by an average of over 90 cents.
"The recent decline in price has kept some sellers away from the market," he said.
"However, this week's lift seems to have encouraged them back, boosting sale quantities."
Price rise expected by market players
AWI said this week's rise was widely expected by the trade, although once again the velocity and magnitude of the gains were not forecast and surprised most.
"It was common knowledge around the show floors pre-sale that new business had been written and indeed many orders remained unfulfilled, as exporters were reticent to expose themselves to an open short position.
"As the week progressed, and buyers stocks moved back into positive territory, some profit taking did occur and new orders were concluded mid-week, somewhat satisfying prompt demands," AWI said.
AWI said towards the close of the auctions this week, the steam seemed to go out of the market and price gains were restricted to more manageable numbers. As one prominent trade member stated, the market has once again moved "way too spritely".
"Of most importance though was that the better wools across all wool types were still being well sought after and it was only the average to inferior descriptions and lots showing hard to place test measurements that displayed this nervousness.
"The vast improvement in market sentiment has pushed prices to levels to a position where many trade participants are now left to ponder their next moves," AWI said.
"Operations were clear, consistent and similar among buyers this series, but variable strategies are now likely over coming weeks.
"The strong price rises have seen an 8pc lift in rostered quantities next week to over 43,000 bales, but the following two weeks rostered sales have fallen by a similar amount."
Chinese New Year commences next week on February 16 and the associated Spring Festival holiday will last for a week.
Sources: AWI, AWEX.