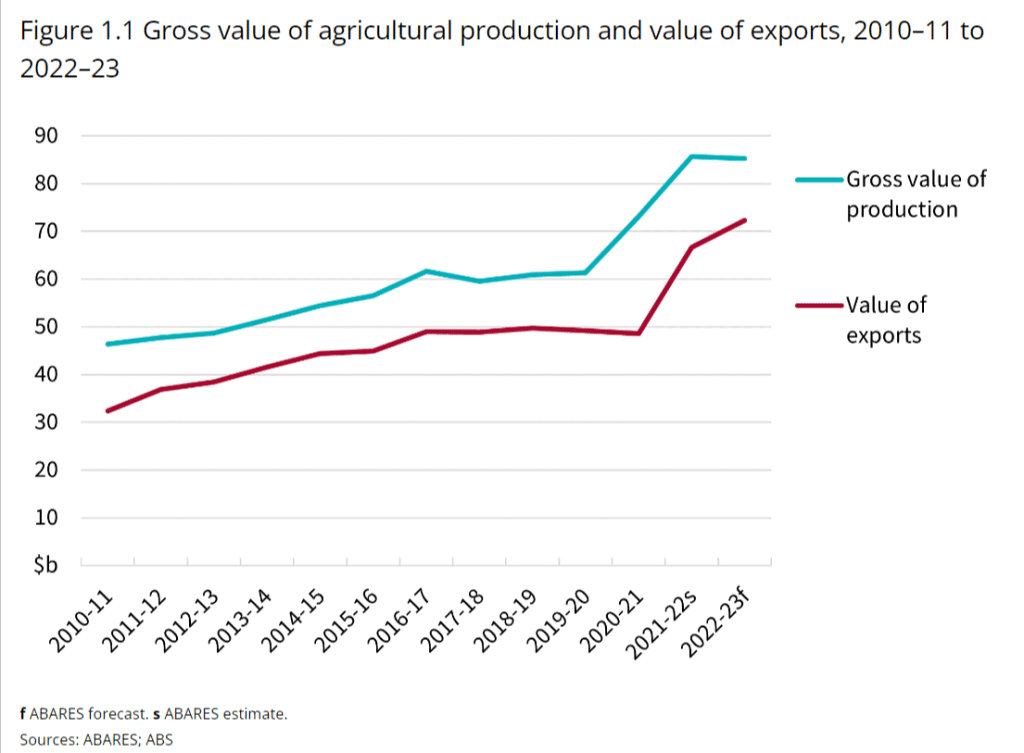 AUSTRALIA'S gross value of agricultural production is forecast to be a near-record $85 billion in 2022-23, driven mainly by crop values, with the livestock sector holding steady as flocks and herds rebuild.
ABARES today said the combined value of agriculture, fisheries and forestry production is forecast to reach $91 billion in 2022-23.
The National Farmers Federation has welcomed the forecasts, but called for more infrastructural support to unlock the sector's "untapped potential".
ABARES said extremely high rainfall and low temperatures have led to upgrades to crop production forecasts in many areas, adding an additional $4 billion in crop value compared to September estimates.
Grain and milk prices are forecast to average higher in 2022−23, and livestock prices, while forecast to fall, will still be at relatively high levels. Favourable conditions are also driving the continued rebuild of livestock numbers, ABARES said.
However, ABARES said considerable uncertainty remains over winter crop harvest progress and grain quality in New South Wales and Victoria given ongoing high rainfall, which could lead to downgrades in production value. Also, seasonal conditions have created significant challenges for some producers, with widespread waterlogging and associated flooding on the east coast for a second year, damaging winter crops and delaying harvest.
Flooding has also caused widespread logistical issues for supply chains – slowing livestock slaughter, shearing, milk production and deliveries of inputs, ABARES said. With further severe weather events likely over Summer, further challenges lie ahead (see the ABARES Seasonal conditions overview).
Ag support is good for the cost of living of all Australians – NFF
NFF president Fiona Simson said while farmers are moving the Australian economy forward, the federation believed that with the right support "huge untapped potential" can be unlocked in agriculture.
"We acknowledge the good work that has been done so far around biosecurity, telecommunications and climate mitigation, but it's time to get serious about the other challenges highlighted in our 2030 Report Card.
"A priority must be for all tiers of government to work together get our flood damaged infrastructure back to standard as quickly as possible," she said.
"Our farming sector may have hit a high note, but it's time to face the music on pockmarked roads and ruined rail.
"We still have farmers left stranded by decimated roads, unable to shift produced beyond the farmgate, while thousands of kilometres of damaged transport infrastructure is slowing down the supply chains from paddock to plate," Ms Simson said.
"We know the job of repairing road and rail infrastructure will take years and many billions of dollars – it needs to start immediately and at a scale to match the level of this crisis.
"We can't stop natural disasters, but we can mitigate their impacts and our governments need to look at ways to prevent such extreme damage as well as ways to act swiftly to respond and repair," she said.
"Getting these things right is good for our farmers, is good for our economy and it is good for Australian families struggling with the rise in cost of living."
To view the Report Card, click here.
The ups and downs in cropping
ABARES executive director Dr Jared Greenville said the ABARES Agricultural Commodities and Crop Reports showed the sector setting new benchmarks in export commodities and high yields for winter crops.
He said the winter crop is forecast to be the second largest on record at over 62 million tonnes.
"Livestock production is expected to hold steady, contributing $34 billon to the national total.
"Another bumper year combined with high commodity prices means Australia's agricultural exports are forecast to break records at over $72 billion in 2022-23," he said.
"While the Spring rain has impacted production, yields and quality in some parts of the country, some states are experiencing their best winter crops on record.
"Crops in Western Australia and South Australia benefitted the most from spring conditions, with total production in both states forecast to reach new record levels," he said.
Total production in Queensland is forecast to reach the second highest on record, despite parts of the Darling Downs missing out on plantings after being impacted by the floods.
"In other parts of the country, the results are mixed with both flooding and water-logging impacting winter crop production," Dr Greenville said.
"We saw a record amount of crop planted in Victoria this year.
"At the state level, high yields in the Mallee and the Wimmera will offset crop losses in central and northern border regions," he said.
"However, the full picture of damage to crops from extensive waterlogging remains an unknown.
Dr Greenville said the total crop production for New South Wales has been revised down by 2 million tonnes since our last Crop Report in September.
"Considerable uncertainty remains over winter crop harvest progress and grain quality in New South Wales and Victoria given ongoing high rainfall, which could lead to downgrades in production value.
"Harvests in Victoria and New South Wales are likely to run well into summer," he said.
"The current conditions are a reminder of the volatility of Australia's climate.
"While it's impressive how resilient the agriculture sector has been, it shows how events like floods and droughts can impact regions and Australian farmers."
The Agricultural Commodities Report – December can be read here.
The Australian Crop Report – December can be read here.