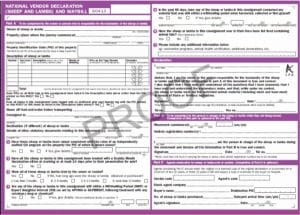 NATIONAL Vendor Declaration compliance has been highlighted by the Sheepcatcher II exercise as a major issue in the National Livestock Identification System for sheep and goats meeting traceability performance benchmarks.
As part of the Sheepcatcher II exercise, the completion rates of key questions on 754 randomly selected National Vendor Declarations was analysed by Animal Health Australia.
The rates of NVDs incorrectly or not completed were 29pc for details, 12pc for tag list, 23pc for NLIS tags, 49pc for post-breeder tags, 40pc for consignment details and 36 for destination details.
"When reviewing the percentage of questions incorrectly or not completed it becomes apparent that the traceability of sheep and goats will struggle to meet the AgSOC acceptable benchmarks of 95pc for long term traces (Standards 3.1 and 3.2) and 98pc for short term traces (Standards 1.1 and 1.2)," the report said.
"This will be more pertinent for non-vendor bred mobs not because the system tools are not available, but due to lack of care and participation by industry participants."
The report said a major national communication effort that focuses on the need to complete the NVD for each movement is required, with clear messages as to why it is important.
"This communication effort will need to be continued over an extended period, as this is a systemic issue with the NLIS-S&G.
"The move to eNVDs will greatly improve this problem due to the mandatory fields and electronic completion, making them complete and legible."
The report said the high level of compliance issues, in particular those related to the accuracy of information in incomplete NVDs is a problem and the system needs to be more robust especially in the case of non-vendor bred consignments.
"A robust mob-based traceability system must be underpinned by a robust system of movement documents and strategies are required to markedly improve the level of NVD completion."
The report said the exercise acknowledged the need for ongoing efforts towards compliance enforcement of incorrectly completed NVDs, especially for consignors of non-vendor bred stock in particular.
"Unless all PICs on the animals within such a consignment are listed it is impossible to trace the sheep.
"This is a co-responsibility of each jurisdiction, industry verification programs, saleyards, agents, processors, live exporters and event managers, and needs to be done on an appropriately regular basis depending on the sector/user being monitored," the report said.
"To more effectively support these critical issues with the NLIS-S&G system there should be a greater emphasis on supply chain or market mechanisms to drive greater levels of compliance with key supply chain nodes (e.g. without structured verification and corrective action procedures at saleyards and processors) having a greater role and responsibility to detect, rectify and penalise non-compliant supply chain participants for any corrective actions.
"Additionally, the supply chain needs to take a strong approach to non-compliance including the referral of incidents to jurisdictions for follow-up and appropriate enforcement response," the report said.
"It should be noted that greater beneficial outcomes will be obtained if more attention is given to recording movement information on the NLS database.
"Strategically, efforts should be directed towards awareness campaigns to support this objective."