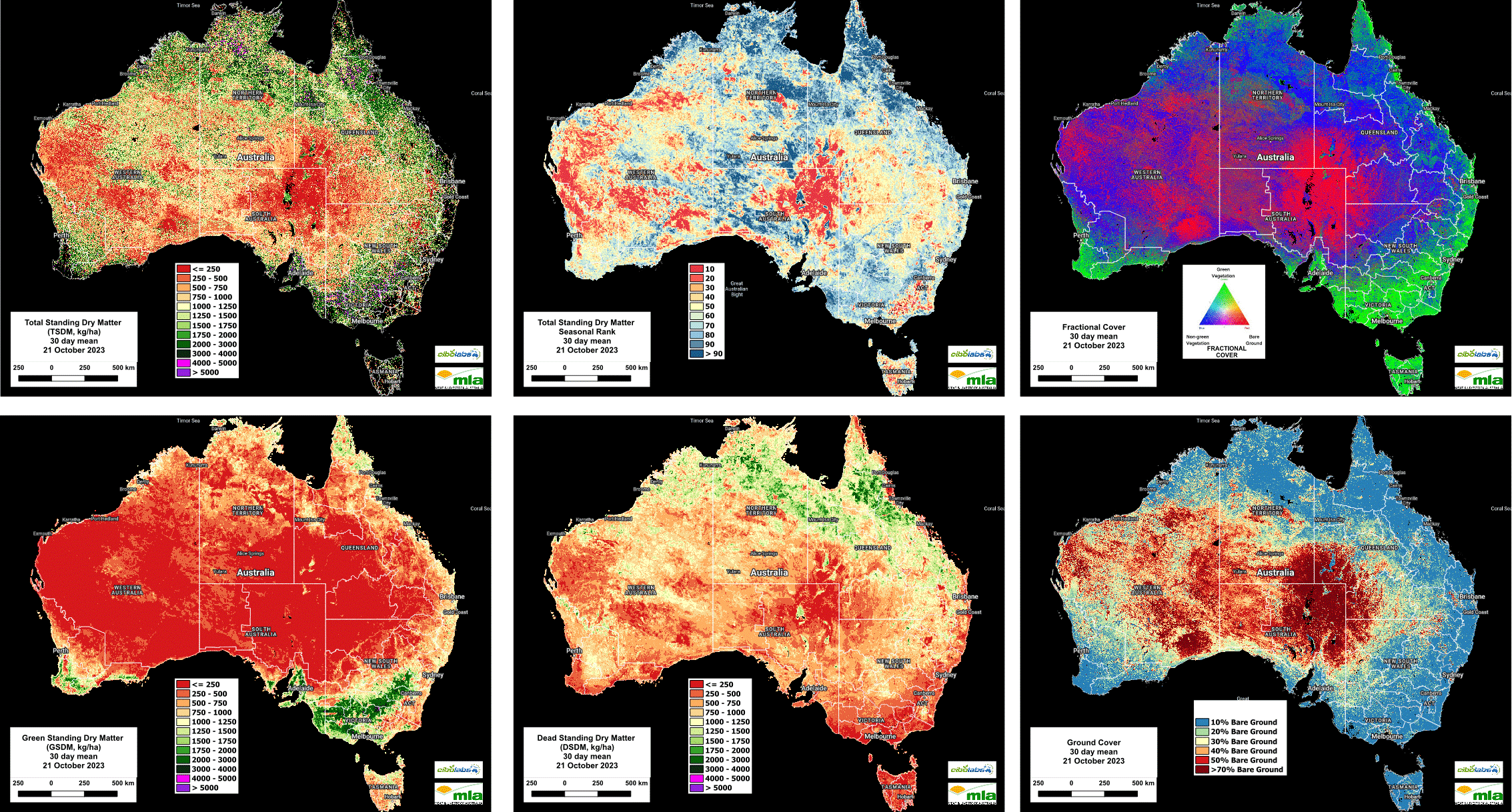 BELOW average rainfall during September has contributed to significant declines in Total Standing Dry Matter nationally.
The Bureau of Meteorology has identified September rainfall was the lowest on record since 1900 and 70.8% below the 1961-90 average.
Combined with low soil moisture (in the lowest 30% for all years since 1911) the overall impact on pasture biomass has been significant.
Total Standing Dry Matter
Total Standing Dry Matter (Kg/DM/Ha) has noticeably decreased across the Barkly tablelands, Queensland Gulf, western Queensland, Central NSW and Western Victoria.
These areas have now entered the average range of 750 -1250 Kg/DM/ha (as evidenced by the light orange and yellow shading visible in Image 1).
Southwestern Western Australia has declined from widespread averages of 1750-200kg/DM/Ha to more lower averages in the range of 1000 – 1500kg/DM/Ha.
Similar pasture biomass declines are evident in South Australia.
Seasonal Comparison Total Standing Dry Matter
While Total Standing Dry Matter declines are evident in Image 1, the comparison of seasonal Total Standing Dry Matter has not altered significantly for NSW and south eastern Queensland.
Areas of the South Australian Riverland have now fallen to average of slightly below average levels for this time of the year.
Much of the north of South Australia is now considered at 30% of below average TSDM for this time of the year (Image 2).
Further west, the declines in TSDM in southwest Western Australia have seen an increase in areas that are below (40%) or well below (20-30%) the long term seasonal average for this period.
Fractional Cover (Growth)
Pasture Biomass Growth events (as indicated by Fractional Cover – Image 3) reflect the below average rainfall and soil moisture conditions experienced nationally.
Areas of active growth (Green shading – Image 3) are contracting to coastal regions of NSW and far North Queensland as well as across Victoria and Tasmania.
Central NSW, and the Eyre Peninsula of South Australia have seen a reduction in areas where biomass is actively growing, with similar observations for southwest Western Australia.
Green Total Standing Dry Matter
As can be expected the availability of Green Standing Dry Matter (Kg/Ha) has significantly fallen in most regions.
The most notable reductions have been in the south west and central west slopes of NSW, Gippsland in Victoria, the Eyre Peninsula in South Australia and the southwest of Western Australia.
For much of the country the amount of Green (actively growing) biomass remains blow 500kg/DM/Ha (Image 4).
Dead Standing Dry Matter
The dry conditions which have reduced pasture growth and amounts of Green Dry Standing Matter have conversely contributed to a slight increase in the levels of Dead Standing Dry Matter (Kg/Ha).
Levels of Dead Material in Southern NSW have increased from averages of less than 500kg/DM/Ha to average between 750 -1000kg DM/Ha.
Across much of the country (Image 5) the change of pasture from actively growing Green to Dead Standing Dry Matter can be readily seen.
Monthly Ground Cover levels
National Ground Cover levels (30 day rolling average – Image 6) continue to remain reasonably stable, with the exception of areas in the Victoria River and Tanami regions of the Northern Territory where there has been an increase in areas of bare ground reflecting both seasonal conditions and the impact of significant bushfires.
The Cibo Labs National Comparison can be used to freely access these layers (https://www.cibolabs.com.au/products/national-comparsion/) to view the most recent images from a national, state or catchment level. 
This tool can complement the Australian Feedbase Monitor which can also be created within the Cibo Labs Web Site www.cibolabs.com.au