AUSTRALIA'S lamb prices for producers are expected to increase by 1.2 percent above average in 2015-16, fed by declining production and strong export demand, National Australia Bank said today.
In the latest NAB Commodity In Focus report, the bank forecasts a 1pc decline in lamb production in 2015-16.
Lamb prices are well ahead of the same time last year and are expected to average 1.2 per cent higher this financial year compared with last year, at 523.75c/kg cwt, despite spring lamb production in the next month or so placing pressure on prices in the short term.
NAB also expects the $A-US exchange rate to drop to US68 cents by early next year, with official interest rates forecast to rise in late 2016, and with a lower end point for the official cash rate of 3.5 per cent.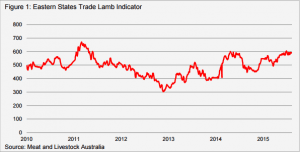 National Australia Bank (NAB) agribusiness head of Victoria and Tasmania, Neil Findlay said the latest Commodity In Focus report showed that the Eastern States Trade Lamb Indicator is approaching its highest levels since 2011, and has remained steady during the winter months.
"Moderately higher prices have been sustained even as supply has increased over the past year, with slaughter rates elevated for much of 2014 and into early 2015, especially from Victoria.
"However, we have held the view for some time that the current higher slaughter levels, underpinned by increasing turn off rates as a proportion of total flock, are not sustainable," Mr Findlay said.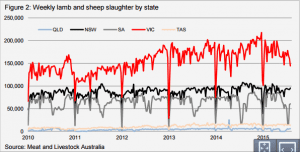 "Recent data lends support to this view, as slaughter has begun to contract faster than normal in Victoria ahead of the spring peak and this will help provide support to prices over the remainder of the financial year.
"We are still around a month away from the major spring flush of lambs and we think nationally supply will be slightly weaker, with a forecast 1pc decline in production in 2015-16."
High lamb prices driving domestic consumption down
NAB said high prices are seen as the primary drivers of a continuing fall in domestic lamb consumption. However, exports of processed lamb have been generally on the rise over the past five years and have been the destination for much of the additional lamb supply.
The bank said ongoing weakness in the Australian dollar will benefits export values. NAB is forecasting the dollar to bottom out around US68 cents by early 2016, although the expectation for the AUD to drop to US70 cents by year end has materialised a little earlier than predicted, suggesting further scope for downside risk.
Click here to download the August In Focus Report (PDF).
Source: NAB