Lamb and beef slaughter rates are expected to contract as flocks and herds are rebuilt following elevated slaughter in 2014 due to dry weather, NAB's February Rural Commodities Wrap said this week.
The bank said heavy lamb prices rose 4.9 percent in Australian dollars terms in January to 558.3AUc/kg, gaining pace for the third straight month, responding to contracting sheep and lamb slaughter as producers are encouraged by recent rains to rebuild flocks.
NAB said wool prices were generally unchanged in January, with the Eastern Market Indicator averaging AUD1057c/kg for the month. Prices were stable for some time until January, with only a small uptick (2.7pc) since mid-2014, although February has seen a jump in price as the Australian dollars falls against the US dollar.
Lamb and beef price rises lift index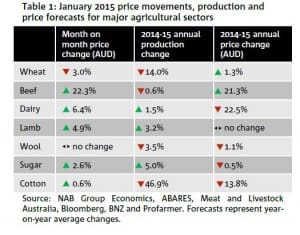 NAB said the rises in lamb and beef prices contributed to a sharp rise in NAB's Rural Commodities Index in January.
The index rose rose 5.6pc in Australian dollar (AUD) terms, with sharply higher beef prices, and to a lesser extent higher lamb, dairy and vegetable prices, offsetting mixed performance across grains.
NAB expects A$ to fall as low as US74 cents this year
NAB analysts said there is increased confidence in a mid-year start to increases in US interest rates, which combined with the likelihood of at least another RBA rate cut in the coming months and expected further falls in Australia's terms of trade, sees lower forecast levels.
"In response, we have revised down our AUD/USD forecast, which now shows AUD/USD falling to a low of 0.74 this year and 0.73 in 2016 before recovery commencing in later in 2016 and into 2017."
NAB index has tracked price rises since October 2014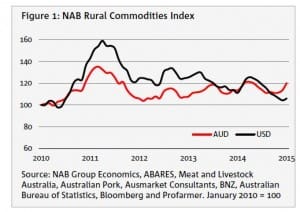 The Rural Commodities Index has been expanded in 2015 to include monthly price and production data for 28 commodities, up from eight in the previous index, and is published today in the February Rural Commodities Wrap.
NAB Agribusiness general manager Khan Horne said commodity prices have been tracking upwards in AUD terms since last October, which is reflected in the index.
"The falling AUD has also had a significant impact in cushioning any falls in global prices for Australian farmers, and we expect this to continue into 2016," Mr Horne said.
"In further good news for agriculture, there is the likelihood of at least another RBA rate cut in the coming months. We have brought forward our forecast August cut to May, with a 30 per cent probability of another cut thereafter," Mr Horne said.
Looking ahead for production this year, NAB sees some increases in dairy (1.5 per cent) and sugar (5 per cent), while some contraction is expected in wool (-3.5 per cent) and cotton (-46.9 per cent).
"For protein, we expect to see slaughter rates contract for beef and lamb as producers rebuild herds and flocks following record slaughter in 2014, Mr Horne said.
NAB's Rural Commodity Index is a reflection of movements in commodity prices on a monthly basis in both AUD and US dollar terms.
It now includes wheat, barley, sorghum, rice, oats, canola, chick peas, field peas, lupins, wool, cotton, sugar, wine grapes, beef, lamb, pork, poultry, dairy, apples, bananas, oranges, mangoes, strawberries, broccoli, carrots, lettuce, potatoes and tomatoes.
Source: NAB Agribusiness.