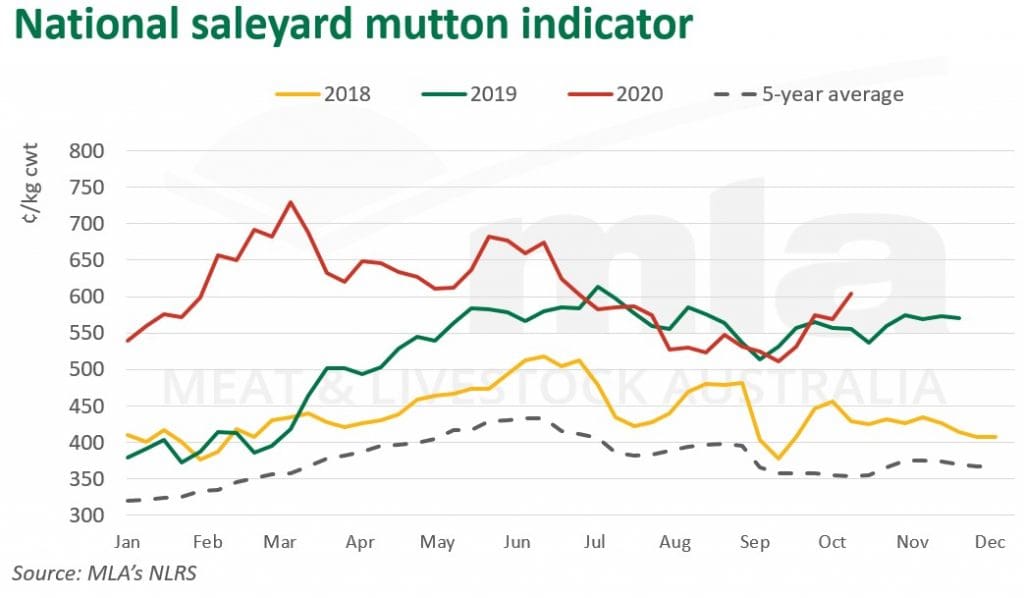 TIGHT domestic mutton supplies are driving strong sheep prices in saleyards and on processor grids, according to Meat & Livestock Australia.
MLA said the national mutton indicator has continued to track at historically high levels as demand remained steady despite volatile offshore market conditions.
For the year-to-date the National Mutton Indicator has averaged 606c/kg carcase weight (cwt), up 96c/kg, or 19 percent, on the same time last year.
This has largely been driven by price movements in the eastern states, with the Eastern States Mutton Indicator lifting 15pc year-on-year last Tuesday, 27 October, to 644c/kg cwt. By 29 October, despite dropping five cents the indicator closed on 650c/kg, up 14 cents on a week ago and 98c/kg higher year-on-year.
US mutton demand is prevailing
MLA said while mutton prices have typically been buoyed by international demand, impacts of COVID-19 have seen key offshore markets moving through different stages of foodservice recovery, which is a major channel for Australian mutton.
Coinciding with an appreciating Australian dollar, the flow of Australian sheep meat exports has wavered in response to these headwinds, MLA said.
For the year to September, total mutton exports eased 21pc on the same time last year to 95,900 tonnes shipped weight. However, demand out of the US has strengthened, with year-to-September exports lifting 21pc year-on-year to 14,500 tonnes.
Lower supply reflects flock rebuilding momentum
This year has seen prices track at historically high levels, compounded by significantly low supply and steady demand, MLA said.
This reflects the national flock rebuild gaining momentum, with producers retaining a greater portion of breeding ewes and subsequently reducing the pool of available sheep. For the year-to-date, national sheep yardings averaged 2.5 million head, down 60pc on the same time last year at 4.1 million head, MLA said.
Source: MLA.