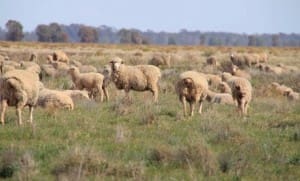 Australian mutton exports reached a record 183,232 tonnes for the 2013-14 fiscal year – an increase of 27 percent year-on-year and 59pc above the five year average, Meat & Livestock Australia says.
The surge in shipments was driven by consistently high drought-induced sheep slaughter throughout spring and summer, and the rising export demand for mutton, particularly in Asia.
China overtook the Middle East as the largest mutton export destination for the year, with a 32pc market share, as volumes surged 66pc on 2012-13 levels, to 59,500t.
Exports to the Middle East fell 12pc on the previous year, to 43,500t, bringing the region's share of Australia's mutton exports down from 34pc in 2012-13, to 24px in 2013-14.
Demand for mutton from Southeast Asia has risen considerably over the past 12 months, as shipments jumped 57pc year-on-year and almost doubled from the five-year average, at 25,600t.
The US and EU registered 4pc and 17pc year-on-year increases, at 10,500t and 5400t, respectively.
Source: MLA