STRONG export-driven demand for Australian mutton is unlikely to contract in the short-term, according to Meat & Livestock Australia.
The Eastern States Mutton Indicator closed at 586c/kg yesterday, but buoyed by overseas demand it peaked at 593c/kg carcase weight, which is 34 percent above year-ago levels.
MLA said the strength of current prices is remarkable, considering the indicator is historically largely climate-driven.
With the mutton market being driven almost entirely by export markets, strong demand from overseas markets has influenced the sustained price levels. This demand is unlikely to contract in the short term, as China, in particular, is increasingly sourcing alternative proteins as pork shortages from the ASF outbreak combined with a growing middle class drive demand, MLA said.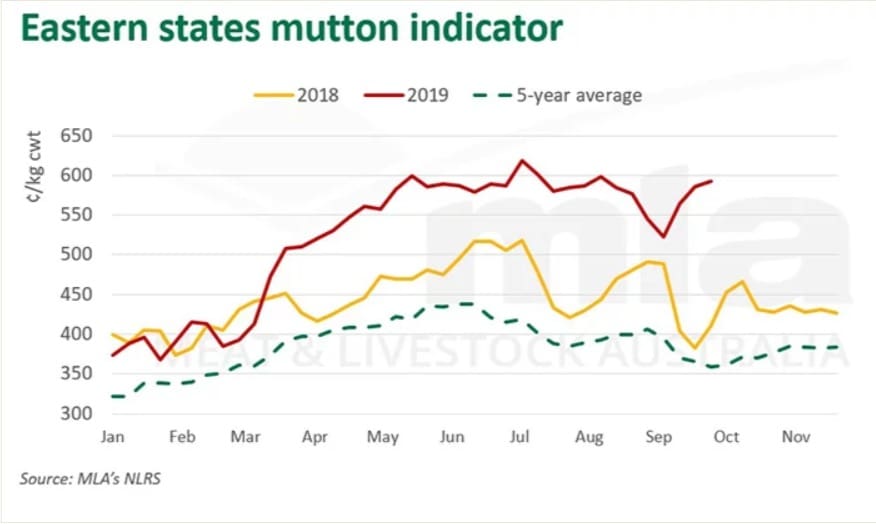 Sheep slaughter down 13pc year-on-year
For the week ending 11 October, which included the Labour Day public holiday in New South Wales, eastern states sheep slaughter totalled 134,700 head, down 13pc on the same week in 2018. Sheep slaughter for 2019 has remained below 2018 levels since April, as the extreme level of destocking in the second half of 2018 has not repeated this year to the same extent, MLA said.
Victoria was the only state operating for five days last week and contributed 44pc of the total sheep processed, NSW accounted for 39pc of sheep slaughter, with SA processing 14pc.
Lamb prices stable around 800c/kg
MLA said the Eastern States Trade Lamb Indicator (ESTLI) has remained remarkably stable since the middle of September, with prices remaining within a 10-cent range of 800c/kg cwt. Prices have been far more reflective of a typical seasonal trend, similar to how the indicator tracked prior to 2018, albeit at a significant premium.
On Tuesday, restocker lambs were 157 cents above year-ago levels at 861c/kg cwt, the largest year-on-year increase of all lamb and sheep categories. Store lamb values have been well supported by southern restockers, mainly Victorian restockers, on the back of a reasonable southern wet season, MLA said.
Source: MLA.