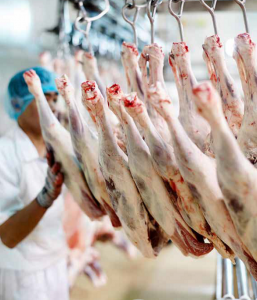 SHEEP meat exporters have fuelled a 500 percent increase in the number of lambs processed through Meat Standards Australia eating quality pathways and standards since 2010-11, Meat & Livestock Australia has reported.
In its MSA Annual Outcomes report, MLA said growth in MSA sheep meat has been driven by the adoption of MSA pathways by major processors, retailers and the development of lamb brands underpinned by MSA.
Click here to get Sheep Central story links sent to your email inbox.
Meat & Livestock Australia's General Manager – Producer Consultation & Adoption, Michael Crowley said the MSA sheep meat program had been extremely successful.
"The proportion of lambs presented through MSA pathways in 2015-16 and subsequently trademarked as MSA through the supply chain rose to 63 percent, an increase of 12pc on 2014-15."
Mr Crowley noted that beyond the paddock, nine new brands registered with MSA to promote the quality of their product, bringing the total to 140, and eight brands have now adopted exporter guidelines to communicate MSA in international markets. Over 3600 Australian end-user businesses are now licensed to promote MSA beef and sheep meat.
The proportion of sheep graded with MSA through both informal and trademarked pathways represented 23pc of the national lamb slaughter. Of the 3244 new MSA producer registrations processed in 2015-16, 60pc became accredited to supply sheep, MLA said.
The world leading Meat Standards Australia (MSA) eating quality program has continued to grow and deliver returns to the farm gate in 2015-16, with more than 3 million cattle and 5 million sheep presented for MSA grading during the last financial year, MLA said.
According to new data for 2015-16 released as part of MSA's Annual Outcomes Report, the program also delivered an additional $153 million in farm gate revenue thanks to premiums paid for MSA accredited and compliant cattle, with more than 3000 additional cattle and sheep producers becoming MSA registered.
Mr Crowley said the program's strong performance was encouraging, especially for cattle, where it increased its share of the national slaughter by 4pc – representing a total of 38pc – despite the decline in slaughter nationally.
MSA was developed by the Australian red meat industry to improve the eating quality consistency of beef and sheep meat. The system is based on over 700,000 consumer taste tests by over 100,000 consumers from nine countries and takes into account all factors that affect the eating quality of the 169 cuts and cooking combinations within a carcase.
Click here to download the MSA Annual Outcomes report or visit the MLA website: www.mla.com.au/msa
Source: MLA.