THIS week's property review includes a wrap-up of interesting recent listings across the country, and a separate article of recently completed sales of note.
NSW's historic Funny Hill returns to the market
Premier Victorian Western District grazing
Highly regarded NSW western division country
Cattle breeding & background in SW QLD
Scale & development potential in Charleville
High rainfall CQ country attracts strong interest
Hay & cattle block in QLD's South Burnett
Historic Emu Creek offered for first time in 155 years
$7m+ for western NSW goat operation
NT's Beetaloo tipped to make $300m+
Kimberley breeding & fattening
Longreach Pastoral college up for grabs
NSW's historic Funny Hill returns to the market
New South Wales' historic Funny Hill in the Southern Tablelands region has returned to the market with a $70 million (bare) price tag after failing to sell at auction.
The 3877ha holding is located at Binda, 23km north of Crookwell and 67km north of Goulburn. It is a three-hour commute from Sydney.
Funny Hill features scenic tablelands country with an easterly aspect, and with rich granite soils and highly improved pastures.
The property is situated in a reliable 763mm annual rainfall district, and has about 10km of Crookwell River frontage, as well as nine spring-fed creeks and 63 dams.
The property is being offered for sale after 162 years of single-family ownership by James and Felicity Carr, who, since 1970, have been upgrading and improving the holding. The changes have allowed the couple to transition from running 45,000 dry sheep equivalents to a 2200 head Angus commercial cow herd.
Chris Meares from Sydney-based Meares & Associates said Funny Hill represents a 'time warp' from the original land grant in 1860 to the present day.
"It features a magnificent historic six-bedroom stone/brick homestead (c1864), an old schoolhouse (c 1875), a 16-stand woolshed (c 1906) and the shearer's mess and stables (c 1907)."
Funny Hill is home to the oldest country racecourse in Australia and every March hosts the annual Binda Picnic Races – first held in 1848.
Premier Victoria Western District grazing
Around $20 million is anticipated for the Edgar family's premier Victorian Western District holding Nerrinyerie which is being sold after 146 years of ownership.
The 1665ha of prime grazing land is situated near Harrow in a tightly held and sought-after area.
Mark DeGaris from TDC Livestock and Property said Nerrinyerie is an impressive, well managed and presented holding. The owners are  currently joining 8500 ewes and the property has scope to raise numbers.
Extensive pasture renovation has been undertaken, with established stands of phalaris, rye, clovers, cocksfoot and lucerne.
The property offers a good balance of soils, ranging from medium loams grading to heavy clay-based loams with portions of true terra rossa,. The property offers areas of gentle undulation and is well drained. Nerrinyerie has reliable underground water, dams, two bores and a series of solar pumps that reticulate to troughs.
A five-stand raised board woolshed with undercover yards has just been completed. The containment feeding and backgrounding yards have a capacity for around 6000 lambs.
Expressions of interest for Nerrinyerie close on 24 February.
Highly regarded NSW western division country on offer
Some of the best grazing country the New South Wales western division has to offer is being sold by Hunter Valley cattleman Manuel Fernandes.
The 15,782ha Willawillingbah is situated 90km north of Brewarrina and 120km west of Walgett. It is one of five properties being carved-off Mr Fernandes' 40,077ha Cuttabunda Aggregation in the state's far north-west.
Equally suited to sheep or cattle breeding and finishing, the highly regarded country is rated to carry 11,205 dry sheep equivalents or 0.71DSE per hectare.
Willawillingbah was taken up by the Stalley and Dunphy families in 1947 and sold to Mr Fernandes in 2006.
Offering an excellent balance of red and grey/black soils, the typical flat western run-off plains create beneficial local flooding on the low-lying areas.
The heavier soils grow Mitchell and Flinders grass in season, with bluebush and edible salines.
Enjoying a 15km frontage to the Bokhara River, Willawillingbah is also watered by the Mackenzie's Point Bore, as well as its own private bore. There is a mixture of pipe and capped water, as well as open drains.
Greg Seiler from Nutrien Harcourts Bourke and Huw Llewelyn of GM Llewelyn at Merriwa are handling the private treaty sale.
Mr Seiler said the country on Willawillingah is phenomenal.
"It certainly doesn't come any better in the western division, particularly for both cattle and sheep," he said. "The property is boasting a good body of feed and while improvements could be made to the capital infrastructure (fencing and water), Willawillingah is operational."
Cattle breeding & background in SW QLD
Cattle breeding and backgrounding country in southwest Queensland is being offered by the Petfield family after more than 20 years ownership.
The 21,931ha Attica, 122km north-east of Augathella, can run 1800 backgrounders or 900 cows and calves.
Originally the family-operated Attica as a breeder block, however in the last five years the Petfields have been running a profitable trading operation – purchasing lightweight dry heifers and taking them through to the heavy feeder market or alternatively joining them and selling them as PTIC heifers.
Since 2002, the Petfields have undertaken significant development works to improve management practices and productivity. More recently, they have repulled around 800ha and burnt and seeded 1200ha.
Attica features a mix of box, cypress pine and ironbark sandy forest country growing native and buffel grasses.
Located in a 675mm rainfall region, the property is watered by 24 dams, two bores, plus temporary creek waterholes.
Attica is being sold bare via expressions of interest closing February 28. The successful purchaser will be offered 1600 heifers and full station plant.
Peter Elmes and Grant Haddin from Allied Markets are handling the sale.
Scale & development potential in Charleville
Sought-after breeding, backgrounding and finishing country near Charleville is being offered for sale after 32 years ownership by Sydney-based Mathews Farm Investments.
The 30,759ha Noella, 85km west of Augathella in south-west Queensland, is well positioned to take advantage of eastern and southern markets.
Featuring mostly gidgee, brigalow and bottletree scrub, the country has high protein pasture and soil types supporting buffel and soft native grasses, and a mix of gidgee burr, salines and herbages which respond quickly to rain.
Enjoying an excellent season, with much of the country being spelled over the last four years, Noella is capable of running 2500 breeders.
More than 58km is newly fenced and watered by more than 45 dams and tanks, as well as numerous creeks and run-off from scattered hills and ridges.
Keith Richardson from Elders reports interest from Queensland producers, as well as some southern inquiry.
"Noella boasts scale and development potential. It is capable of tremendous livestock production, achieving high daily weight gains," he said.
Noella will be auctioned on February 14.
High rainfall CQ country attracts strong interest
Western producers looking to downsize and locals seeking expansion are showing strong interest in a uniquely positioned block in Central Queensland.
The 1617ha Mondover is a sizeable breeding, backgrounding and finishing block on the Capricorn Coast's high rainfall hinterland.
Owned since 2015 by Paul and Margaret Kirkwood who are retiring, the property is situated at Lake Mary, 15 minutes from Yeppoon and 40 minutes from two export abattoirs in Rockhampton and close to the Gracemere saleyards.
Heavily grassed with improved pastures, the country comprises mostly open flood-out and around 200ha of higher country.
Mondover is watered by a chain of permanent lagoons and creeks, with the Daly Creek running through the middle of the property.
Securely fenced, Mondover is running 900 backgrounders that are gaining 0.6 to 0.7kg per day.
The sale of Mondover is being handled by Rod Harms from Rod Harms Rural and Virgil Kenny from Elders Rockhampton. It will be auctioned bare of stock on February 24.
Hay & cattle block in QLD's South Burnett
Hiawatha, in the tightly held and renowned Goomeribong district of Queensland's South Burnett, has been listed for $3.5 million.
The 324ha block, suitable for cattle and hay production, is located 10km north-west of Goomeri and 85km west of Gympie.
The country comprises 222ha of well-developed narrow and broad leaf ironbark country, 40ha of steeper grazing country and 60ha of creek flats, of which four hectares are currently irrigated.
Hiawatha is comfortably running 150 breeders or 220 adult equivalents.
Water is supplied by two bores, permanent holes in Wonga Creek and six dams.
The sale of Hiawatha is being handled by Rob Atkinson from the Professionals Gympie.
Historic Emu Creek offered for first time in 155 years
FOLLOWING 155-years in the hands of one family, Walcha's Emu Creek has been listed for sale
Originally purchased in 1868 for one pound per acre, the now 3026ha property features a well-maintained 1908 homestead and, over the last six generations, has been developed into a successful breeding and fattening operation.
Located 13km from Walcha, Emu Creek is expected to fall within the mid-$30 million range, reflecting its position in the sought-after and high rainfall Walcha grazing district, known for its high production.
The holding has the capacity to maintain 25,000 DSE and is currently conservatively stocked with a mixture of late spring calving cows, replacement heifers and Dorper ewes lambing on a nine-month cycle.
The sale process will be an expressions of interest through LAWD.
LAWD senior director Col Medway said the property posed a significant development opportunity and would attract interest from parties in search of a premium grazing asset.
"Emu Creek has been run and well maintained by current owners Mark and Angie Berry.
Benefiting from an average of 700mm rainfall per annum, the property will suit institutional investors or large farming families looking for scale and will cater for any mix of livestock production.
There was also a significant opportunity for further development which will provide new owners with the ability to increase the operational scale of the property, Mr Medway said.
Emu Creek ranges from gently sloping alluvial creek flats to undulating low grazing hills and timbered ridgelines. Soils include fertile red and black basalt soils through to New England Trap soils.
An extensive soil testing program was undertaken by the current owners in December with the results demonstrating the soils are well-suited to a range of grazing enterprises on improved pastures and opportunistic cropping, Mr Medway said.
During their time, the Berry family has also invested in improving pasture and developing the water infrastructure on the site.
More than 700ha of perennial grass and clover pastures have been improved, while 1370ha made up of open native grass and clover pastureland.
The property has strong water supply through a number of sources, in part made up by 24km of frontage to a number of creeks including Dog Trap Creek, Emu Creek and Brookmount Creek. In addition, stock water is provided by 28 dams, while six bores and a solar pump from Brookmount Creek deliver water to head tanks which gravity feed 37 strategically placed concrete troughs.
Vendors Mark and Angie Berry, who are fifth generation on the property, have chosen to sell as part of their future business plan.
"Emu Creek has been a wonderful home to all of us over the generations, and it has been an enormous privilege to be the custodian of this beautiful property," Mrs Berry said.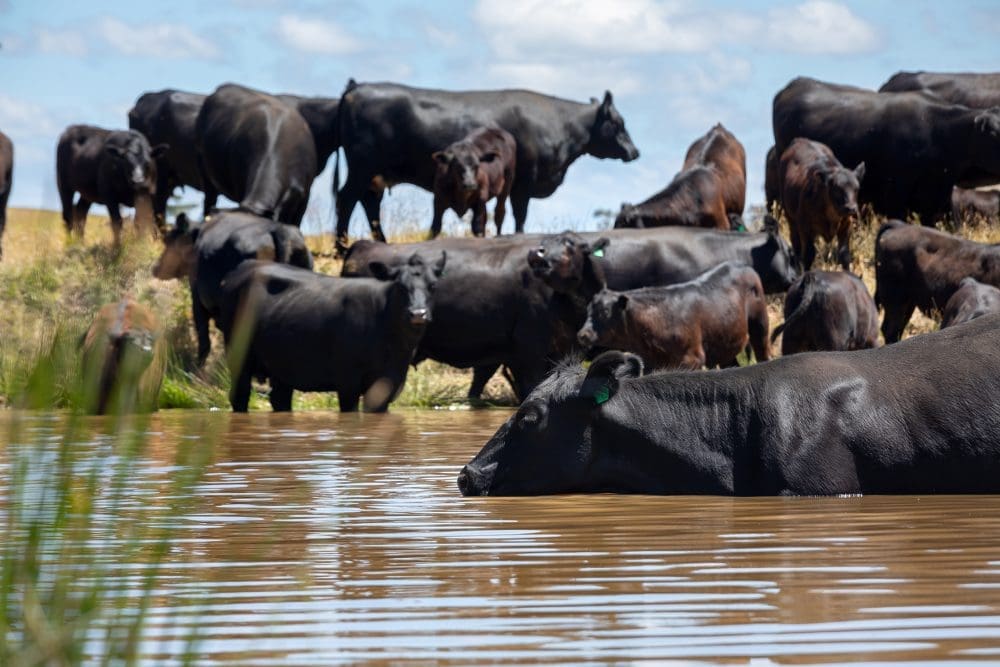 Emu Creek History
At Maitland Town Hall in 1868, Emu Creek was purchased by George Robert Gill for one pound per acre — the minimum price for rural land at the time. The property was sparsely developed with an old station cottage, a woolshed, barn, cultivation paddock, and a washpool nearby.
The property was gradually transformed into a superfine wool growing enterprise, comprising at one time of more than 40,000ha (100,000ac). In 1874, Mr Gill was the first to import Vermont Merino sheep from San Francisco to Australia to establish his flock.
Later, he formed a Merino stud on stock from Havilah Station, Mudgee – a property famous for breeding a fine strain of Merino sheep. Rams were also introduced from Trefussis, Valleyfield, and Winton stud from Tasmania, as well as the Merriville stud of Yass.
In 1908, George Robert Gill II built the existing homestead with electricity and telephone, which were modern amenities of the time.  Steam engines were installed to drive farm machinery and the family was among the first in the area to embrace the automobile as their means of transport.
George Reginald Gill in the 1950's embraced new technology including aerial application of superphosphate and clover seed, trucks, tractors, 240-volt electricity, modern telephone, refrigerators, electric heating, hot and cold running water and new shearing machines.
Prized by British, Italian and French mills, Emu Creek's wool gained international acclaim. It was under George Robert Black Gill's management that Emu Creek was recognised internationally for producing some of the finest superfine Merino wool in the world. The family achieved record prices on countless occasions and were repeat winners of the prestigious English Lumb's Golden Bale Award and two-time winners of the Italian Ermenegildo Zegna Award.
Today, the grand 1908 homestead sits among the magnificent two hectare garden, meticulously maintained and renovated to incorporate modern living expectations, and is home to the family's sixth generation.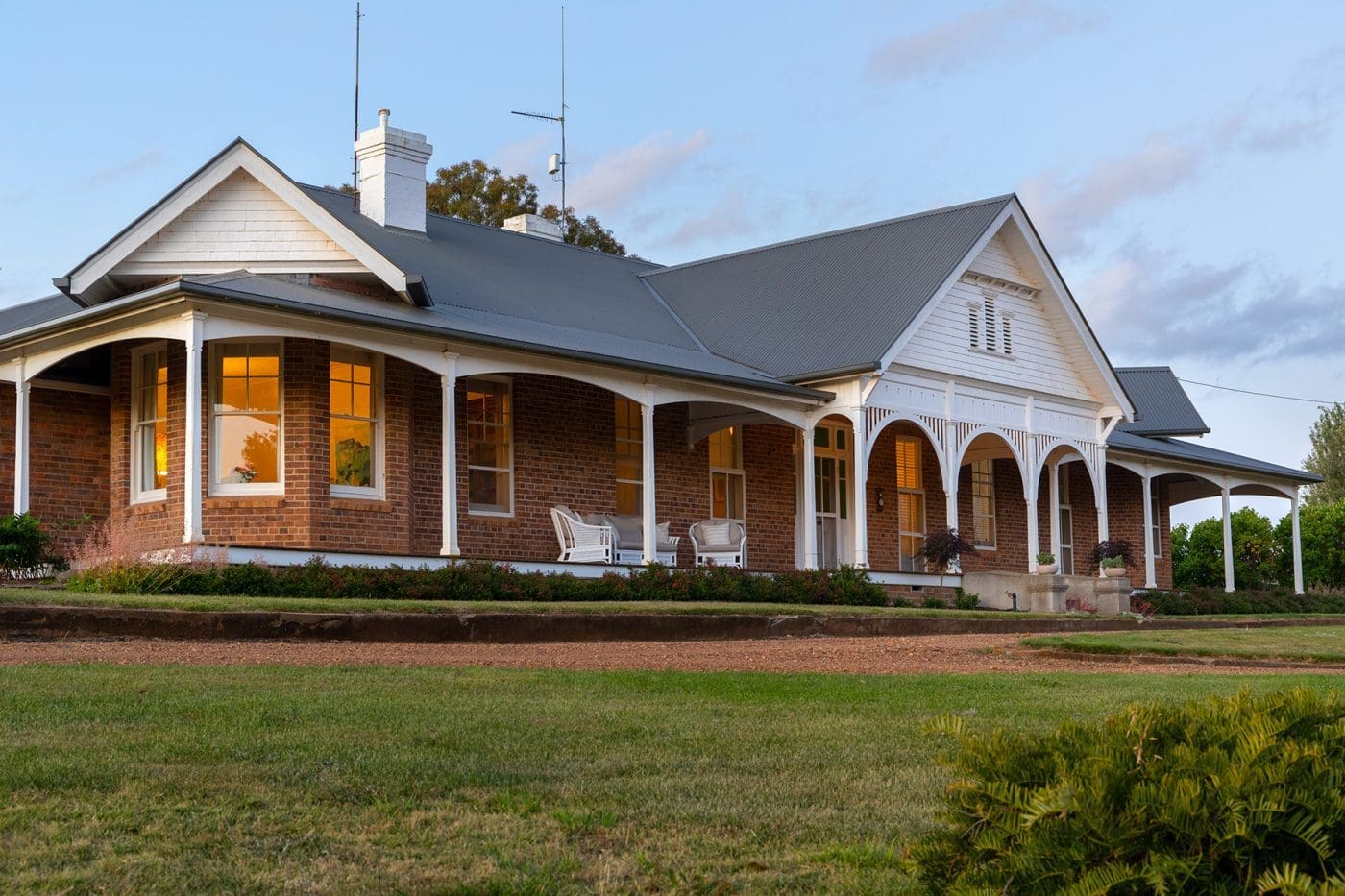 $7m+ for western NSW goat operation
More than $7 million is anticipated for a New South Wales Western Division property owned by prominent landholder Robert McBride.
The 42,716ha Wyoming Station is located at Moorara, 55km north-east of Pooncarie, 130km south of Menindee and 240km south-east of Broken Hill.
Mr McBride said the operation is performing exceptional well.
"In the past few years, Wyoming has substantially benefitted from harvesting goats. We trap around 4000 rangeland goats annually – they have been the saviour of the region for the last decade," he said.
Mr McBride is offering Wyoming to enable infrastructure development of his nearby holdings Tolarno and Peppora Stations.
The current pasture base on Wyoming comprises a mix of spinifex, spear grass and copper burr. Timbers include belah, oaks, wilga, native pine and mallee.
A permanent water pipeline supplied from the Darling River is a key feature, along with 12 fenced dams and a water licence for Regulated River High Security Water for extraction from river, lake or surface water.
Phil Schell from CBRE Agribusiness said Wyoming Station is a well-managed operation that has benefitted from an above average season, drastically enhancing the pasture base for the incoming purchaser.
"Wyoming is never going to look better than it does today after about 330mm of rain in the past 12 months. In fact, the western region has experienced an excellent season, receiving 190mm above the historical average annual rainfall."
Mr Schell is confident inquiry will come from far and wide.
"Interest will come from locals looking to increase their scale, southern producers searching for a breeding block, city-based investors seeking alternative assets and corporate groups."
CBRE will commence an expressions of interest campaign in the coming months.
Longreach Pastoral College up for grabs
The Queensland Government has appointed JLL's Geoff Warriner and RPL's Wally Cooper to offload the historic Longreach Pastoral College Campus and associated pastoral holdings.
The 17,265 hectares are being offered for sale as one line, or as five individual parcels via an expressions of interest campaign closing on February 9.
When the former college closed in 2019 the government cited a drop in demand for agricultural training.
The purpose-built educational research facility and adjoining pastoral land are located 15km from Longreach with direct frontage to Landsborough Highway.
The well-developed grazing infrastructure is suitable for sheep and cattle and has developed irrigation adjacent to the Thomson River.
The property is well grassed, having been predominantly destocked since 2019, with 37km of exclusion fencing.
The property fronts multiple creek and river systems, as well as the Thomson River. Water is also reticulated through numerous pipeline systems supplied by the Thomson River, town water and multiple dams.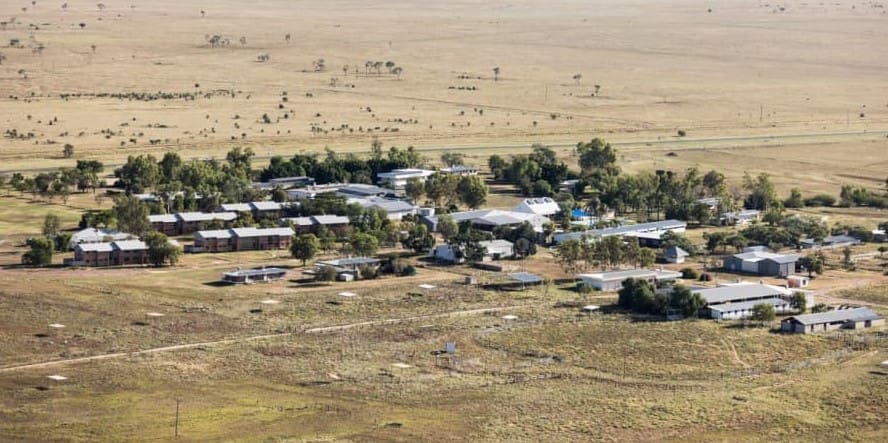 NT's Beetaloo tipped to make $300m+
Offers of more than $300 million will be considered by Australian billionaire Brett Blundy and partners Jane and Scotty Armstrong for the institutional grade Northern Territory cattle station Beetaloo.
The breeding and backgrounding asset, pictured above, is situated east of the Stuart Highway near Elliott, south of Amungee Mungee, on the north-western end of the Barkly Tablelands.
Its location provides market access to Darwin Port, as well as to southern and eastern cattle markets.
Rawdon Briggs from Colliers Agribusiness has been appointed to sell what he describes as Northern Australia's most developed cattle property.
"The Beetaloo Aggregation is an extensively developed low-cost beef production asset of significant scale," he said.
"Extensive water infrastructure, fencing and laneway development and a mature supplement program, enables the operation to consistently and sustainably carry and produce large volumes of cattle," he said.
Since November, the property has enjoyed more than 400mm of rain and Mr Briggs is confident herd performance and weight gains into the 2023 dry season will be significant.
The Beetaloo Aggregation spans 10,547sq km and is being offered on a walk-in-walk-out basis including around 72,000 head of branded cattle, giving investors immediate access to one of the largest single cattle herds in Australia.
Beetaloo has been owned over the years by Peter Sherwin, John Dunnicliff and family, and developed further by the Armstrong family in partnership with Brett Blundy.
Beetaloo is being offered for sale via an international expressions of interest process.
Kimberley breeding & fattening
Up to $30 million is anticipated for the Kimberley's Christmas Creek Station which is being sold with 10,000 head of quality Grey Brahman cattle.
Owned by Lawson Klopper since 1989, the 140,000ha breeding and finishing property is situated south of Fitzroy Crossing in Western Australia's north-west.
Christmas Creek is being sold via a two-stage expressions of interest process. Despite recent flooding, the first stage will not be delayed, with EOIs closing on 25 January.
Greg Smith from Elders Broome said all commercially realistic proposals will be offered second stage inspections, with a cattle muster to be conducted once the property has sufficiently dried out.
"Christmas Creek rose to a moderate flood level of 6m. It did not experience the same major flood event as the Fitzroy River, and no cattle were lost," he said.
Mr Smith said interested local parties are likely to access the property by helicopter.
"While some potential purchasers have adopted a wait and see approach following the recent flooding, good inquiry is coming from locals and large family farming operators in the eastern states who have recently sold properties to corporates or to carbon operators for money they couldn't resist."
The original 400,000ha Christmas Creek lease was part of the expansive portfolio of The Australian Land and Cattle Co and the Emanual properties which, at the time, were considered the best in the region.
In the late 1980s, Christmas Creek was one of a number of large leases that were broken up in what was called 'The Fitzroy Valley Reconstruction'.
Today, the property boasts the pick of the country from the original Christmas Creek lease.
Virtually surrounded by ranges, all the watershed runs into a myriad of minor creek systems and into the Christmas Creek River which traverses the centre of the property for 40km.
The expansive blacksoil flood plains feature good stands of Mitchell grass and other natives. Buffel grows on the lighter soils and soft spinifex is a feature on southern parts of the property.
The going concern sale includes modern plant and equipment.
Click here to access more properties listed for sale