AUCTIONSPLUS' commercial sheep and lamb listings increased 14 percent to 90,920 head last week, with more than half being new season lambs.
New season lambs accounted for 57pc of the market, with the biggest lamb categories being Merino wethers (21,176), crossbreds (19,240) and first cross ewes (11,270).
South Australia's offering rose 48pc to make up 46pc of the total weekly sheep and lamb offerings. The increased new season lamb offering was matched with buyer sentiment, with crossbred and Merino wether lambs registering strong clearances, while prices and clearance rates across breeding categories remained mixed, AuctionsPlus said.
The 6pc increase in the crossbred lamb offering didn't deter buyer demand, with the category's average price rising $1 to $136 for a 96pc clearance. At Kingston in south-east South Australia, 780 White Suffolk/Border Leicester cross Merino mixed sex lambs weighing 30kg lwt sold for $125.
Merino wether lamb listings rose 39pc to be the largest category for the week. AuctionsPlus said the rise in listings was met with a slightly eased market and strong demand, and the category's average price of $115 back just $2. A clearance of 85pc was reached by late Thursday, up from 78pc at the immediate close of sale. At Ariah Park in New South Wales, 450 Poll Merino wether lambs weighing 43kg lwt made $132 with a Victorian buyer.
First cross ewe lambs sold to a stronger market, with 11,270 head averaging $205, up $15. AuctionsPlus said the category remains impacted by selective buying, reaching a 65pc clearance rate late Thursday. The top price for the category at $290 was paid for two lines of 200 first cross ewe lambs weighing 61kg at Wellington, NSW.
AuctionsPlus said there was an increased offering of 463 Merino ewes with lambs, and 1298 mixed ewes with lambs. Merino ewes with lambs sold to strong demand, averaging $194 and reaching a 92pc clearance rate. Ewes and lambs (mixed) were impacted by selective buying, selling from $110-$325 to average $174/head. At Nangus, NSW, 123 3-6 year-old first cross ewes weighing 67kg lwt with 194 29kg Poll Dorset cross lambs weighing 20kg lwt sold for $325.
AuctionsPlus offered 4270 joined ewes, up 70pc on the previous week. The 1839 scanned in-lamb Merino ewes sold to a 95pc clearance rate, up from 78pc at the immediate close of sale. They made $188-$250 to average $226, up $52. At Trangie in NSW, 335 26-27 month-old Merino ewes weighing 58kg lwt and scanned in-lamb to Border Leicester rams sold for $250. The scanned in-lamb shedding breed ewes increased 30pc to 1177. They sold to a 98pc clearance rate by Thursday, up from 56pc at the immediate close of sale. The average price eased $79 to $266.
The 28,575 unjoined ewes offered made up 32pc of the weekly offerings. AuctionsPlus said the offering sold to mixed demand, with prices rising in two out of the five categories, while clearance rates were mixed. Just 26pc of the 9773 first cross ewes offered sold in the sale, but this lifted to 42pc with post sale negotiations. Prices averaged $256, back $4.
AuctionsPlus offered 6852 Merino ewe hoggets, back 38pc. Prices averaged $232, back $9, for a 63pc clearance rate by late Thursday. At Muttaburra in Queensland, 480 10-15 month-old ewes weighing 53kg lwt sold for $182.
Merino ewe listings more than doubled to 7220 head. AuctionsPlus said strong post-sale negotiations lifted clearance rate from 51pc to 79pc, with ewes selling from $98-$214 to average $152, down $1. At Kaniva in Victoria, 195 3-5 year-old unjoined ewes weighing 73kg lwt made $172.
The highlights of AuctionsPlus' 45 stud sheep sales held online last week included Mumblebone Merinos smashing the record for Australian Merino sale averages with a $5226 ram average and the annual Tattykeel Australian White Stud ram and ewe sale setting new records for a meat sheep breed with a ram making $240,000 and a ewe $26,000.
Note: Prices as at 5pm, Thursday 29th September 2022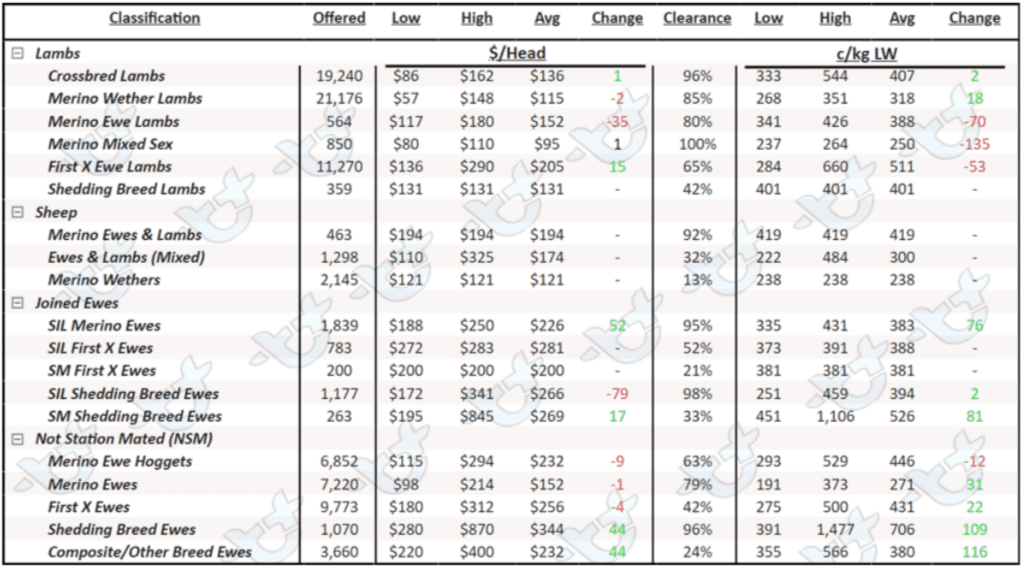 Source – AuctionsPlus.