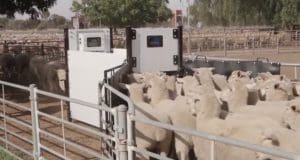 MORE than $1.5 million in Victorian Government funding has been finalised for sheep saleyards installing electronic ear tag scanning equipment and software.
Thirteen Victorian saleyards will share the funding as the state move's toward mandatory electronic tagging of sheep and goats.
Saleyards in Pakenham, Leongatha, Sale, Bairnsdale, Colac, Warrnambool, Wycheproof, Ouyen, Swan Hill, Nhill, Horsham, Warracknabeal and Shepparton will receive grants to purchase and install new scanning equipment and software.
Victorian saleyards are required to scan and upload data for all electronically tagged sheep and goats from March 31 next year.
Minister for Agriculture Jaala Pulford announced the grants today for the Andrews Labor Government, to support Victorian saleyards transition to the new system.
"We're proud to lead the nation in the move towards mandatory electronic tagging of sheep and goats.
"We said we wouldn't let industry absorb these changes alone – that's why we're supporting them to get the job done," Ms Pulford said.
"Introducing this important reform to electronically tag sheep and goats protects market access for our valuable livestock industries and supports innovation and greater productivity through the supply chain."
"These grants demonstrate how government, saleyards and industry are working collaboratively to make sure Victoria has one of the best traceability systems in the world."
The latest funding follows the development of plans for each saleyard's infrastructure requirements for electronic identification, following consultation with local agents, transporters and saleyard staff, often with assistance from specialist contractors. It follows last month's announcement of $460,000 granted to the Hamilton Regional Livestock Exchange; the first major saleyard to receive a grant for electronic identification equipment.
Ms Pulford also encouraged businesses such as stock agents, transporters, scanning contractors, agricultural show operators and export companies to apply for available equipment and software grants by December 31.
These grants can fund equipment such as wand and panel readers, as well as software to collect and manage data and record movements on the National Livestock Identification System database.
The Labor Government has been helping farmers and everyone across the supply chain make the transition with its $17 million industry and farmer support package.