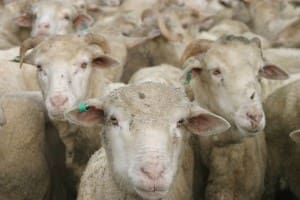 Australian mutton and live export sheep supplies are expected to decline in the next 12 months, according to Meat and Livestock Australia projections.
MLA's mid-year Australian sheep industry projections forecast mutton shipments to decline by seven percent to 160,000 tonnes in 2014, underpinned by lower available supplies.
High exports are expected to the Middle East, the US, Japan, Korea and China/Hong Kong, though declining into the latter two destinations.
Australian mutton slaughter for 2014 is forecast to total 8.9 million head, well above the initial forecast from January 2014 and due mostly to drought conditions in the first quarter of the year.
The national sheep flock at June 30 2014 was estimated to be 72.2 million head, down 2.7pc on the previous 12 months.
Despite the favourable price outlook, the desire for flock expansion has been tapered by continued competition from cropping, ageing producers and the subdued wool market, MLA said. The supply situation is also expected to hit live exports, especially into 2015.
MLA said mutton exports have increased into the Middle East, the United States, Europe and Japan but are expected to decline into China and Hong Kong by the end of the year.
MLA said the mutton trade to the Middle East increased during the opening half of 2014, growing 11pc to 27,644 tonnes – largely due to the relatively high sheep slaughter during this period. As a result, the forecast for 2014 has been increased to 44,000 tonnes, up from 34,100 tonnes, but with a 14pc drop projected for 2015, to 38,000 tonnes.
MLS said most mutton markets have increased trade volumes so far this year, including Saudi Arabia, Oman, Egypt and Qatar, while the trade to the UAE was steady and there were lower shipments to Kuwait and Iran.
United States carcase trade lifts
Australia's mutton exports to the US have increased 35pc to 6684 tonnes so far this year, with most growth in the carcase trade, up 112pc.
Tighter supplies affecting China and Hong Kong shipments
Australian mutton exports to China are forecast to decline 17pc for this year, to 48,000 tonnes. MLA said while mutton exports to the market in the first half of 2014 were seven percent above the same period last year, tighter Australian supplies towards the end of the year are expected to influence shipments.
After a record year of Australian mutton export volumes to Hong Kong in 2013, MLA said shipments are forecast to contract 62pc this year to 2500 tonnes. Mutton exports in the first six months of 2014 have totalled 1375 tonnes, with carcases accounting for 904 tonnes.
EU economies taking more Aussie sheep meat
MLA said Australian sheep meat exports to the EU during the first half of 2014 totalled 9714 tonnes, up 36pc, helped by an improved economic sentiment, especially in the UK, and tight supplies in New Zealand.
Mutton exports have risen 17pc to 2633 tonnes and lamb shipments are up by 45pc to 7080 tonnes — the highest volume for the period since 2004.
Japan enjoying more mutton
MLA forecasts mutton shipments to Japan in 2014 to be 27pc above 2013 levels, at 4800 tonnes. Shipments from January to June total 2621 tonnes, mostly frozen.
The largest weights by cut included manufacturing mutton, 983 tonnes; back strap, 614 tonnes, and; leg, 790 tonnes.
Malaysia and Singapore major SE Asian mutton markets
MLA said Australian mutton exports to South-East Asia totalled 13,188 tonnes in the year to June. Malaysia has taken 7869 tonnes and Singapore 4571 tonnes.
Carcase exports have reached 7550 tonnes in the first half of 2014, comprising 2284 tonnes of legs and 1864 tonnes of manufacturing mutton.
Live sheep exports to reach 2.3 million
MLA said Australian live sheep exports are forecast to reach 2.3 million head in 2014, up 16.6pc on the 1.973 million head exported in 2013.
Improved market access in key markets in the Middle East is likely to underpin the forecast rise. However, this will likely impact the recent growth in other live sheep markets, MLA said.
"Under the assumptions and outlined numbers projected, a significant challenge for exporters will be in securing adequate numbers of suitable sheep.
"A better than expected seasonal finish to 2014 could tighten sheep supplies further into 2015, making available supplies tighter, especially for WA, where the majority of sheep are sourced."
MLA said market access will continually be sought after across all countries and ongoing negotiations regarding ESCAS standards with Middle Eastern markets, in particular, Bahrain, Turkey, Libya and Saudi Arabia, will likely see further increases in live sheep exports in 2015, MLA said.
Source: MLA