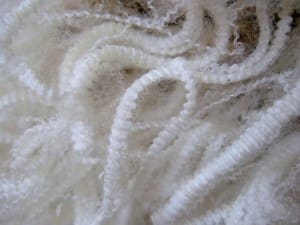 A HIGHER proportion of crossbred wool in the Australian clip and the continuing fining of the Merino wool component has led to slight changes to market indicators following a review by the Australian Wool Exchange.
The Australian Wool Exchange has completed its periodic review of the structure and profile of the AWEX Market Indicators.
First released in 1994/95 and last revised at the commencement of the 2014/15 season, regular reviews are conducted to ensure relevancy and to take into account changes to the composition of the Australian flock and wool production profile over time.
The latest review examined the relative proportion of the current wool types included in the AWEX high-level eastern and regional market indicators and Micron Price Guides. Only minor changes have been made to the indicators and the Micron Price Guides have remained unchanged.
Click here to get the latest Sheep Central story links sent to your email inbox.
Key changes to the AWEX indicators are:
AWEX-EMI – the north/south contribution has changed marginally, i.e. the southern region proportion has increased from 60.7 percent to 61.3pc.
Crossbreds have increased their representation in both the northern (from 14.6pc to 16.7pc) and southern (from 17.6pc to 18.4pc) indicators at the expense of Merino fleece types.
The Merino fleece component is slightly finer for northern, southern, and western Indicators.
The Merino skirtings component is slightly finer for southern and western indicators.
No change to the Micron Price Guides (MPG's) or Merino Carding Indicators.
The changes to the indicators will result in price adjustments between the current indicator (2014 basket) and the rebased indicator (2017 basket). Changing price relativities between microns affect the behaviour of the indicators; the recent price profile has the indicators rising by between 19 and 25 cents as at June 8 2017, while a three-year average has the indicators lifting by a more modest 5-8 cents.
Rebased Indicators will be effective from the commencement of the 2017/18 wool selling season on July 1.
Source: AWEX.