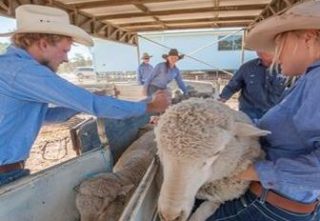 MORE details on the inaugural Monaro Stationhand Challenge next week have been released so contestants know what they are getting into and can prepare for the unique event.
The inaugural challenge will be held at the Delegate Show on 7 March to laud and test the skills of station hands of all ages.
Organiser Robert Ingram said additional background details have been released to
Some entries have already been received for the challenge, which boasts a cash and prize pool valued at $2500.
Mr Ingram said the event aimed to recognise and broaden the skills of the area's top station hands, and lift the profile of the south-east New South Wales town, the Monaro district and its economy.
He is expecting contestants from throughout the state and possibly from Victoria in the unique event.
The winners of the challenges three age groups – junior station hands 16 years and under, jackaroos and jillaroos 17-25 years and senior station hands 26 years and older – will best demonstrate ability and confidence in skills such as information technology, work health and safety, and social license, wool, sheep and cattle assessment and selection.
Challenge contestants will have to assess Merino ewes and rams using visual and breeding values. They will judge cattle and select bulls using breeding values to meet a breeder's objective. They will also class commercial fleeces, identify weeds, pests and feral animals, and assess grain samples.
Australian Wool Innovation is also sending a mini-roadshow along with trade consultant Scott Carmody and country manager Stephen Feighan to assist in the challenge.
Mr Ingram said pre-registration for the challenge is preferred. Those who register on the day may not be admitted to the competition if numbers are excessive. Pre-registration can be undertaken by sending an email to:[email protected]
Click here for the background information and necessary links on the Monaro Stationhand Challenge.