"You never lamb alone" is the message behind Meat & Livestock Australia's latest lamb marketing campaign.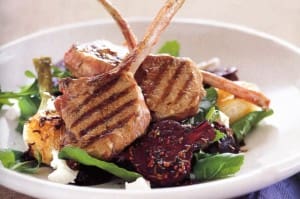 Launched on Saturday, September 27 to coincide with peak spring lamb production, the new campaign focuses on the notion that lamb brings people together for all occasions.
MLA central marketing and industry insights general manager Michael Edmonds said the new theme was developed to be used year-round, with the aim of moving away from traditionally seasonally focused themes like 'spring' racing fashion and 'spring' romance.
"Changing to a more generic marketing campaign that can be tweaked during periods where lamb production is at a peak, like spring, will ensure we're getting the most leverage out of our campaign and the maximum return on investment for Australia's lamb producers," Mr Edmonds said.
"Our research showed that seasonal and tactical marketing activities were losing effectiveness, so we want to create one consistent message for the lamb brand that has the ability to resonate with consumers all year round.
"It's also a move towards better aligning our campaigns with retailer's needs, especially independent retailers.
"Having their support is a vital component to a campaign's success, as that's where the most consumer impact on sales can be gained."
Mr Edmonds said while MLA had recently consolidated domestic marketing activities to be managed centrally – the major retailer support activities would continue. This includes consumer marketing programs and point-of-sale support for retailers.
"Our retailers have indicated that more generic marketing collateral tailored to the season by cuts, will make them more likely to support the campaign and for a longer period," he said.
"We've taken that on board with this campaign to lift the presence of, and demand for lamb – not just for spring but throughout the rest of the year."
Running for four weeks, the campaign was launched during Saturday's AFL grand final with a television advertisement, and is supported by ad screenings in selected metropolitan cinemas, online through social media channels, and outdoor advertising poster panels in high foot traffic areas such as malls and grocery stores.
Several foodservice venues are running seasonal 'lamb sharing' dish menu promotions in conjunction with the campaign, while four major retailers will support the campaign with point-of-sale promotional posters and recipe cards with a targeted push of loin and non-loin lamb cuts to main grocery buyers.
To coincide with the launch and new direction MLA's lamb marketing campaigns, a 'Lambthology' study will also be conducted by social demographer Bernard Salt, charting the history of lamb, its multicultural role in cooking and its bond with the Australian public.
Click here to view the campaign TV ad.
Source: MLA