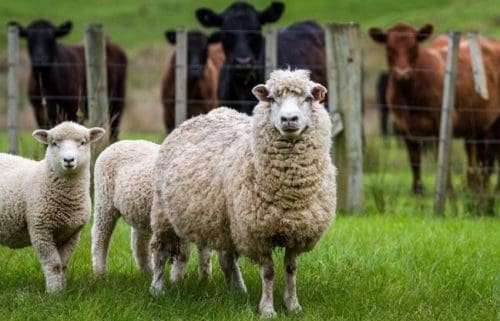 MEAT & Livestock Australia's latest State of the Industry Report has demonstrated the strength of the livestock sector, despite changes in market conditions since 2022, MLA managing director Jason Strong said today.
The 2023 report produced by MLA provides an overview of Australia's red meat and livestock industry from the prior calendar year. It examines market and industry conditions in financial year 2021-2022 and calendar year 2022.
The report's executive summary concludes that "decisions made across the supply chain have contributed to Australian livestock production being among the most efficient systems in the world, which leaves the industry well positioned for the next several years despite lower prices and inventory numbers falling."
Mr Strong said even though conditions have changed since 2022, the report demonstrates the strength of the industry.
"With a larger cattle herd and sheep flock turn off has increased and increased the volume of livestock processed this Spring.
"More product availability had driven significant demand for red meat at the shops," he said.
"Exports also significantly rose in the past year, with Australia rising to be the world's largest sheep meat and goat meat exporter, demonstrating the popularity of Australian red meat right around the world."
"Australian livestock production is among the most efficient systems in the world, which leaves the industry well positioned to respond to challenges such as volatile weather conditions for the next several years," he said.
Red meat and livestock export value rose 17pc year-on-year to total $17.6 billion in 2021-22 which is 3.3pc of Australia's key industry exports.
Australia was world's largest sheep and goat meat exports in 2022
In calendar year 2022, Australia was the world's largest sheep meat and goat meat exporter, as well as the fourth largest beef and bovine meat exporter after Brazil, India and the United States.
Australian lamb exports totalled 284,257 tonnes, the highest on record and 7pc above 2021. The United States remained Australia's largest lamb export destination in 2022 in volume terms, at 75,452 tonnes. While mutton exports totalled 144,005 tonnes, a 2pc year-on-year increase which China remaining steady as the number one market at 57,246 tonnes.
Goat meat exports totalled 21,831 tonnes in 2022, up 15pc on the year prior. The United States remains the largest destination for goat meat, accounting for 57pc of exports or 12,505 tonnes in 2022.
In 2022, Australian live sheep exports totalled 502,758 head, down 13pc on the previous year. Kuwait remained Australia's largest destination for live sheep exports in 2022, accounting for 58pc of exports, followed by Israel at 14pc.
In 2022, Australian beef exports totalled 855,000 tonnes shipped weight, down 4pc year-on-year. Japan remained Australia's largest beef export market (in volume terms) in 2022, totalling 214,000 tonnes.
Live cattle exports totalled 600,084 head in 2022, down 22pc from 2021, with Indonesia remaining as the largest market for live cattle, receiving 56% of all cattle leaving Australia.
In 2021-22, Australia's red meat and livestock industry turnover was $75.4 billion, or around 1.7 percent of Australia's total key industry turnover. This is 7.7pc higher than revised 2020-21 figures and an increase of 10.7pc on 2017-18 figures.
Report showcases industry efficiency – Watt
Minister for Agriculture, Fisheries and Forestry, Senator the Hon Murray Watt said that the report showcased the efficiency of Australia's livestock production systems.
"The industry has faced a number of challenges over the last 12 months, but this report shows that consumers in Australia and around the world continue to place very high value on Australian red meat," he said.
"The efforts of government and industry to open new markets overseas have been rewarded and will remain important as producers face the challenge of drought and volatile livestock prices.
"The report also highlights that the sector is vital economic activity, being worth $75.4 billion in 2021-22 and employing over 433,000 people."
Australians still like their meat
Australia's per capita beef and sheep meat consumption continues to be one of the largest in the world.
Australian consumption of sheep meat was about 6.8kg in 2022, while the global average was 1.8kg. In 2022, lamb consumption dipped slightly, but there was been an uplift in consumption in late 2022 and early 2023.
Australian per capita consumption of beef was about 23.7kg in 2022, while the global average was 6.3kg.
"Australians love their red meat, and the latest State of the Industry report supports that as we are some of the biggest per capita consumers of beef and lamb," Mr Strong said.
"Throughout 2023 we have seen both saleyard and retail prices fall as supply increases, this is leading to a production boom as we approach the end of this year.
"The sales performance of Australian lamb and beef in the domestic market is very strong, with both proteins growing in sales volume and overall value," he said.
"When comparing the last quarter with the same period in 2022, value growth for beef is 1.8pc and for lamb is 4.2pc.
"Now is the perfect opportunity for Australian consumers to put some red meat in their trolley and enjoy the best our industry has to offer."
To view the full State of the Industry Report 2023, click on State of the Industry Report 2023