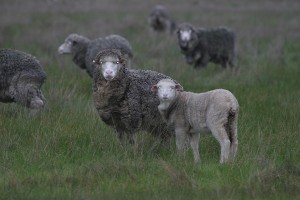 MLA research has shown improved productivity through genetics over the past 10 years of research and development investment has created $2.88 billion in benefits to Australian sheepmeat producers.
As MLA and Sheep Genetics rolled out a series of forums for sheep breeders across NSW, Victoria, South Australia and Western Australia, MLA livestock productivity general manager Dr Jane Weatherley said investment in genetic research was critical to achieving necessary productivity gains and boosting the long-term profitability of the sector.
"Australia is already one of the best producers of sheepmeat and wool in the world," she said.
"However, there are even more gains to be made through genetics and we look forward to sharing information on how with producers across Australia at our forum events."
Forums can help make genetic gain part of management
Dr Weatherley said there are a range of tools available through Sheep Genetics which can be incorporated into sheep and wool enterprises to assist in informed decision making with a view to increasing production efficiencies and profit.
"These include Lambplan and MerinoSelect programs which form a database of performance records from more than 6.5 million animals across the country.
"However, understanding how to implement and maximise the benefits of these programs can seem daunting and these forums provide an opportunity to develop this knowledge so that accelerating genetic gain can become a part of the day-to-day management regime of more sheep and wool operations," she said.
Investment in genetics has long been touted as a cost-effective and sustainable way to achieve productivity gains across the livestock industries, MLA said.
Productivity is the focus of the forums
Sheep genetics and productivity are the focus of the forums to be continued across Victoria, SA and Western Australia.
Sheep Genetics Manager Hamish Chandler said 25-30 people have already attended workshops at Wellington and Goondiwindi. The next forum will be at Ararat, in Victoria's south-west, tomorrow.
Mr Chandler said the regional forums are targeted at ram breeders; those who are already MerinoSelect or Lambplan participants, or breeders who would like to get involved.
A large part of the benefit for stud breeders for stud breeders who come along is the discussions about data quality, recording and information issues, he said.
The forums will focus on providing answers to important questions to help ram breeders better understand how genetics may be applied to their operation, including:
– How is an Australian Sheep Breeding Value (ASBV) calculated?
– What is an index, and how to understand indexes
– How to use the Sheep Genetics website including uploading Dashboard and uploading your sale and semen catalogues and printing pen cards
– Data quality
– How to get management grouping right.
Eating quality traits will also be covered
Mr Chandler said the forums would also cover new material on genomics, development of indexes, and how to incorporate eating quality traits into indexes, particularly for terminal sires.
"So that we are making sure that we are not just focussing on increasing our production traits, but also making sure that the end product is going to suit our consumers."
Stud breeders are making significant amount of time and money in recording pedigree information and in recording the performance on various traits, he said.
"It's about making sure they are getting the most benefit that you can from that investment."
"It's about making sure that we've got good quality data coming into the analysis, people understand what management groups and genetic linkage is – they are the things we need to know about so we can work what is genetic and what's not genetic or environmental to calculate meaningful breeding values."
MerinoSelect and Lambplan commitment is strong
Mr Chandler said there was "no problem at all" with the level of commitment among breeders to Lambplan and MerinoSelect.
"We've got a real groundswell of interest in participating, particularly in MerinoSelect, and it is about how do we support those breeders so that they get good quality results back and can use that to really drive genetic progress for themselves and the broader industry."
The forums, delivered by Sheep Genetics, a joint project between Meat and Livestock Australia (MLA) and Australian Wool Innovation (AWI).
The remaining Sheep Genetics forums places and dates are:
– June 23 – Ararat, Victoria;
– June 25 – Cleve, SA;
– July 7 – York, WA.
Regional forums are an opportunity to catch up with Sheep Genetics staff and meet with other breeders.  Each forum will have valuable information for all breeders and plenty of time for questions.
Forum cost is $33 incl. GST per business unit.  Registrations start at 8.45am and the forums will run from 4.30-50pm. If you are interested in attending please email [email protected]
Source: MLA