China's sheep supply increases
Thursday daily sheep summary
NZ sheepmeat exports wind down in July
Prices improve with more young lambs
Sheep market alert
Vic weekly sheep summary
WA weekly sheep summary
SA weekly sheep summary
NSW weekly sheep summary
China's sheep supply increases
21 August 2014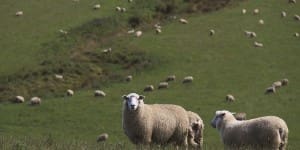 China's Animal Agriculture Association has reported an increase in sheep supply over the past five months. The report of more sheep available (while not reported as an actual number), could have created an expectation of increased future supply, with live sheep prices in China declining month-on-month and year-on-year for the first time in two years, averaging RMB22/kg lwt (A$3.79/kg) in July.
Meanwhile, China's sheepmeat production has reportedly remained stable. As demand for mutton usually slows in summer months, average wholesale prices eased in the two months to July, but remained higher than a year ago, at RMB55.02/kg (A$9.49/kg).
MLA's Global Consumer research in 2014 revealed that local sheepmeat is generally preferred to imported sheepmeat, citing consumer perceptions of freshness in relation to local product. NZ mutton exports to China over the three months to June increased 25pc year-on-year, to 13,275t.
Partly influenced by the competition from China's local sheep and NZ mutton, Australian mutton exports to China declined in the June quarter and into July (at 2000t), particularly for mutton carcase – the segment that was to supplement the short supply of local sheepmeat. This decline might also, in part, be attributed to a drop in Australia's sheep kill, and therefore, total mutton availability.
Sheepmeat demand in China is expected to start improving from September. While sheep might be available in China, the expected lower sheep and lamb throughput in Australia and NZ is likely to limit shipments to the market.
Thursday daily sheep summary
21 August 2014
Lamb consignments at CTLX fell 17pc week-on-week, to 3100 head, and there was a large proportion of trade and heavy weight lambs penned which ranged in condition. The number of new season lambs on offer lifted slightly. Trade weight 3 score new season lambs averaged 562¢/kg. Lightweight 2 score Merino lambs averaged 435¢, while trade weight 3 score lambs were 52¢ dearer on 473¢/kg. Heavy weight 4 score lambs gained 43¢ on 501¢, and extra heavy 4 score lambs increased 32¢ on 507¢/kg. Sheep throughput remained firm, at 1000 head, and the small yarding resulted in dearer prices. Heavy weight 4 score ewes were up 39¢ and averaged 316¢/kg.
At Hamilton, lamb throughput fell 8pc, to 1685 head, and the mixed quality yarding sold to the regular group of buyers. Light weight 3 score lambs were 8¢ higher on 447¢, while 3 score trade weight lines gained 13¢ and averaged 442¢/kg. Heavy weight 4 score lambs averaged 441¢/kg. Sheep numbers increased more than three-fold, to 826 head, and the market trended dearer. Medium weight 2 score Merino ewes averaged 322¢/kg.
NZ sheepmeat exports wind down in July
20 August 2014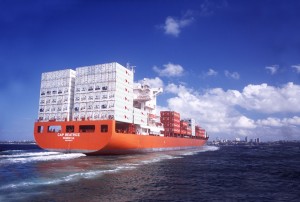 As the NZ lamb industry approaches the slowest period for lamb exports, typically in August, shipments in July totalled 20,884t – back 7pc on the corresponding month last year, yet 7pc higher than the five-year average (Beef + Lamb New Zealand). NZX Agrifax reported that overseas demand was generally subdued in July, although this didn't raise too much concern for exporters, as NZ lamb supplies were at seasonally low levels and there is positive outlook for demand to pick up when the new season kicks off in October.
In July, lamb shipments to the EU were 13pc lower year-on-year, at 7250t, underpinned largely by a 14pc decrease in volumes to the UK (2715t) as demand eased with the warmer weather – lamb consumption in the UK is traditionally lower in summer. Exports to China during July were back 8pc year-on-year, although 81pc higher than five-year average. Enquiry from the Middle East remained strong, particularly for lamb shoulder and forequarter cuts, and as a result, July shipments increased 10pc on last year to 1695t. Similarly, volumes to the US increased year-on-year, up 28pc in July, to 1519t.
NZ mutton exports declined 32pc in July, compared to the same time last year, at 4157t – 4pc higher than the five-year average for the month. Mutton supplies in China are currently quite high, as stores stock up on product in preparation for the peak hot-pot consumption period in winter. As a result, mutton shipments to China during July were back 25pc year-on-year, to 2672t.
Prices improve with more young lambs
21 August 2014
Eastern states lamb supply, as reported by NLRS, was steady week-on-week, on 123,604 head. Widespread rain helped to tighten supply at some markets, however this was largely offset by more young lambs appearing, especially in the south.
Old lambs of secondary quality are being discounted, while trade and heavy weight young lambs sold to more consistent demand this week. At the conclusion of Thursday's markets the eastern states restocker lamb indicator was 47¢ lower than a week ago, on 452¢/kg. Merino lambs gained 20¢ to 401¢, while light lambs were 13¢ higher on 430¢/kg. The Eastern States Trade Lamb Indicator (ESTLI) lifted 5¢ to 480¢, while heavy lambs eased 1¢ to settle on 480¢/kg.
Eastern states mutton supply was 10pc lower week-on-week, at 41,092 head. The tighter supply saw prices improve, with the mutton indicator up 14¢ on 344¢/kg.
 Sheep market alert
20 August 2014
Supply contracts: National lamb supply, as reported by NLRS fell 8pc to 83,128 head. Throughput in NSW slipped 9pc, to 55,179 head, and numbers in WA declined 45pc, to 2792 head, while supplies in SA remained steady, at 10,370 head. Consignments in Victoria and Tasmania lifted 4pc and 13pc, to 13,602 head and 1185 head, respectively. National sheep supply declined 16pc, to 33,036 head, with all states except Victoria and Tasmania yarding smaller numbers. There were 27pc fewer consignments in NSW, at 15,669 head, while throughput in SA and WA decreased 9pc and 24pc, to 3,695 head and 5,177 head, respectively.
New season lamb numbers grow in southern markets: New season lambs accounted for around half of the yardings at Bendigo and SA Livestock Exchange, although not all of the regular buyers were operating in full capacity. Widespread rain reduced supplies at Forbes and Inverell, and there were good numbers of well-finished lambs on offer at both markets. There were reasonable numbers of new season lambs penned at Dubbo, along with Merino and old trade weight lambs, while there were no extra heavy weight lines on offer. Over in WA, the smaller yarding at Muchea strengthened buyer competition for the fair selection of new season lambs and limited numbers of old lambs in prime condition.
Demand for sheep was strong at Dubbo this week, resulting in a dearer market trend. Ewes made up the majority of the consignments at Tamworth and Muchea, and there were a reduced number of wethers offered at Ballarat. The small yarding at SA Livestock Exchange sold to a reduced buying group, with minimal restocker enquiry.
Vic weekly sheep summary
21 August 2014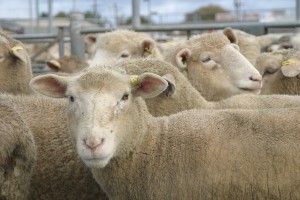 Supply edges higher: Victorian lamb supply, as reported by NLRSNLRS, lifted 3pc week-on-week, to total 17,466 head. Throughput at Ballarat and Hamilton decreased 20pc and 8pc, to 3,601 head and 1,685 head, respectively. Yardings at Bendigo increased 17pc, to 10,001 head, while consignments were 4pc higher at Horsham on 2,179 head. Mutton supply increased 8pc week-on-week, to 11,111 head. Yardings at Ballarat, Bendigo and Hamilton all improved, while throughput at Horsham eased 27pc to 2356 head.
More young lambs: Nearly half of Bendigo's lamb yarding consisted of young lamb from the Mallee and Echuca areas, and the better finished trade and heavy weight lines sold to more consistent demand this week. Secondary quality older lambs were often discounted this week across all markets. Most buyers were in attendance, along with some extra competition at Horsham. There were more wethers yarded at Horsham, while not as many were consigned at Ballarat. Dearer trends were evident across all weights and grades.
Sheep prices lift: Trade weight 3 score young lambs to slaughter were 15¢ lower on 541¢, while the heavier weights were 26¢ higher on 546¢/kg. Light weight 2 score Merino lambs were 26¢ dearer on 407¢, while those to slaughter decreased 15¢ to 447¢/kg. Trade weight 3 score lambs to slaughter lifted 6¢ to 479¢, while heavy weight 3 score lambs to slaughter eased 9¢  to average 482¢/kg.
Light weight 2 score Merino ewes increased 36¢ to 328¢, while trade weight 3 score Merino ewes gained 1¢ to 332¢/kg. Heavy weight 3 score first cross ewes improved 25¢ to 322¢, while the 4 score portion was 17¢ higher on 308¢/kg. Medium weight 3 score Merino wethers decreased 26¢ to settle on 320¢/kg.
WA weekly sheep summary
21 August 2014
Tighter supply: The previous cheaper markets and the useful falls of rain in most districts reduced numbers of both sheep and lambs in WA. Lamb numbers were down by 2500, for a total of 6700 head over both centres, while mutton numbers fell by 3600, for a total of 10,300 head.
Prices lift: The reduced numbers created a little urgency in the lamb market, with both new season lambs and old lambs experiencing gains of between $8 and $10/head. Lightweight lambs to slaughter were $8 to $12/head dearer week-on-week. Live exporters were very active at Muchea, paying from $69 to $86/head for wether lambs.
Mutton also responded to the smaller yardings, with light and medium weight ewes selling $4 to $7/head dearer. The heavier ewes were around firm. Wethers also sold at similar prices, with processors paying from $70 to $93/head for the medium and heavy weights. Restockers paid from $57 to $81 for the better types, while live exporters paid from $81 to $88/head.
SA weekly sheep summary
21 August 2014
Lamb numbers firm, sheep lower: Total lamb supply in SA, as reported by NLRS, was firm week-on-week, totalling 10,370 head. Naracoorte penned 69pc more lambs, at 1526 head, while throughput at the SA Livestock Exchange declined 7pc to 8844 head. Overall sheep supply was 9pc lower this week, as both markets reported smaller consignments. Naracoorte was back 11pc, to 1234 head, while the SA Livestock Exchanged penned 7pc less mutton, at 2461 head.
Competition reduced at the SA Livestock Exchange: Quality was only plain to average at Naracoorte this week, with the core field of buyers in attendance. Lamb price trends fluctuated, while sheep lost some of the large price gains of the previous week. New season lambs accounted for nearly half of the yarding this week at the SA Livestock Exchange, with the increased supply selling to easing competition. One processor buyer did not operate and feeders and restockers bid only cautiously in both the lamb and sheep sales.
Mutton prices ease: Trade weight (20-22kg) 3 score new season crossbred lambs eased 36¢ to average 476¢, while the 4 scores were back 22¢ to 486¢/kg. A large supply of heavy (22-24kg) 4 scores slipped 24¢, settling on an average price of 471¢/kg. Trade weight (18-20kg) 3 score Merino old lambs lifted 4¢ on average, to 406¢, while the heavy (22-24kg) lambs eased 7¢, to 390¢/kg. Heavy 3 score crossbreds lost as much as 78¢, with average prices around 416¢/kg. Medium weight 2 score Merino ewes lost 18¢, on 247¢, while heavy 3 scores were back 45¢ to return vendors and average price of 253¢/kg. Heavy 3 score Merino wethers eased 9¢, topping at 376¢ before averaging 302¢/kg.
 NSW weekly sheep summary
21 August 2014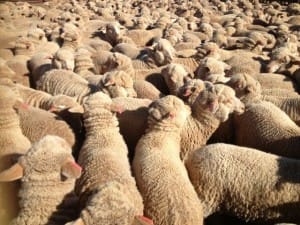 Lamb consignments remain similar: Overall lamb numbers at markets reported by NLRS remained similar week-on-week, for a total of 95,768 head. Dubbo gained 22pc, for a total of 26,000 lambs, as Forbes decreased by 32pc, mainly due to rain recorded around the supply area, for 23,850 penned. Tamworth lifted by 9pc and offered 3200 head, while CTLX slipped 3pc for another small yarding of 3589 lambs. Wagga gained 17pc to offer 36,500 head in total. Sheep markets eased 16pc overall, for a total of 26,286 head. Dubbo consigned 6000 sheep, as Tamworth penned 800 head. Forbes offered 8150 sheep, while CTLX penned 767 head. Wagga yarded 9550 head.
Quality fair to good: Dubbo offered fair to good quality lambs, as the extra heavy weights were scarce this week. Forbes and Wagga penned 10,050 and 15,400 new season lambs, respectively, as the number of lambs weighing over 26kg increased at Wagga. There were good numbers of prime conditioned lambs spread throughout all markets.
Dearer trends evident: Dearer trends were evident for all lamb classes this week, as the new seasons lifted $3 to $7/head. The trade weights ranged from $87 to $128 and averaged around the 506¢ to 511¢/kg range. The heavier weights topped at $147/head. The older trade weights averaged around the $102/head mark, as prices averaged from 443¢ to 456¢/kg. The heavier weights lifted $3 to $4, as the best reached $160/head. Sheep also sold to a dearer trend, as the medium and heavy weights ranged from $31 to $128/head. The better 2 to 4 score mutton averaged from 282¢ to 370¢/kg, depending on breed.
Source: MLA