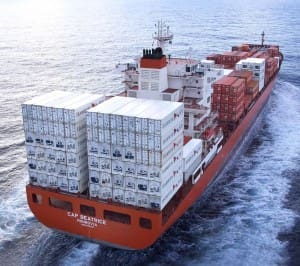 MIDDLE East boxed lamb and mutton imports from Australia increased since the suspension of some live sheep trade operators in April this year, according to Meat & Livestock Australia.
For the six months to October, Australia's boxed lamb exports to the Middle East are up 20 percent and mutton exports are up 13pc year-on-year, MLA said.
MLA said the increased volumes may simply reflect higher domestic sheep slaughter numbers. However, with the first vessel since the disruption of trade departing in September, it will become clear if there were any more permanent changes to the trade.
MLA said while seasonal conditions have delayed lamb shipments and elevated mutton exports, the world market has been a willing buyer of both. Since the start of July — typically the seasonal trough in lamb supply — many markets have adapted and covered lamb shortfalls with mutton – including the United States, United Arab Emirates, Papua New Guinea and Malaysia. However, other key markets – namely China, Japan, Korea and Qatar – have increased orders of both lamb and mutton over the last four months, MLA said.
A cooling of lamb prices since August and a softer Australian dollar have supported global sheep meat demand, while exports have remained elevated thanks to improved conditions in key markets.
MLA said the world sheep meat market has found support from a revival in demand from China – the world's largest producer, consumer and importer of sheep meat. Year-to-October Australian sheep meat shipments to China have expanded 40pc year-on-year and have surpassed the previous peak in 2013. New Zealand has been the recipient of the same demand, with year-to-September exports to China up 23pc year-on-year.
MLA said while China is swiftly coming up behind the US as Australia's highest tonnage lamb market, it lacks the depth of wealthy consumers and cuisine type to draw on Australia's high-value middle cuts and leg roasts – on average, the export price per kilo to the US is twice that of China. US demand has also been strong, supported by a tax-break fuelled economic recovery, and Australia lamb exports to the market are on track to finish this year at record levels.
While Australian red meat exports aren't directly exposed to the escalating US-China trade war – it may feed an economic downturn in either or both of Australia's largest sheep meat export markets, ultimately hurting the demand that rocketed lamb prices to record levels this year, MLA said.
Click here to see a comparison of exports to major markets in the past three years.
Source: MLA.