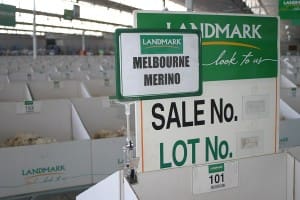 MERINO wool prices generally firmed at Australian auctions this week.
However, crossbred fleece wool prices fell 10-30 cents, Merino skirtings prices were steady and carding indicators lifted 10 cents.
The AWEX Eastern Market Indicator closed up one cent to 1247c/kg clean, with the Australian dollar trading at US73.11 cents, putting the EMI in US dollar terms at 912c/kg, up 10 cents. Brokers passed in 7.9 percent of the 37,172 bale offering, which was 31 percent less than the corresponding sale last year.
AWEX senior market analyst Lionel Plunkett said current market levels were further consolidated this week — the third consecutive week in which the EMI had moved by 3 cents or less.
"Despite the lower volumes the market initially got off to a slow start," he said.
Prices were around 5 cents cheaper for most descriptions on Wednesday on the back of a strengthening Aussie dollar which jumped almost 1 cent.
"There were positive signs towards the end of the day when prices recovered some of the lost ground."
This trend continued on Thursday with an opening catalogue which was slightly dearer, Mr Plunkett said.
"Bidding pressure built over the course of the day, finishing with most descriptions 5 to 10 cents dearer."
The end result was a market which closed marginally higher than the previous sale, except for in  Fremantle where wool was only sold on Wednesday, Mr Plunkett said.
"As with recent weeks, the better types were the main focus and found good support over both days.
"The direction for Merino skirtings was less clear with an overall steady tone punctuated by both rises and falls, although any movements were fairly minor."
Crossbred wools lose 10-30 cents
Mr Plunkett said crossbreds struggled under the weight of another large offering, losing between 10 and 30 cents.
"The Merino cardings indicators rose 10 cents for the week. Most of those gains were on the opening day with Thursday more steadier in nature."
Mr Plunkett said 49,170 bales are currently forecast for next week, making it the largest national total in eight months.
Source: AWEX