A VICTORIAN Merino flock aiming to be carbon neutral by 2025 but with a strong focus on sheep welfare is a finalist in the Premier's 2019 Sustainability Awards.
The finewool-growing Finnigan family operation near Winslow in south-west Victoria is the only primary producer in the finals of awards to be announced in Melbourne tomorrow night.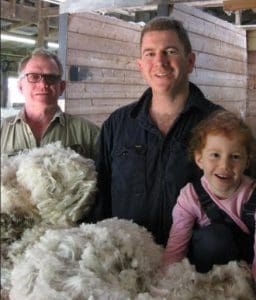 Kia Ora Merino run by Brendan and Susan Finnigan, their son James and wife Nicole is a finalist in the small and medium enterprises category for their ethical, sustainable and profitable wool production.
They have put together existing data and knowledge, and used independent consultants to change their farm practices, including reducing chemical use, changing genetic selection of sheep, sowing permanent pastures, slowing or stopping runoff into rivers and increasing carbon sequestration.
"We are basically high input, high output, with a carbon sink – aiming for carbon neutral by 2025," Susan Finnigan said.
"We really don't expect to win this award and only entered to tell a positive wool producer story."
Susan said because customers are asking for sustainability and traceability, so it is important for marketing Australian wool.
She said despite the operation's carbon aims, sheep welfare and wool traceability were higher priorities.
"Because it is a luxury item and people want to buy wool from happy, well cared-for sheep and that's essentially what Australian sheep producers do.
"But we have needed to sell it a bit harder."
She quoted media reports that people overseas visualise Australian wool as coming from mulesed sheep and equating that to poor welfare.
"Which it is not – that perception definitely needs to be changed – that's why we need to start winning awards."
Measured wool genetics meeting market needs
In 2018, Kia Ora Merino, as part of the Fox and Lillie Genesys Group, was accredited under Textile Exchange's Responsible Wool Standard. Kia Ora is a family owned farm 25 minutes north of Warrnambool, with predominately volcanic soils over limestone, mild summers and 750 mm rainfall. The land's long growing season allows its owners to run a high input/output farm with revegetated areas acting as a carbon sink. They shear 10,000 sheep cutting sub-18 micron wool. The two year-old ewes generally cut about 5.5kg for a 10-month shearing and older sheep average just over 6kgs for 12 months. The Finnigans also trade 200-300 cattle annually.
The Merino flock produce wool that is consistently clean, soft-handling, sound, bright and is keenly sought by buyers. An open nucleus of selected ewes is used for individual matings to selected rams to produce flock and sale rams. The sire Kia Ora 040058 was ranked in the All Time Top 50 Sires on the MERINOSELECT Dual Purpose+ index (for sires entered between 1989 and 2013). A 5pc + Staple Strength index is used to achieve their breeding objective. The Finnigans regard fleece weight, micron and staple strength as key profit drivers. Being a self-replacing flock there is flexibility to change the sales patterns of wethers and excess ewes according to risks and opportunities presented.
Brendan and Susan started to review farm practices about five years ago, with a plan to ensure best practice in regards to welfare and environmental standards. When son James and daughter-in-law Nicole purchased a farm to the north two years ago this was ramped up. To enhance their system and embrace a holistic model of intent and process to sustainably produce wool that exceeded consumer and community expectations they documented all processes into evidence-based procedures.
These procedures were integrated into a plan that included stock health and nutrition, infrastructure, stock handling, soil management, biodiversity considerations and inputs (fertilisers, pesticides etc). This is now reviewed annually and an annual action plan developed. The basis is the best practice information and tools developed by Meat & Livestock Australia, Mackinnon Project, Australian Wool Innovation, Sheep CRC etc with the aim to enhance efficiencies and reduce the risk of environmental impact. The farm business model focus moved to include sustainability, ethics and productivity.
Some of Kia Ora's results include:
Breeding plain bodied sheep that do not require mulesing and are not prone to flystrike leading to reduction in sheep chemical usage. Shearing at 10 months, which results in varying wool lengths going into summer. The system is to jet the long wool ewes on the breech only at marking, crutch before Christmas and shear late January.
Regular soil testing is carried out and what is needed to maintain Olsen Ps at 17-22 and any other elements required is added. No inorganic fertiliser is used on the steep land along the rivers.
Rivers have been fenced and banks well grassed essentially ceasing nutrient and sediment runoff. Pasture cover is kept to at least 90pc and mass above a total of 1000 kg DM/ha which also ensures the surface movement of water, nutrients and soil is negligible.
Native trees are planted annually and there has been a huge increase in biodiversity with increased species of birds, a thriving wallaby population and Koalas regularly visiting the garden.
Sheep are drenched when indicated by WEC and 3-5 yearly drench resistance tests ensure effectiveness. Retained rams must have a dag score no higher than one and ewes going into the open nucleus must be score 2 or lower. Lambing and weaning paddocks are identified early and managed to ensure low worm burden.
Cropping is used to control weed and improve pasture. This is a three-year program which includes annual crops and ends with perennial pasture. Lambs are weaned onto these summer crops. Ewes are kept at score 2.5 or higher to ensure efficient use of fodder.
The welfare changes to complement our sustainability model include: not shearing the hocks (below the knee) to reduce risk of injury and using cover (snow) combs for young stock and if shearing in cooler weather. Lambing is in early September as the weather warms and lambs are not shorn.
The Finnigan family's know the focus on sustainability has increased demand for product, as it completes the provenance of the product. Recently, they were selected to supply to Wolfgang Scout, a label based on ethics and sustainability. The Finnigans believe for them as a small producer to be short-listed for the award for following best practice guidelines and surpassing consumer expectations, it means the wool industry is a great choice.