MERINO and first cross ewe lamb prices showed the biggest improvement in a slightly reduced AuctionsPlus offering last week.
AuctionsPlus commercial sheep and lamb numbers decreased by 3 percent to 61,823 head.
Demand was strong, with a 10pc rise in the overall clearance to 72pc, and the AuctionsPlus Restocker Lamb Indicator increased by 11 cents to average 325c/kg cwt.
Merino ewe lambs sold from $58-$80 to average $62, a lift of $26. First cross ewe lambs made from $26-$130 to average $83, up $10.
Unjoined ewe prices eased in all four categories. Value over reserve was firm on last week at $8.
AuctionsPlus said the overall offering size was driven by a return to more common levels for crossbred lambs, while higher sheep and joined ewe offerings helped offset the decrease in Merino wether lambs.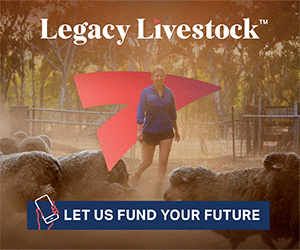 New season lambs numbers fell from last week at 36,769 head; however, the slightly smaller offering encouraged a strong 79pc clearance rate and the average price increased by $11 to $62. Value Over Reserve for the new season offering averaged $8 above set reserves, highlighted by two lines of first cross ewe lambs from Naromine in New South Wales that sold for $59 over their set reserve to finish at $124.
AuctionsPlus said crossbred lamb numbers almost doubled to 19,785 and 85pc were sold for an average price of $62, up $2. At Murringo in NSW, 650 May/June 2023 drop mixed sex Poll Dorset cross lambs weighing 39kg lwt made $77 or 199c/kg lwt.
Merino wether lamb supply dropped 70pc to 6087 head. Demand for the category was strong, with an 86pc clearance. The average price dropped by $1 to $44/head. At Strathbogie, VIC a line of 315 May/Jun '23 Merino wether lambs weighing 36kg lwt returned $62/head, or 173c/kg.
AuctionsPlus offered 1457 Merino ewes with lambs last week and all sold. Prices ranged from $42 to $97 and averaged $65/head. At Trangie in NSW, 216 Merino ewes with 280 Border Leicester cross lambs sold for $90. The 2-3 year-old ewes weighed 61kg and the 2-3 month-old lambs weighed 23kg.
Note: Prices as at 5pm Thursday, 19th October 2023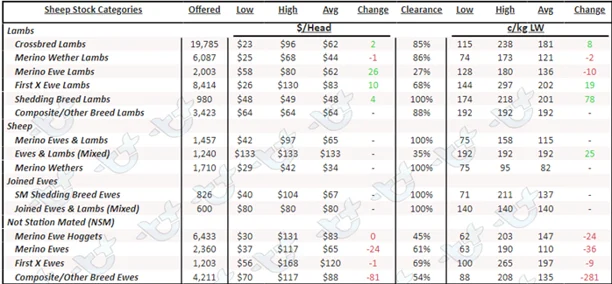 Source – AuctionsPlus.