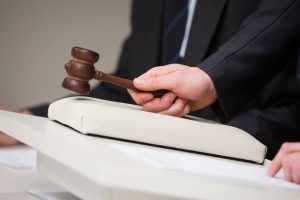 MELBOURNE'S open cry wool auctions will continue this week under special conditions after a successful industry effort over the weekend resulted in new advice from the Victorian Government.
Last week the Victorian Government advised the industry that the live auctions at the Brooklyn selling centre would have to be conducted remotely as part of the state's Stage Four COVID-19 lockdown.
However, a government spokesperson told Sheep Central today that open cry auctions were considered a permitted 'fibre production' ancillary activity in the agriculture, forestry and fishing sector under Stage Four restrictions, and the Melbourne Wool Selling Centre is a permitted workplace.
"We recognise that the Melbourne open cry wool auction is an ancillary activity that is critical to the operation of the global supply chain for wool," the spokesperson said.
Southern region brokers, buyers and service providers were advised by AWEX early this morning that auctions would be allowed to continue subject to strict COVID Safe conditions, including that masks be worn by all sale room participants at all times and that sales cannot exceed two selling days in a week, allowing a Tuesday/Wednesday program this week. This is consistent with the two-day weekly selling program implemented by the trade in March this year to reduce sale room time.
The government spokesperson said there would be stringent controls in place for wool auctions to minimise the coronavirus risk. In addition to the obligations set out in the Chief Health Officer's workplace directions, the Melbourne Wool Selling Centre is required to adopt a High Risk COVIDSafe Plan which must be provided upon request to the Chief Health Officer and the number of auctions must be limited to two per day on a maximum of two days each week.
The government has also stipulated that buyers in each auction room be limited to 20 a day, and that the number of auction staff in each auction room be limited to three. All buyers and staff must wear a face covering at all times and ensure all sales are contactless.
The following previously advised conditions must also continue to be observed:
The rostrum shall be cleaned by the exiting auctioneer on completion of their selling;
Everyone must observe physical distancing and be a minimum of 1.5 metres apart;
Do not exceed more than 2 hours continuous selling;
Do not attend work if unwell or have cold/flu like symptoms;
Rooms are to take staggered breaks to avoid congregation;
Minimise movement between sale rooms;
Ensure the points on the COIVD-19 Declaration are understood and followed;
Attendance records shall be kept, and;
There is no wool grower or public access or on-site gallery provided.
Elders National Wool Selling Centre manager Simon Hogan said told ABC Radio's Victorian Country Hour that he was pleased the Victorian Government had allowed the open cry auctions to continue. He said the industry had been very proactive by implementing COVID-19 measure earlier this year, conducting sales with buyers social distancing on the Brooklyn warehouse show floor and with face masks being used.
Melbourne brokers moved auctions from smaller sale room onto the show floor and implemented strict social distancing rules in March. The number of buyers, brokers and sale administration staff was also limited. Auctions were limited to Tuesday and Wednesday sales with a limit of 1000 lots per room.