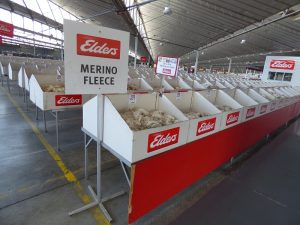 MEDIUM crossbred wool prices showed the biggest improvements at Australian auctions this week.
AWEX senior market analyst Lionel Plunkett said despite a large increase in the amount of wool offered — 20 percent more than at the previous sale two weeks ago – the market generally performed well.
Brokers offered 54,409 bales – 9568 more – and 6.1 percent of lots were passed in.
The benchmark AWEX Eastern Market Indicator managed to record a modest four-cent gain for the series to close at 1776c/kg clean, Mr Plunkett reported.
Due to currency movements when viewed in $US terms the EMI recorded a more substantial 12c/kg cent improvement to US1376c/kg clean, he said.
Australian wool auctions this week resumed in all three centres after the annual one-week Easter recess.
"To date, this was the largest weekly offering this season, and the largest since Week 29 in January 2017.
"The total weekly value sold of $97.4 million, was the fourth largest weekly sold value since AWEX commenced recording auction transactions in 1996," Mr Plunkett said.
"Although the market recorded an overall positive movement there were losses felt, mainly in the lower yielding, higher vegetable matter content and inferior style lots.
"As in recent sales, demand for wools exhibiting low mid-breaks was again extreme as buyers fought hard to secure the limited offering of these wools, the result being that these lots continue to attract continually increasing premiums to the rest of the market."
Mr Plunkett said the skirting market closely mirrored the fleece, with modest increases for the week for wools with less than 2pc vm content. Lots with excellent additional measurement results posted the largest gains, he said.
The crossbred market performed with mixed results, with 28-30 micron fleece lines getting excellent support and prices rising by 20-40 cents, he said.
"All other microns were irregular, but tending 10 to 20 cents easier."
The oddment sector attracted strong buyer interest, resulting in price increases across all types and descriptions, Mr Plunkett said. The three carding indicators recorded an average rise of more than 27 cents. The national offering reduces next week to 40,596 bales.
Source: AWEX.