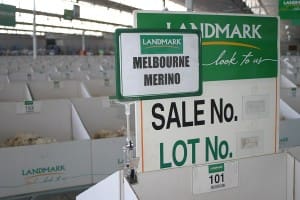 MEDIUM and broad Merino wool prices fell 30-40 cents this week as currency fluctuations made buying more expensive in US dollars.
Australian Wool Exchange senior market analyst Lionel Plunkett said crossbred wools also had a lacklustre week, also losing as much as 40 cents.
Mr Plunkett said there was a sharp reversal in the AWEX Eastern Market Indicator as it lost 24 cents to close at 1287c/kg clean — its largest weekly fall in more than three months.
"Currency fluctuations continued to have an impact and in US dollars terms the EMI actually rose by 6 cents (to US985 cents) after a firming of the Australian dollar by nearly two cents (to US76.50 cents)."
Brokers passed in 13.2 percent of the 39,590 bales offered in Sydney, Melbourne and Fremantle this week.
Sales commenced on Tuesday with a New Zealand-only selection and prices were solid for the more stylish types, Mr Plunkett said.
"However, the lower spec types struggled, giving an indication of the trend for the remainder of the week.
"The Australian offering followed suit over the next two days, progressively losing 15 to 40 cents, depending on the micron and selling centre," he said.
"In a different tendency from recent sales, it was the medium to broad microns (20.0-23.0) types that suffered from the largest corrections, generally losing 30 to 40 cents for the week.
"The odd pocket of stylish high Nkt/low CVh lots in the finer microns were highly sought after and as a result traded at levels only just below those achieved at last week's sale," Mr Plunkett said.
"The final day gave mixed signals with Melbourne losing ground over the day at its large offering while Fremantle firmed towards the close.
"The skirting market followed a similar course to the fleece market, with most types and descriptions slipping between 20 and 40 cents."
The carding market moved against the trend of the skirting and fleece market and enjoyed modest rises, Mr Plunkett said. Next week there will be a smaller national offering of just over 35,000 bales. Selling in Melbourne is in an unusual Tuesday-Wednesday pattern due to a localised public holiday on Friday. Fremantle and Sydney selling centres will maintain their usual Wednesday-Thursday arrangement.
Click here for the latest AWEX Micron Price Guides.
Source: AWEX.