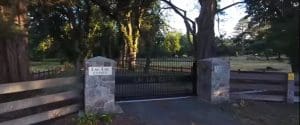 MAJOR Chinese wool buyers will meet for the first time in Australia tomorrow at the Ballarat district property of leading Chinese importer and processor Tianyu Wool.
The 30th annual Wool Salon of the China Wool Industrial Association will be hosted by Tianyu Wool president Mr Qingnan Wen, at his 2000 hectare property Lal Lal Estate, 20 kilometres south east of Ballarat.
The Chinese buyers, who have been estimated to purchase $2 billion of Australian wool each year, are among 130 delegates attending the international wool conference.
It is the first time the China Wool Industrial Association has met outside China since it was formed more than 20 years ago.
Conference organisers said the delegates representing China's 80 major wool processors will highlight their increasing demand for Australian fine Merino wool and the ability of Australian growers to supply.
Victoria's Minister for Agriculture Jaala Pulford will attend the conference and is expected to discuss the potential of the Victorian wool industry with buyers before the conference commences.
Victoria's Minister for Trade, the Hon. Philip Dalidakis, will also represent State Premier Daniel Andrews at a gala dinner following the conference.
Mr Wen said the conference's theme is 'From Farm to Fashion' and it was a major step in "building a wool bridge" between Australia and China.
He believes Lal Lal, which he bought in 2014, will be a catalyst for collaboration and scientific advances in farm management, flock genetics, breeding and wool growing while returning the industry to profitability.
Speakers at the conference will include Bing Feng, chief executive of Ningbo Xingsuo Textile Trade Co; Qiang Wang, general manager of the Australian Wool Testing Authority's China desk and; Mark Grave, chief executive officer of the Australian Wool Exchange.