AUCTIONSPLUS' online sheep and lamb offering dropped 30 percent to 87,156 last week, with lamb categories the most affected.
The National Lamb sale offered 41,928 head in 134 lots, and five of the six lamb categories achieved improved average prices, while rates for Merino wether lambs contracted.
Crossbred lambs had a total of 18,468 head offered, which sold to strong demand reaching an 85% clearance rate by late Thursday, up from 64% for the same period last week. Prices for the category ranged between $77-$140/head to average $111/head – up $1 from last week. From Walcha, NSW, a line of 720 White Suffolk/Merino mixed sex store lambs weighing 31kg lwt, returned $92/head – headed to a buyer in Queensland.
One of the few lamb categories to experience a rise in listings was Merino wether lambs, which rose 17% on last week, to total 14,582 head. The increased offering impacted clearance rates, reaching 46% late Thursday up from 38% at the immediate closure of sale – as selective buying was common throughout the category. Prices eased $14 on last week, at $82/head, selling to a top of $118. From Bordertown, SA, a line of 480 woolgrower wether lambs weighing 46kg lwt returned $118/head. Merino ewe lambs also experienced increased listings, up 55% on last week to total 920 head.
First cross ewe lambs had a total of 6,825 head offered, which sold to a subdued 18% clearance. Prices for the category were broad, highlighting the impact of selective buying as producers look to secure certain genetics and types, ranging from $130-$230/head to average $179/head – rising $25 on last week. A line of 165 Border Leicester/Merino ewe lambs from Wychitella, Victoria, weighing 54kg lwt, topped the category at $230/head.
Composite/other breed lambs sold to a 76% clearance across the 5,372 head offered. Prices lifted by $20 from last week to average $116/head. From Glenburn, Victoria, two lines of 450 Composite mixed sex store lambs weighing 42kg lwt, returned $124/head.
Sheep numbers remained steady on last week, with 42,472 head split across two sales on Tuesday. Non-Station mated ewes continue to dominate sheep numbers, accounting for 54% of the sheep offering, while joined ewe numbers rose 22% on last week, to total 13,036 head. Joined ewes saw a lift on prices this week, while the non-station mated offering experienced a dip and clearance remained patchy.
SIL Merino ewes were the largest joined ewe category for the second week in a row, with 4,975 head selling to a 56% clearance late Thursday – up from 39% at the immediate close of sale. Prices for the category eased $55 on last week, to average $171/head. A line of 345 Merino ewes from Deniliquin, NSW, aged 5.5 years joined to White Suffolk rams and weighing 72kg lwt returned $199/head.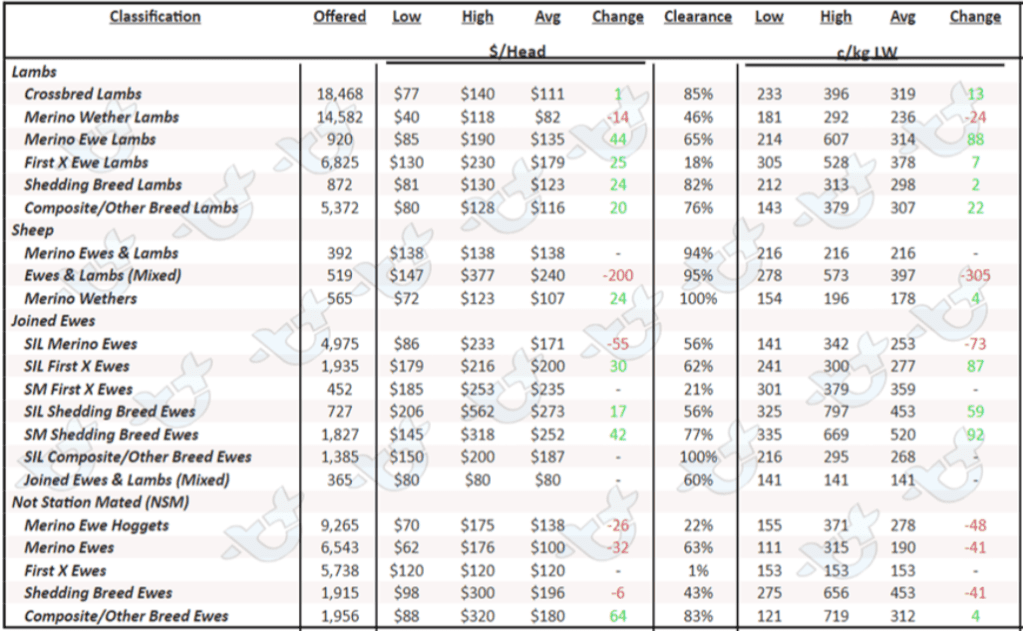 Source – AuctionsPlus.