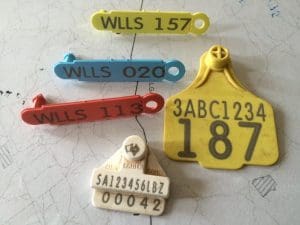 SUBSIDISED sheep and cattle ear tag sales by some Local land Services offices in New South Wales are being discontinued.
Local Land Services – Western today announced that from September 30 this year, local offices will no longer sell National Livestock Identification System (NLIS) devices such as identification tags, other than in emergency cases.
The NLIS is Australia's system for the identification and traceability of cattle, sheep and goats. It was introduced in 1999 to enhance Australia's ability to trace cattle in the event of disease or food safety incidents, and was expanded to include sheep and goats in 2009.
Local Land Services — Western region acting general manager Erlina Compton said NLIS reflects Australia's commitment to biosecurity and food safety and provides a competitive advantage in a global market.
"In the past Local Land Services has routinely supplied NLIS devices to livestock producers.
"However, there are now a wide range of alternative suppliers including produce stores, rural cooperatives, and online retailers."
Local Land Services said it will continue support of the NLIS through the management of Property Identification Codes (PICs) and through the emergency supply of devices to stockowners in extreme circumstances.
However, tags will no longer be routinely sold to livestock producers through Local Land Services – Western offices.
LLS — South East discontinued tag service last month
The LLS – Western decision on tags sales followed a similar move by the South East Local Land Services region to halt tag sales as of July 1 this year, except in the case of an emergency.
South East Local Land Services general manager Derek Larsen said Local Land Services had supported the NLIS for some time now, primarily as a way of raising awareness of this important system.
Livestock producers seeking more information about where to purchase NLIS devices are encouraged to contact their local produce store or rural co-operative, or contact the NLIS hotline on 1800 654 743. Detailed information is also available on the NLIS website www.nlis.com.au.