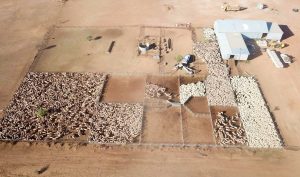 WAIT times on the installation of new livestock yard equipment are starting to blow-out, with manufacturers seeing a surge in demand across the Australian market.
Sheep Central understands some companies are backed up until the second half of next year, with high demand for sheep, goat and cattle infrastructure.
While global shipping problems are an issue for manufacturers, demand is said to be playing a major role in the delays – with high commodity prices and low interest rates prompting investment in new infrastructure.
The booming demand for yards has also been noticed by Clipex, which is Australian-owned but manufactures its products in a factory it owns in China. Victorian senior sales manager Jackie O'Brien said ownership of the factory was giving the company control of supply.
She said importing the products was not too hard, with shipping problems starting to rectify themselves.
"We're not finding shipping times to be as bad as what has been described, it's the mainly the prices of shipping that is an issue," Ms O'Brien said.
"We have delays if there is a COVID case in the Chinese port because they just shut it down instantly. Normally, that only lasts for a couple of days."
Ms O'Brien said the company had a lead time of four to five months on new yards, which she said could blow out further.
"A lot of yards will probably have to wait until Spring to be built, because in Victoria and Tasmania winter is too wet for construction," she said.
"We can have the yards ready to go 14 to 16 weeks after they're ordered, but we are really struggling to find enough yard builders to install them.
"The other issue is finding shed builders, a lot of people have the money to cover yards and shed builders have a longer lead time than us. Ideally, the shed needs to be built before the yards, so there is some logistical issues there.
"But being really busy and having high demand for your product is certainly not a bad problem to have."
Turnaround from the drought
Metalcorp is another company crediting domestic manufacturing for reducing wait times on equipment.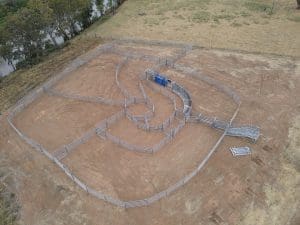 NSW rural manager Tony Fenwick said the company had been stockpiling product for the past eight months in preparation for the upswing in demand.
"We also manufacture farm gates, feeders and a whole range of other products – so as one market slows down, we can re-direct our resources to help other sides of the business," Mr Fenwick said.
"The manufacturing of feeders has quietened down at the moment, which has allowed the manufacturing department to focus on stockyards."
Mr Fenwick said the uptick in demand for stockyards was not a surprise after a quiet period in the recent drought.
"We did see a lull throughout the drought, which we understood because it was pretty tough times for producers," he said.
"But the demand was always there, especially with a lot of customers wanting to improve their safety standards."
Sheep and goat switch drives demand
With millions-of-dollars being invested by governments and producers into exclusion fencing in western Queensland, bringing sheep and goats into the operation has become an option.
Handling the bigger meat sheep and goats with the old sheep yards has become an issue and forced producers to look for new equipment.
Several handlers, where the floor drops away and sheep become immobilised, have come on the market in the past decade.
One of the many companies involved in the market is ProWay, which has also had a busy year. Marketing manager and designer Troy Brose said the company had a big backlog of sheep handler orders.
"Last time I had a look at the sales, we had about 100 handlers in front of us that we need to install," Mr Brose said.
"There's certainly challenges in all departments as far as supply goes, but the good times in agriculture are encouraging many to improve infrastructure.
"We're seeing more goats across the board, especially in southern Queensland where exclusion fencing has become popular."