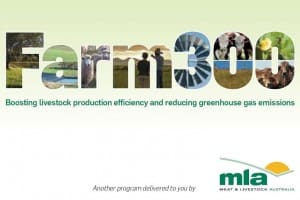 Australia's farmers can now follow the journey of livestock producers learning how to increase profits through feed efficiency while lowering greenhouse gas production in the unique Farm300 program.
Meat and Livestock Australia this week released online videos of six Farm300 participants in NSW, SA and Victoria.
Each producer has been filmed near the start of their Farm300 journey and will be filmed again at the conclusion of the program in March/April 2015.
Farm300 is funded by the Australian Government, and managed by MLA in partnership with the Australian Farm Institute, Australian Wool Innovation and Dairy Australia. More than 300 producers are participating in the program.
Agricultural emissions driving Farm300 initiative
MLA said agriculture and land management activities produce almost 17pc of Australia's greenhouse gas emissions, with 60pc of those emissions coming from livestock. Agricultural emissions are projected to grow in response to growing overseas demand for dairy and meat products.
In May and June 2014, a series of workshops were held for livestock industry advisors to receive intensive training, support and resources to build practical knowledge and skills on climate variability, greenhouse gas (GHG) emissions and business profitability and sustainability. The advisor workshops were conducted in collaboration with another Australian Government funded project, Project2020 by RIST, to build industry awareness of issues and opportunities around climate change and GHG emissions from livestock.
MLA said 25 advisors have been selected to work with groups of 6-15 producers, delivering 6-8 coaching sessions between October 2014 and April 2015. These address a range of issues which improve productivity and decrease greenhouse gas emissions such as reproductive efficiency, feed selection and budgeting, pasture utilisation and management.
Holmes and Sackett consultant David Brown said the overall objective of the Farm300 program was to increase profit by 10 percent while simultaneously reducing greenhouse gas emission intensity by 30 per cent.
"We've identified through modelling that feed utilisation has the capacity to do that."
Watching stocking rate impact at Willow Glen Pastoral
Southern Tablelands sheep and beef producer Nick Gay at Willow Glen Pastoral said he was focussing on improving the 2700 hectare property's bottomline by increasing stocking rates while monitoring the impact on the environment.
"Getting that right is probably our biggest challenge at the moment."He believes the Farm300 program will give him the tools to increase productivity without getting overstocking and the other group members will help with their skills and experience.
Alternative feed options on the Fleurieu Peninsula
Fleurieu Peninsula cattle and sheep producer Janet Furler at 'Minnewarra' said the Farm300 program was enabling her to look at alternative pasture species and other feed sources to fill summer-autumn feed gaps and reduce methane emissions."Our growing period is getting shorter, with later autumn breaks and dry springs are more common."Farming profits were lowering, while costs are getting higher, she said. Alternative higher energy feeds with additives are being trialled with cattle."By increasing our efficiency we are expecting to reduce our methane output."
Dunkeld combines profitability with conservation
Dunkeld Pastoral Company group general manager Glen White said he was exploring increasing stocking rates, profitability while increasing land conservation in the Farm300 program.
The south-west Victorian operation runs 26,000 ewes and 800 Angus cows.
"We think we can increase our conservations areas to 20pc-plus and still lift our bottomline.
"So therefore having less country in use but being able to have more of an output,' he said.
"We are trying to do it by smarter farming."
The other farmers in the first round of Farm300 video interviews include:
Victorian mixed farmer Simon Ross, North Gums, Penshurst – measuring the efficiency and profitability of the family's lamb feedlot.
SA Fleurieu Peninsula Angus producer Sandy Nott – investigating using grapemarc to increase kg/head gains and reduce emissions.
NSW Southern Tablelands sheep producer Tom McGuiness, Bigga Pastoral – matching stocking rate with feed availability and changing climate.
To watch more videos showcasing their involvement in the Farm300 program click here to visit MLA's website.
Source: Meat and Livestock Australia