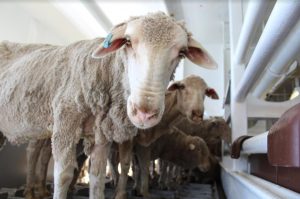 LIVESTOCK farmers need to reclaim the emotional space in animal welfare policy discussions and align with community and consumer expectations or risk their farming practices being determined by activists.
But animal rights and welfare activists should not be the main concern of farmers following recent live sheep export cruelty revelations – the priorities should be their livestock's welfare and the attitudes of the unheard public majority and consumers.
These are the views of two livestock industry leaders and influencers, expressed as recent live sheep cruelty exposes have again highlighted animal welfare to all Australia's livestock industries.
Disturbing images of sheep unable to get relief from a catastrophic heat event on the live export vessel the MV Awassi Express have appalled animal rights activists, community members, politicians, farmers and exporters alike.
With reviews, investigations, economic benefit studies, new regulations and promises of penalties, Australia's farmer bodies, governments and farmers have moved to counter the positions of whistleblowers and activists highlighting the animal welfare issues with the live sheep trade.
Now despite farmer support for industry and government promises of change, community anger has turned into at least two proposals for federal legislation to phase-out live sheep exports.
So where should Australian farmers and their lobby groups stand on animal welfare? Should they defend their on-farm practices and market options such as live export on economic grounds, or be more sensitive to community concerns and change?
Farmers care, but are desensitised
RSPCA WA board member, former WA Sheep Industry Leadership council chairman and Nuffield scholar, Rob Egerton-Warburton, and Victorian sheep consultant, Nathan Scott, a leader in electronic identification adoption, believe livestock farmers need to become more involved in animal welfare issues, engage and align themselves with community perceptions.
In a piece on the Australian Farm Institute website, Mr Egerton-Warburton argues that farmers need to recognise that few people now have a relationship with farming, but it is up to them to rectify this by being more open about what they do and why.
"Why aren't farmers outraged when we see 2500 sheep die on a ship voyage?
"Not because we don't care, but because we are desensitised," he said.
"This opens farmers up to the politics of emotions, as so few people in society now have any relationship to farming that it becomes an easy target for assuaging first-world guilt.
"When farmers are asked to defend their practices, they come across as cold and emotionless," he said.
"Agriculture must have missed the memo about getting in touch with our emotions and expressing them at will on television."
He said farmers have become distant from the urban environment, but changing this dynamic is the solution to farmers reclaiming credibility in the welfare policy environment.
"Animal welfare and the policy environment around it is 100pc the responsibility of farmers.
"The problem in my view is we haven't done a very good job of it," he said.
"We tend to be too protectionist of our practices, too guarded about our feelings, and too resistant to change."
Change to meet animal welfare challenges
The Kojonup wool and sheep meat producer said he stopped mulesing his Merino lambs after his father travelled to the UK in the 70s and now has a flock of plain, very fertile and heavy-cutting fine wool sheep that don't need mulesing and he receives a premium for non-mulesed wool.
He believes it is far easier to lead the market than be pulled unwillingly and has learnt there is no line in the sand with animal activists when it comes to welfare.
"We must change to meet these challenges.
"We need to be open about what we do and why we do it," he said.
"We need to back ourselves and talk proudly about the choices we make which keep animals alive and healthy.
"We need to communicate the effort we put in to the development and adoption of technology and programs which have advanced livestock welfare over the past 20 years," Mr Egerton-Warburton said.
"We also need to change the way we express ourselves, open up about our feelings and share the burden widely with the community.
"It's important the consumer understands and respects the sacrifice the animals make and the role of the farmer in that."
Mr Egerton-Warburton said farmers are only as good as the worst practitioner in the eyes of many, so change needs to be a constant in the sector from practices on-farm, through the supply chain and to the leadership of our farming industries.
"Individual responsibility, practiced across the whole sector, will allow farmers to engage in the welfare and welfare policy environment
"It's clear why farmers need to be involved in animal welfare and the policy that surrounds it. It's for the protection of animals, not from farmers, but from those who imagine they protect them without understanding how they live."
No need to snuggle up with a vegan
AchieveAG Solutions consultant Nathan Scott said farmers need to come to terms with the modern world's animal welfare expectations and not be concerned about minority "vegan extremists", but consider the average lamb and steak loving punter who has a growing interest in animal welfare and wellbeing.
"These are our consumers. The people we rely on to buy our products and pay the high prices we are currently enjoying.
"Just for this moment, forget about the "extremists" and think solely about your consumers; both here and overseas," he said.
"Even if your welfare practices are very good, there are always things that we could do, to better align ourselves with the values of our consumers.
"A simple rule to apply across your farming business, is to ask the question "what would the consumer want me to do in this situation?" or "what if 60 minutes filmed this?".
Mr Scott said he didn't want to be the welfare evangelist amongst the sheep consultant community.
"But I also don't want our industry to continue with a 'head in the sand' approach to taking on animal welfare issues.
Consumers want to see innovation and an industry that strives for continual improvement in farming practices and animal welfare, and producers don't get to dictate to them, he said.
"They want to continue to enjoy their consumption of meat, knowing that it has been produced in the best possible way.
"While you are at it, a bit cheaper as well. "They may be asking a lot, but they are our customer."
Mr Scott said one of his client's trialled pain relief for lamb marking last year, because they believed it was the right thing to do.
"So, while the discussion in our industry continues to revolve around the "extremists", stop and think about the often-unheard majority that sits beyond them.
"The average punter on the street.  What do they want?"
Consumers can't be forgotten
Mr Scott said producers cannot afford for consumers to become the forgotten voice in the discussions around animal welfare, and to make assumptions on their behalf is dangerous.
"We don't want them stuck silently unhappy in the middle of an argument with extremists and farmers yelling at each other from opposing sides.
"That simply cannot end well for agriculture," he said.
"The farming industry can be a very insular place, with likeminded people only ever talking to one another, reaffirming each other's views.
"Without external perspectives, change on a welfare front simply wouldn't happen to the same degree," he said.
"We are all guilty of becoming desensitised by day to day, on-farm activities.  So, take the time to stop, think and listen to people outside of your farming bubble.
"I'm not saying snuggle up with a vegan… but we could do a much better job of finding out what our consumers really want, what their expectations are and adapting our practices to better align with their values."
Mr Scott said producers shouldn't be defending ourselves against our consumer, but aligning with them.
"There is a huge opportunity awaiting our industry if we get this right and listen to the often-unheard majority.
"Animal welfare, productivity and meat-eating quality are not mutually exclusive," he said.
"Get one right and in most cases the other follows as well."
Click here to read Rob Egerton Warburton's full article 'Why farmers must be involved in the animal welfare policy environment.'
Click here to read Nathan Scott's full post 'The Scary World of Animal Welfare Extremists.'