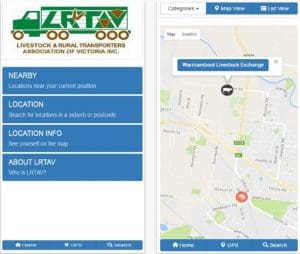 LIVESTOCK transport is safer and less stressful for Victoria's hard-working truckies with a smartphone app that helps them turn on saleyard lights to load sheep and cattle at night, clean the truck and get a shower after a long day behind the wheel.
The LRTAV Drivers App developed by the Livestock and Rural Transporters Association of Victoria with its web developer vNode Technologies is being trialled by truck drivers across the state and will be featured at LRTAV regional forums in Bendigo and Hamilton.
Warrnambool truck driver Joel Haberfield conceived the Drivers App, but admits he is very far from being a 'tech head.' He has been driving trucks for about nine years, carting livestock, hay and gravel, and now works for Boyles Livestock Transport at Warrnambool.
"I was at the Bendigo saleyards one night, it was dark and I wanted to find out where the cattle were, it was raining and I was tired and grumpy.
"It probably took me an hour to do a 15 minute job," he said.
"I just thought these days with all the technology we've got around us, surely we could make something a little bit easier."
"I gave them the idea and the LRTAV (and its web developer vNode Technologies) took it from there," Joel said.
"People don't understand that if you go to saleyards and you are loading black cattle at night time, it's a dangerous job and if you can get something like this to tell you where the light switch is….
"It has probably taken us 12 months and when it was launched the other week, I reckon we've probably got another 12 months of tweaking it."
More information on saleyards needed
Joel said 90 percent of Victorian saleyards are listed on the app, but the major issue is getting saleyards to give the LRTAV all the information needed so it can be updated.
The app is designed to help livestock and rural carrier drivers navigate their way to and around the state's saleyards, abattoirs and grain facilities. It shows the position of ramps, entry and exit points, truck wash down facilities, showers and toilets. It also has information on opening hours and contact details, and of course the location of a saleyard's light switch. The LRTAV App allows drivers to locate facilities near them, or search on name or location, get directions to or from a facility, and see the availability of toilets and showers or truck washes.
"We would also like it to include rest stops and service stations," Joel said.
He believes the app's major benefit will be in helping drivers determine a saleyard's key features such as lights and the whereabouts of facilities.
"Sometimes people don't realise that we base our night of work on what the facilities are.
"I loaded at the Warragul saleyards tonight, I'm going back to Warrnambool – I know I can get a shower at the Warrnambool saleyards so I am not going to worry about having a shower on the way home, I'll wait until I am unloaded in Warrnambool," he said.
"If I was an interstate driver, I wouldn't know where I was going to get a shower – sometimes it can be the most basic thing that can turn a driver's night upside down.
"A few of the older drivers don't carry hoses with them, well this app will tell you whether a saleyard has a hose for the truck wash or not," Joel said.
"We hope to go as far as on sale days putting on the app where the ramps are and which ones to use.
"It's got a lot of potential, it's just going to take a lot of work."
Forums to feature Q Fever, Fit to Load and training
The LRTAV is holding regional forums at the Bendigo saleyards on April 29 and at the Hamilton saleyards on May 20, with registration from 8.30am for a 10am start.
The forums will include presentations on Q Fever by the Department of Health and Human Services Victoria and on 'Fit to Load' regulations by Department of Economic Development, Jobs, Transport and Resources senior animal welfare officer Dr Rachael Holmes.
National Heavy Vehicle Regulator stakeholder specialist – engagement and partnerships, Simone Reinertsen, will be attending and Victoria's Livestock Loading Scheme Training provider RIST will be available to outline the training process and other course opportunities. VicRoads representatives have been invited to talk to attendees about local and other issues and discuss VicRoads projects.
The Drivers App is available for Apple and Android devices at a cost of $9.99
LRTAV app for Apple
https://itunes.apple.com/…/…/lrtav-drivers-map/id1148826694…
LRTAV app for Android
https://play.google.com/store/apps/details…
Source: LRTAV.