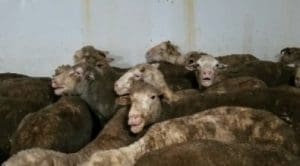 DAMNING footage of Australian sheep dead and dying in extreme heat and cramped conditions on vessels bound for the Middle East has sparked industry plans for improved welfare measures and transparency.
The confronting footage of cruel on-board conditions shown on 60 Minutes tonight is underpinning renewed efforts by Animals Australia and the RSPCA to end the live sheep trade, or at least during the high-risk months of May-November for Middle Eastern shipments.
Western Australian-based exporter Emanuel Exports tonight apologised to farmers and the broader community for the "absolutely unacceptable outcomes", and said it accepted special Department of Agriculture and Water Resources conditions for its Middle East shipments.
These included reduced stocking densities, improved ventilation and regular monitoring of sheep welfare and conditions on the Awassi Express departing Fremantle with 57,000 sheep for the Middle East this week. The Australian Live Exporters Council has also proposed a range of steps to strengthen ongoing accountability and transparency in the industry.
However, despite the whistleblower footage from five live sheep voyages showing over-heated sheep gasping for oxygen, smothered in faeces, unable to lie down to rest and fighting to reach food and water, Minister for Agriculture David Littleproud tonight continued to defend the industry.
A statement from Mr Littleproud said he planned to attend meetings tomorrow morning with Animals Australia in Melbourne, before a teleconference with the RSPCA and then meetings with the industry, but he said he will continue to support exporters who "do the right thing".
A ban on the whole industry would only punish those who have done no wrong — both exporters and farmers, Mr Littleproud said.
"Many farming families remain devastated from the 2011 suspension and that class action against the Australian Government still continues.
"We need a sustainable trade with good animal welfare outcomes," he said.
"I can't change the past, but I aim to influence the future.
"I will support live exporters who do the right thing," Mr Littleproud said.
"I will not support anyone who does the wrong thing.
"Those who do the wrong thing should be nailed, not slapped on the wrist."
The footage released tonight included vision of distressed and dying sheep on the Awassi Express on which 2400 sheep died in an Emanuel Exports shipment in August last year. The Awassi Express is due to commence loading sheep for Emanuel Exports at Fremantle this week and LSS has a partially-loaded vessel The Maysora due on Tuesday at Fremantle from Port Adelaide.
Department to implement new shipment conditions this week
The Department of Agriculture and Water Resources tonight said it is taking immediate action to add an independent department veterinarian to an upcoming voyage to the Middle East, believed to be the Awassi Express.
"This vet will monitor and record the health and welfare of all animals on board, send back daily reports and images and will also be able to issue directions on the vessel to ensure the welfare of the sheep," the department said.
"In addition to this measure, the department is moving to settle additional specific conditions on a forthcoming voyage to the Middle East to ensure that the health and welfare outcomes required under law are met, including:
Adding an additional accredited stockman on top of the exporter's normal practice of two accredited stockmen.
Improved ventilation equipment on the vessel.
Ensuring that decks are maintained to deliver animal health and welfare.
Animal welfare, feed, water and bedding inspected and recorded four times each day, including by the independent department vet, and a daily report with images of conditions provided to the department.
Reduced stocking density by 17.5 percent.
Requiring the first port of discharge to be Kuwait when traveling to multiple ports in the Middle East, providing greater space for the remaining livestock as they head towards higher humidity ports.
Conditions will be designed to ensure the health and welfare of sheep on this voyage while longer term measures are developed for the industry.
Breaches of Australian regulations exposed
Animals Australia said the video footage released tonight had exposed extensive breaches of Australian regulations and revealed what the live export industry has known about and accepted — for decades.
Animals Australia investigator Lyn White said the scale of neglect and the acceptance of suffering on the shipments is staggering.
"Sheep producers will be mortified to discover that animals born into their care have ended up literally being cooked alive on live export vessels," she said.
Footage reportedly of five Middle East shipments showed sheep suffering severe heat stress, succumbing to heat stroke and caked in melted faeces and urine. Injured and sick animals, including newborn lambs, appeared to have been left to die. There were also severely decomposed bodies in pens with living sheep and pregnant ewes were giving birth in crowded, dirty conditions.
"Time and again farmers have been sold barefaced lies by exporters — 'world's best standards', 'no fear no pain' commitments — to keep them selling animals to the trade.
"The scale and deliberate nature of the deception is astounding," Ms White said.
"And now we know why — the truth kills their trade.
"No farmer, no politician is going to support an industry whose day-to-day operations inflict such egregious and unnecessary suffering," she said.
"Any suggestion that such suffering is not routine, or is a one-off failure of systems, is just a further attempt to deceive.
"The directors involved in these shipments have had 37 voyages since 2005 on which over 1000 animals have perished on each shipment."
Animals Australia said evidence provided by the whistle-blower also revealed that mortality reports are being falsified and vets heading home on flights when sheep are still suffering on ships.
"Why would anyone believe the mortality figures supplied by this industry when both the dead and living are being thrown overboard and Australian vets employed by the exporters are just reporting the figures they've been ordered to report?" Ms White asked.
RSPCA Australia renews call to end long-haul voyages
In the light of the video evidence, RSPCA Australia chief science and strategy officer Dr Bidda Jones said the Australian Government has a legal obligation not to approve further long-haul voyages.
She said RSPCA Australia would also support government support for farmers to move away from exporting animals. RSPCA Australia launched an online campaign for the community to urge Mr Littleproud to end to long-haul live sheep exports from Australia, support WA and SA farmers to selling sheep to Australian abattoirs and meat exporters and support additional marketing of Australian lamb and mutton.
"Once again, Australian farmers have been gravely let down.
"The live export industry's social licence to operate is in tatters and this shocking evidence will damage Australian agriculture more broadly unless real action is taken," Dr Jones said.
"In the light of this evidence, we believe that the Australian Government, through the Secretary for the Department of Agriculture, has a legal obligation not to give further long-haul voyages a green light.
"While no sheep farmer relies completely upon live exports, we would support government support for farmers, to make any adjustments they need to move away from live exporting their animals," Dr Jones said.
"We must stop this suffering by moving to ensure all sheep destined for long-haul live export are slaughtered right here in Australia.
"Farmers, governments and the community have been deceived by live exporters for long enough – but now the truth is out in the open, there can be no more excuses," she said.
Exporters respond with new condition proposals
The Australian Livestock Exporters' Council has responded to the extremely distressing video footage of live sheep export conditions by proposing a range of steps to strengthen accountability and transparency in the industry.
ALEC chief executive officer Simon Westaway said the footage, aired on 60 Minutes tonight showed more needs to be done to reduce risks during voyages to the Arabian Gulf by building on existing welfare practices.
"The regulations provide the framework for mitigating heat stress, managing sick sheep, ensuring access to food, water and ventilation, and the maintenance of dry and appropriately stocked pens.
"Not only are industry, government, producers and welfare groups already revisiting that framework, we now need to reinforce the independence of the reporting processes to ensure standards are met," Mr Westaway said."
Exporters will be working with the Federal Government to strengthen transparency and reporting. ALEC will present a range of steps to the Federal Agriculture Minister on Monday as part of its plan, which includes:
Investigating the reduction in stocking densities for sheep to the Arabian Gulf during high risk periods such as the Northern Hemisphere summer
More effective monitoring and recording of on-board conditions using technology to support Australian Government Accredited Veterinarians
Additional independent on-board personnel, as deemed appropriate by the Federal regulator, and auditing of livestock infrastructure including ventilation and drainage
Strengthening the policies, inputs, regulation and enforcement of the heat stress risk assessment modeland its application by industry to better mitigate welfare risks
Building greater scientific integrity into the way the well-being of livestock on-board is monitored by fast-tracking industry's research into the development of animal welfare indicators; and
Additional training and development for on-board vets and stockpersons
"Vets are at the front line of understanding animal welfare issues and risks. It is imperative they be heard," Mr Westaway said.
He said industry had regularly engaged with vets involved in voyages featured in the Animals Australia video and introduced effective practical measures over recent months based on their advice and experiences.
"Exporters have proven they are willing to embrace a science-based approach to reform, to improve welfare, accountability and alignment with community expectations.
"Farmers put their faith in us to sustain and grow the live sheep trade, which is worth $250 million annually, and we are determined that we will not let them down," Mr Westaway said.
"Export supply chain linking Australian sheep producers and Arabian Gulf customers stretch back six decades.
"These long-standing partnerships must continue to modernise to remain ethically and economically viable."
Exporter apologises for "absolutely unacceptable outcomes"
Emanuel Exports director Nicholas Daws said tonight the footage televised by 60 Minutes is "simply devastating and Emanuel Exports apologises to farmers and the broader community for these absolutely unacceptable outcomes."
He said animal welfare failures resulting in high mortalities, like the footage from the Awassi Express shipment in August 2017 on which 2400 sheep died, were heartbreaking for the company and the producers whose livestock it exported.
"Over more than seven months since that shipment, Emanuel Exports has consulted closely with Australian Government accredited veterinarians and professionally accredited stockpersons who have worked on the Awassi Express and other livestock vessels servicing the Arabian Gulf, gaining their first-hand insights.
"Based on their suggestions, we've taken important practical steps above ASEL's regulatory standards to prevent the extraordinary circumstances of August 2017 re-occurring in the future," he said.
Mr Daws said extensive consultation over the past seven months with the Department of Agriculture and Water Resources has helped secure improved animal welfare outcomes over subsequent voyages.
"We know more needs to be done, which is why our company has instigated with DAWR substantial risk mitigation measures to be adopted for the forthcoming 2018 Northern Hemisphere summer.
"It is also why we've accepted the special conditions DAWR has placed on the Awassi Express shipment which is due to load at the Port of Fremantle this week," he said.
Mr Daws said Emanuel Exports had agreed to adjust the voyage schedule so that Kuwait will now be the first port of discharge, ahead of Qatar. The ship is due to unload about 24,000 sheep in Kuwait about 14 days after its departure from Fremantle and will then discharge the remaining 33,000 sheep in Qatar about three days later.