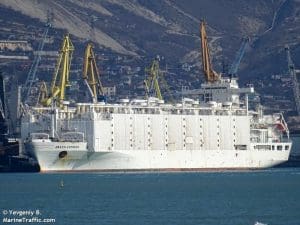 VENTILATION systems on the beleaguered live sheep export vessel MV Awassi Express underwent testing in Fremantle's port today, as a review was announced into standards for the trade during the Middle Eastern summer.
Under pressure from Animals Australia, the RSPCA and industry bodies, Australia's Minister for Agriculture David Littleproud today announced that Queensland-based veterinarian Dr David McCarthy would review the standards for Australia's live sheep trade during the northern hemisphere summer.
Mr Littleproud's media release today said the "short, sharp review" by Dr McCarthy is expected to take four weeks, to allow any recommendations to be acted on before sheep are sent to the Middle Eastern summer from Australia's winter.
"This will be a short, sharp review looking into the standards of the northern summer trade to give confidence in those boats and the standards in which those sheep go to the Middle East.
"I've asked Dr Michael McCarthy, a pre-eminent vet who has experience in the export industry, to undertake that review," Mr Littleproud said.
"I spoke to Dr McCarthy this morning and he believes he'll be able to get that done well within the timeframe because of his experience in the industry and researching it.
"It's important we take decisive action because it's the livelihoods of farmers and their family at stake," the minister said.
"It'd be great if the live export industry led on this issue and had already taken strong action by the time this review comes back.
"If I have to drag them kicking and screaming, I will, but I'd prefer they led and proved to the Australian people they are serious about cultural change."
Awassi Express remains in port for ventilation testing
Western Australian-based exporter Emanuel Exports is hoping to load 57,000 sheep onto the vessel this week, while animal activists demand the trade's cessation after footage was released showing sheep suffering heat stress, dying and dead in dirty, cramped conditions during Middle Eastern voyages in 2016 and 2017.
The disturbing footage on the 60 Minutes television program has sparked a review of the trade's regulator – the Department of Agriculture and Water Resources – new welfare and reporting conditions for voyages, and the prospect of tougher penalties for export company directors breaching live export standards.
The 60 Minutes coverage last Sunday featured footage supplied by a whistleblower and highlighted the death of about 2400 sheep in an Emanuel Exports shipment on the Awassi Express during a Middle East voyage in August last year.
The Australian Livestock Exporters Council has proposed, and Emanuel Exports has agreed to special conditions for the proposed Awassi Express voyage to the Middle East, including reduced stocking densities, improved ventilation and regular monitoring of sheep welfare and conditions. However, air distribution spot checks on the vessel by the Australian Maritime Safety Authority  have suggested there may be low readings in some areas of some pens and additional air flow measurements have been undertaken to verify there is effective air flow throughout the livestock space.
AMSA said the Awassi Express relocated to a lay-up berth in the Port of Fremantle today to allow the vessel operator to conduct ventilation systems testing. Sheep Central was told the testing had not been completed today.
The ship's operator has engaged a third party to conduct this testing, as requested by AMSA following its inspection of the ship on Sunday, an AMSA spokesperson said.
"AMSA will not renew the ship's Australian Certificate for the Carriage of Livestock unless it is satisfied the ship complies with Marine Order 43, including requirements for minimum air flow across all areas of the livestock pens."
WAFarmers supports swift review
WAFarmers today supported Mr Littleproud's "swift review" of live export standards in northern hemisphere summer conditions and the appointment of Dr McCarthy.
WAFarmers president Tony York said many producers felt the live export industry had been misrepresented.
"Like most, I had accepted the assurances that guidelines and protocols were being met; that arrangements were in place and that adequately ensure compliance of our 'best practice, standards and guidelines', however this is clearly not the case.
"We feel very strongly that if conditions cannot be managed then a ship must not be allowed to sail with our livestock on board, so we welcome any announcement into reviews and changes that would support this condition and that would see confidence restored in the industry,' he said.
"We expect exporters to prove that this loss of livestock will never happen again, and demand a collaborative and transparent review system which include the exporters releasing information regarding all voyages and vessels in the past few years so that high risk periods, such as northern hemisphere summers, can be clearly identified.
"Further, we demand that independent inspectors, which may include independent veterinarians, be on board during voyages, to monitor livestock conditions,' Mr York said.
"It is our right as producers to demand this, and it is the responsibility of government, exporters and carriers to uphold these demands."
WAFarmers Livestock Council president David Slade congratulated the Mr Littleproud on taking the initiative.