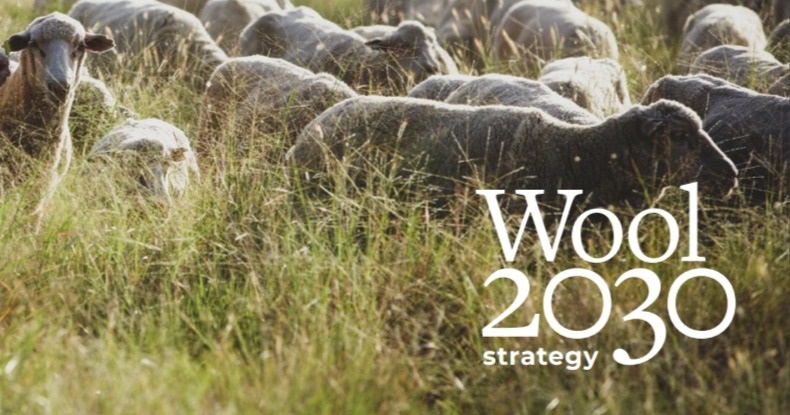 AGRICULTURE Minister David Littleproud is under fire for potentially politicising a wool 'thought leader' roundtable tomorrow by inviting two candidates in the 2021 Australian Wool Innovation director election and ignoring the trade.
Mr Littleproud has invited members of AWI's Woolgrower Industry Consultation Panel to the Zoom roundtable tomorrow to hear their views on how the industry can collaborate to achieve the aspirations of the Wool 2030 Strategy and actively support the goal of a $100 billion agriculture sector by 2030.
However, the Minister has also invited AWI chairman Jock Laurie and South Australian Merino breeder Sydney Lawrie, who are both standing in the 2021 AWI election. Mr Lawrie is a former WoolPoll chairman. New South Wales Merino breeder Bea Litchfield has also been invited.
Significantly, the invitation list did not include anyone from Australia's wool broker or exporter bodies, not even the only AWI director who is also a broker and a grower, Don Macdonald, who is also standing for re-election this year.
A letter from Mr Littleproud said the roundtable will bring together a select group of representatives to discuss the challenges and opportunities for the industry.
Mr Littleproud said he would share his vision for the future of Australia's wool industry and representatives would be given the opportunity to discuss their views. He asked that attendees come prepared to discuss how the wool industry can work collaboratively to achieve a common approach to industry challenges such as mulesing, and how it can implement the Wool 2030 strategic plan's objectives.
The minister said he was looking forward to an outcome that would see the industry work productively together for the benefit of wool growers.
AWI shouldn't be a polarising organisation – Littleproud
On the ABC's Victorian Country Hour on September 22, Mr Littleproud told presenter Warwick Long that he still had concerns about the way AWI has been run and he had made that clear to AWI chair Jock Laurie and previous chair Colette Garnsey.
"He's prepared to meet with stakeholders, which I have to say, previous chairs of AWI haven't.
"So we're having a roundtable with much of the stakeholders early next month to try and take away this polarisation that AWI has caused in the marketplace," Mr Littleproud said.
"I mean, this shouldn't be a polarising organisation.
"If we get the consultation process right, there's transparency in the organisation, then it should be a celebrated organisation," he said.
Mr Littleproud said he had made it clear to Mr Laurie that "the polarising nature of AWI cannot continue."
Mr Littleproud told Sheep Central today the roundtable is a forum to discuss the opportunities and challenges for Australia's wool-growing community.
"Invitations were extended to a range of industry representatives that included AWI's Wool Industry Consultative Panel, but was not limited to them.
"The roundtable is not intended to canvass every concern beyond the farm gate given practicalities and logistics of meeting at this time," he said.
"I do not have a role in the AWI board election process, it is a matter for eligible AWI levy payers."
Mr Littleproud did not specify whether he invited Mr Laurie and Mr Lawrie or whether it was at the suggestion of AWI or the Department of Agriculture.
AWI election candidates should not be at roundtable – Oppenheimer
New South Wool grower Martin Oppenheimer said he welcomed Mr Littleproud meeting with wool industry leaders, but should not be getting involved with the AWI director election while candidate's were campaigning. Mr Oppenheimer is a former member of the WICP's predecessor, the Woolgrower Industry Consultative Committee and a former director of the Australian Wool Growers Association.
"The problem is he (Mr Littleproud) is inviting some AWI director candidates, but as I understand it he is inviting two out of a field of six during an election campaign.
"That's out of order, that should not happen," Mr Oppenheimer said.
"It doesn't matter who they are, whether they are existing AWI directors or not.
"This political interference, picking winners and favourites and interfering in the election campaign is just out of order," he said.
"The minister should not be interfering with the AWI director election process and this clearly that – it can't be seen as anything else.
"You either invite them all or you invite none; there is no middle ground on this one," he said.
"It is a clear advantage for those (candidates) who are invited and a huge disadvantage for those who are not invited – it simply should not happen."
Mr Oppenheimer believed it is immaterial that Mr Laurie is also the AWI chair.
"So what? He may not be a director soon, but he has been invited to an official meeting when other potential directors are not (invited).
"I totally support what the minister is trying to do, but the background issue here is trying to get a representative board at AWI that is willing to share power and work with the whole industry and not for some sections of the industry," he said.
"That's where we've been really badly let down over the last decade, where some grower groups have received funding and some other representative groups have had no funding, and that creates a problem.
"It's really trying to get outcomes from AWI from the grower levy, that is going to work for the whole industry and not just for sections of the industry, and particularly when the performance has been so poor in holding production and also increasing prices."
Mr Oppenheimer said AWI board leadership over the past 10 years has served the traditional Merino stud sector and cut funding from important programs — like genomics, MerinoSelect, the Sheep CRC and Bred Well Fed Well – that could have increased the productivity and profitability of growers.
Mr Oppenheimer said there was "something wrong" in the failure to invite Mr Macdonald to the roundtable.
"Nobody seems to know how some of these names got on the list – it doesn't sit right, it's wrong.
"Who is deciding who goes?"
Mr Oppenheimer said the 2021 election is important with most growers looking for candidates who will work for the whole industry and not for some parts of it.
Roundtable should involve wool brokers and exporters – Woods
National Council of Wool Selling Brokers of Australia president Rowan Woods said he only learned about the roundtable "secondhand" and queried whether the forum was being run by AWI.
Mr Woods said he would have thought that the broker and exporter fraternities would be considered integral parts of the wool pipeline.
"Surely they would be considered to have a seat at such a forum?
"I'm surprised and disappointed that exporters and brokers weren't invited to be represented."
He said based on the aims of the roundtable he believed it should have involved the people who handle wool past the farmgate.
Mr Woods said he would have thought that the AWI director most likely to get invited would have been Don Macdonald because of his broking and grower experience.
"Of all the people who are qualified to speak and contribute to such a forum, someone who covers the whole gambit of the wool industry, it's him — the only thing he isn't is a processor.
"I'm still perplexed as to why there is no broker and no exporter (invited)."
Disappointing if roundtable is used for political campaigning – Storey
WoolProducers president Ed Storey said he had no knowledge of who was attending the roundtable, but he believed it is "entirely appropriate" that AWI chair Jock Laurie attend the meeting.
"If the list is being used to give favour to potential candidates in the election, and we don't know who that list is yet, if that's being done, that's disappointing, but I have no evidence that that's being done at this stage.
"If in the end something like this — which is engagement with the Minister for Agriculture and the department – is then later used as election campaign material, because some were on it and some weren't, that's very disappointing.
"We all need to be a lot better than that."
Sheep Central was told the WICP members invited to the roundtable included independent chair Lyndsey Douglas, Mr Storey, Australian Wool Growers Association director Robert Ingram, Pastoralists and Graziers Association of WA member Bindi Murray, Australian Superfine Wool Grower Association council member Cathy Hayne, broad wool representative Nick Cole, the Commercial Merino Ewe Competitions Association's Tom Kirk, Australian Association of Stud Merino Breeders president Max Wilson, A-Sheep's Dale Vandenberghe and MerinoLink chairman Richard Keniry. The WICP also has a Department of Agriculture representative and two from AWI.
Click here to review Wool 2030 Strategy.